Economy /
Covid cost BD economy $21b in FY'20
---
ALIF
Published:
2020-07-27 23:55:07 BdST
Covid cost BD economy $21b in FY'20
---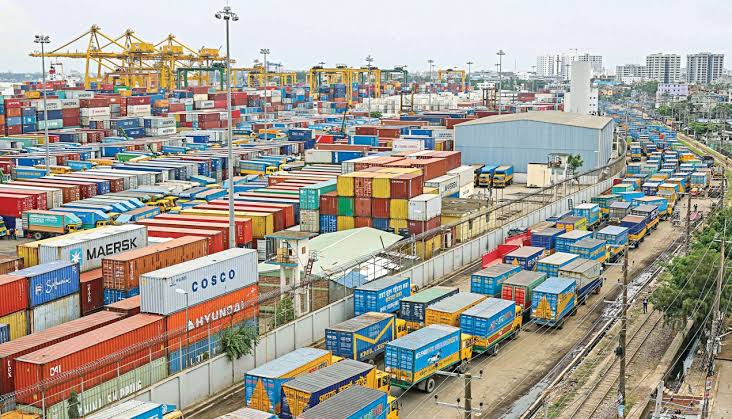 The Covid-19 losses for Bangladesh's economy might have reached between US$9.0 billion and US$21 billion in the just-concluded fiscal year, an economist said recently.
However, the country can offset it by earning an additional $25 billion by exporting products to the Chinese market alone, helped by the duty- free benefit from the world's second-largest economy after the United States offered.
The country can also attract a huge amount of foreign direct investment, especially from China and India capitalising on the trade benefit, according to research director at the Policy Research Institute of Bangladesh Dr Abdur Razzaque said.
His forecast came as he presented a keynote paper on 'Covid-19 and International Trade Issues' at a virtual workshop, organised jointly by Economic Reporters' Forum (ERF), RAPID and the Asia Foundation.
Commerce minister Tipu Munshi and Dhaka Chamber of Commerce and Industry (DCCI) president Shams Mahmud and Business Initiative Leading Development (BUILD) chairman Abul Kashem Khan were present as chief guest and guests of honour at the workshop.
Like global economies, Bangladesh has also been affected by Covid-19, said Mr Razzaque, adding though the actual impact on Bangladesh's gross domestic product has yet to be clear, economic disruptions have led to various socio-economic consequences.
"In economic value-added terms, $9 billion to $21 billion could have been lost until June 2020," he said, citing various growth projections for both for Bangladesh and the world.
He said the 'new poor' due to Covid-19 are in the range of 16 to 42 million and 70 million or 42.5 per cent of the population were either poor or vulnerable prior to the pandemic.
Adding the new poor would make it around 90 million either poor or vulnerable and poverty (absolute poverty) elimination now could take five to 10 years more depending on different growth rates.
Remittances are under pressure while exports were badly-hit, especially during March to May because of Covid-19, he said, terming FY 2019-20 an 'unusual' year for Bangladesh's exports as the growth was negative throughout the fiscal, except for July and December due mainly to the US-China trade war.
His paper showed about 40 percent of European and US consumers are likely to reduce household spending while a much higher proportion of 65 percent to cut spending on clothing and footwear.
Bangladesh is largely dependent on its readymade garment export earnings while leather is a potential sector to grow further.
Mr Razzaque said during January to December this year, the apparel sector is expected to show a lower percentage of change because of its much bigger export base while the leather sector can have a negative growth of 28 percent under a low-shock scenario.
Bangladesh has set an export target of $48 billion-$41 billion from goods and $7.0 billion from services, he said.
If the target is achieved despite the uncertainties, Bangladesh's export would fully recover from the loss of 2019- 20 shipments.
He, however, termed the post-LDC graduation one of the major challenges for the exports as the country will lose the duty-free market access to major markets, including the European Union, Canada and Australia, where local products have to face duty ranging from 6.0 percent to 18 percent, especially RMG, home textiles, footwear and fish.
Bangladesh export competitiveness will erode after the post-graduation period as EU tariffs on the Vietnamese exports will come down to zero for over 99 percent tariff lines by 2027.
On the other hand, after LDC graduation, tariffs on Bangladesh apparel items could see a sharp rise of 9.5 percent. The presentation showed estimating high loss for the country's RMG exports to the regional bloc.
Terming recent Chinese benefit 'significant' Mr Razzaque said currently 30 percent export potential in China can be utilised and if Bangladesh can increase its market share to 1.0 percent, additional $25 billion export is possible.
Many firms are leaving China due to geo-economic factors and Bangladesh can attract Chinese and Indian investment using the extended duty-free market access, he noted.
"Making most of the Chinese duty-free market access will be a game changer for exports," he noted.
Explaining LDC graduation impact on the Chinese market, he said 78 percent of exports will face duties higher than 10 percent after the graduation, which could lead to a potential export fall by 19 percent of current shipments to China.
Speaking at the event, the commerce minister said Bangladesh will sign its first Free Trade Agreement (FTA) with Bhutan within the next months while discussions on signing the similar deal with many countries, including Indonesia, have advanced.
He said a taskforce headed by the commerce secretary is working on taking timely decisions and their implementation during and post Covid-19 situation.
Mr Mahmud stressed upon a policy that creates linkage with small and medium enterprises to help attract FDI and diversify export.
Echoing Mr Mahmud, BUILD chairman Mr Khan said all policies including tax, import and export should be revised to grab the post-Covid opportunity.
He stressed the need for speedy measures, warning Bangladesh might miss the opportunity if moves slow and steady.
Unauthorized use or reproduction of The Finance Today content for commercial purposes is strictly prohibited.