Economy /
China continues to support Bangladesh in anti-pandemic fight till the final and full victory
---
Diplomatic correspondent
Published:
2021-09-30 16:14:08 BdST
China continues to support Bangladesh in anti-pandemic fight till the final and full victory
---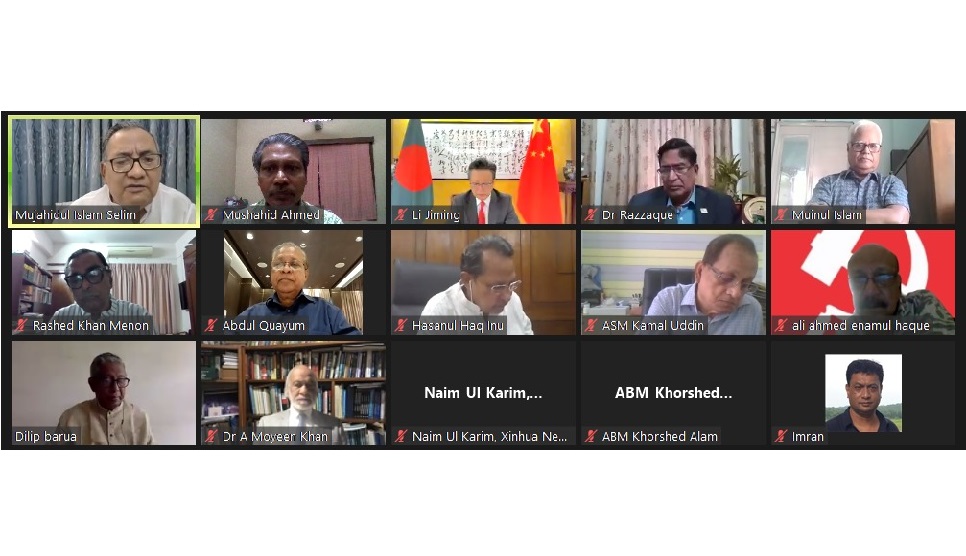 China has reassured its support to Bangladesh in the anti-pandemic fight till the final and full victory, and will continue standing firmly with Bangladesh on regional and global issues in maintaining peace and security, responding to climate change and achieving sustainable development goals (SDGs).
China will also extend its full support to Bangladesh in securing free trade and open economy, and developing science and technology of the next generation.
Chinese Ambassador in Dhaka Li Jiming said this while addressing a webinar on Thursday in celebration of the 72nd Anniversary of the Founding of the People's Republic of China on October 1.
Bangladesh-China Silk Road Forum organized the event with its chairperson Dilip Barua in the chair. It was addressed, among others, by Agriculture Minister Muhammad Abdur Razzaque, Workers Party President Rashed Khan Menon, JSD President Hasanul Haque Inu, CPB President Mujahidul Islam Selim and former Ambassador Munshi Fayez Ahmed.
The Chinese envoy said with Bangladesh endeavoring to become fully developed by its 70th anniversary of Independence, and China embarking on a new journey towards its second centennial goal.
"There are infinite opportunities yet to be explored to uplift our Strategic Partnership of Cooperation to a higher level."
As the old saying goes, "Walk alone if you want to go fast, walk together if you want to go far." "Let China and Bangladesh keep our hands joined on the way to our dreams, to a peaceful and prosperous Asia, and to a brilliant shared future of mankind," he added.
The Chinese Ambassador said that the two countries wade through all difficulties caused by the pandemic to advance cooperation in many aspects.
He said the handover of the China-Bangladesh Friendship Exhibition Center marks a new starting point for bilateral economic and trade cooperation.
"Hard-won progresses have been made in projects under the BRI, such as the Padma Bridge, the Kanaphuli Tunnel, the Cox's Bazar Airport Runway extension, and the DPDC Power System Network expansion. China's zero-tariff treatment for 97% of Bangladeshi goods has been officially implemented," he continued.
As President Xi says, the Chinese dream of great national rejuvenation can well connect with the "Sonar Bangla" dream.
Li Jiming said Prime Minister Sheikh Hasina also said in the Letter of Congratulations that Bangladesh and China now need to explore more avenues for further cooperation to realise the full potentials of this partnership. "China will continue accompany Bangladesh on the way to realize mutual Dreams."
This year, the Chinese envoy said the bilateral relations have witnessed further development. President Xi and Prime Minister Sheikh Hasina exchanged video messages on important occasions, such as Bangabandhu's birth centenary and the 50th independence anniversary of Bangladesh, and the centennial commemoration of the CPC.
President Md. Abdul Hamid met with China's Defense Minister General Wei Fenghe who came to visit Bangladesh in spite of the severe pandemic. Our foreign ministers have been keeping in close touch with each other by means of in-person meetings, phone calls and letters.
He said the anti-pandemic fight brings our two countries even closer and the two countries exchanged support in action with each other. China has provided anti-pandemic aid to Bangladesh in forms of sending medical supplies and vaccines as gifts, dispatching medical personnel, facilitating commercial procurement of vaccines and, most importantly, localizing co-production of vaccines.
As statistics indicate, Sinopharm champions among all brands of vaccines available in terms of inoculation count in Bangladesh.
The Ambassador in his speech highlighted Chinese economic development,China's relation with regional and international community, China-US relationship and said China is willing to bring its relations with the US back to stable development.
Unauthorized use or reproduction of The Finance Today content for commercial purposes is strictly prohibited.