Economy /
External debt to GDP ratio reaches 21.8pc
---
Staff Correspondent
Published:
2022-05-19 17:12:54 BdST
External debt to GDP ratio reaches 21.8pc
---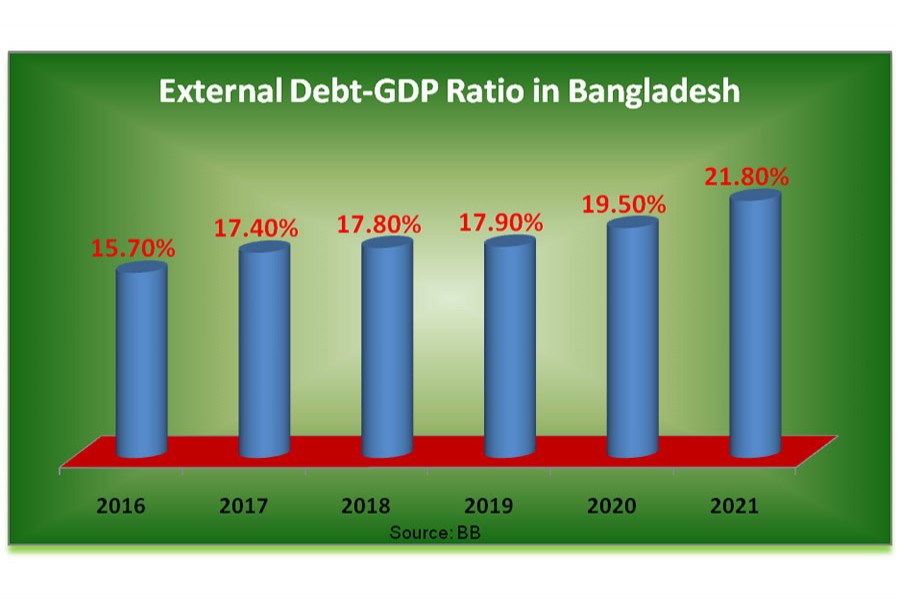 The ratio of the country's external debt to Gross Domestic Product (GDP) increased to 21.8 percent in the last calendar year or 2021, according to the updated statistics of the central bank. The ratio was 19.5 percent in 2020.
Central bank statistics also showed that the external debt to Gross National Income (GNI) reached at 24.10 percent at the end of 2021 which was 21.50 percent in 2020.
According to the latest statistics, released this week, total outstanding stock of the external debt reached at US$90.79 billion at the end of the last calendar year, recording 24.50 percent growth over the same period of previous year or 2020.
Of the total external debt, long-term debt was 80.10 percent or $72.70 billion while short-term debt was 19.90 percent or $18.09 billion.
The half-yearly report titled 'Foreign Direct Investment and External Debt: July-December 2021' contains details of the debt statistics.
According to the report, around 75 percent of the total external debt is in the public sector while the rest 25 percent in the private sector.
"For Bangladesh, external debt is one of the important financial sources for investment," said the report. "The external debt of Bangladesh is the total debt which the country owes to foreign creditors. The debtors can be the central government, state owned enterprises, private sector enterprises of Bangladesh."
It also revealed that the ratio of foreign exchange reserves to total external debt fell to 50.8 percent in the last year from 59.2 percent in 2020.
Moreover, per head foreign debt in Bangladesh increased to $536.24 in the last year which was $435.31 in 2020.
According to the report, the country's foreign debt includes money owed to private commercial banks, foreign governments, or international financial institutions such as International Monetary Fund (IMF) and World Bank.
Unauthorized use or reproduction of The Finance Today content for commercial purposes is strictly prohibited.