Economy /
A new dawn breaks for southwestern people
---
Staff Correspondent
Published:
2022-06-25 00:49:39 BdST
A new dawn breaks for southwestern people
---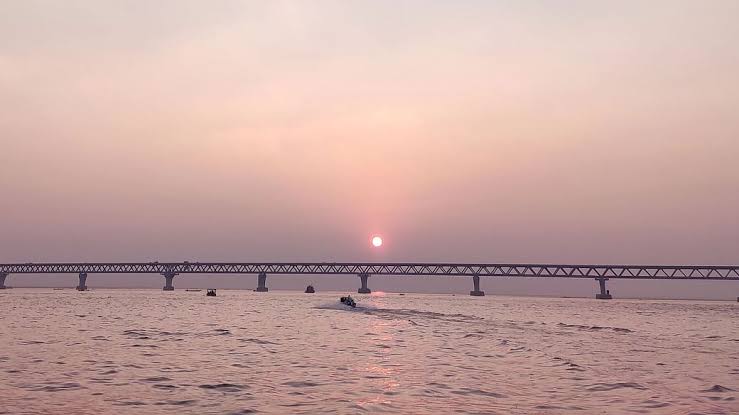 This is a balmy dawn descending upon the people of the south and southwestern districts with the inauguration of the Padma Bridge connecting them with the rest of the country today.
This is the day for which people of those districts have been waiting for a long time hoping against hope as it will open up a new vista for them.
The people of this region most of who either commute through time-consuming waterways or road transports can now embark on a direct journey by road via Padma Bridge in a short span of time.
The mighty Padma used to be one of the barriers to their economic development for decades as well. Bangladesh Bureau of Statistics (BBS) poverty map says a total of 53 out of 133 upazilas in 21 districts across the Padma are at high poverty risk.
Of them, 29 are in Barisal Division. Besides, 42 upazilas are at risk of moderate poverty and 36 are at risk of low poverty while Khulna and Barishal divisions have 27 and 26.50 percent poverty rate respectively.
Barishal has only 3.5 lakh business establishments, the second lowest in Bangladesh. The division has mainly industries of few medicine, cement and textile companies.
Now after the inauguration of much-awaited Padma Bridge the uninterrupted road connectivity barrier is gone. People of these districts are overwhelmed as they have the biggest occasion to celebrate since independence in 1971.
Mehedi Hasan Moon, a student of Barishal University, hailing from Gazipur sadar said, he cannot visit his home every month as long distance and poor ferry services keep him away.
He hopes Padma Bridge would attract reputed bus companies to introduce bus services from Gazipur to Barishal.
Ishtiaque Talukder of Patuakhali sadar who has fish selling business told that they are happy for the opportunity of transporting fishes to the capital in shorter time after the dream bride opens.
"Time is a big concern in fish business. When trucks get stuck at ferry terminals for hours, there is always chances that fish consignments would be wasted," he said.
Ishtique said that a selected number of launches carry fish consignments, which is mainly controlled by big business owners.
"This problem is going to be solved finally," he heaved a relief.
Ishtique thanked Prime Minister Sheikh Hasina for her bold step towards constructing the largest bridge in the country.
Mizanur Rahman, a retired college teacher living at Bhurghata Bazar in Kalkini Upazila of Madaripur, has hired a microbus for his family members for June 26.
The teacher and his family want to be one of the 'lucky' passengers to be on the bridge after it opens to public transport around 6am tomorrow.
"We will start journey in the early morning. This will be a memory to cherish," he said.
The retired teacher said travelling time to Dhaka has been always uncertain in the past.
"Nobody knew when we could reach the destination. Journey was delayed for weather, fog, current or whatever you can think of…as ferry stopped plying," he said.
Local district administration has taken various programmes in Barishal to facilitate the participation of common people in the celebration of grand opening of the bridge.
Jashim Uddin Haider, Deputy Commissioner of Barishal, said they had arranged different programmes at ten upazilas. The programmes will start with a joyous procession in Barishal city this morning.
Besides, the inauguration of Padma Bridge will be showcased on big screens at important points in the city as well as on school and college premises.
Baul artists will perform music while touring the city by truck. The evening will feature laser shows and firework displays and cultural events at Shilpakala Academy, he said.
Besides, more than one lakh people from six districts of Barishal will go to the Padma Bridge inauguration venue by launch, the prime mode of communication for the people of Barishal region so far. Along with hundreds of vehicles to go to Kathalbari of Shibchar in Madaripur to join the Padma Bridge opening rally, nearly 50 launches will carry one lakh people.
The launches will start journey from every upazila of the division, where launch communication mode is available.
Saidur Rahman Rintu, the vice-president of Bangladesh Passengers' Launch Owners Association, said eight to ten launches would start journey from Barishal Launch Terminal and every upazila would get one to four launches designated for the journey.
"We will start journey tonight (June 24) from Barishal. From other upazilas they will start journey by the evening," he said.
Besides, Bus Owners' Associations, local administrations and the ruling Awami League have arranged free buses for the enthusiastic people of the district to go to the bridge.
DC of Khulna, Moniruzzaman Talukder told reporters that the opening programme would be displayed on big screen at the district stadium, Daulatpur and Shib Bari. Theme song and promotional audio was being played from June 24 on touring vans already.
Besides, there will be special lighting on government office buildings.
"Two Musical band groups have been invited from Dhaka to take part in a programme on June 25 at the stadium," he added.
From Khulna more than 50 thousand people will join the opening program. More than 500 buses have been hired which will start moving from 10pm Friday, he said.
Unauthorized use or reproduction of The Finance Today content for commercial purposes is strictly prohibited.