Economy /
Rampal plant to go into power production in October
---
Staff Correspondent
Published:
2022-06-28 20:32:54 BdST
Rampal plant to go into power production in October
---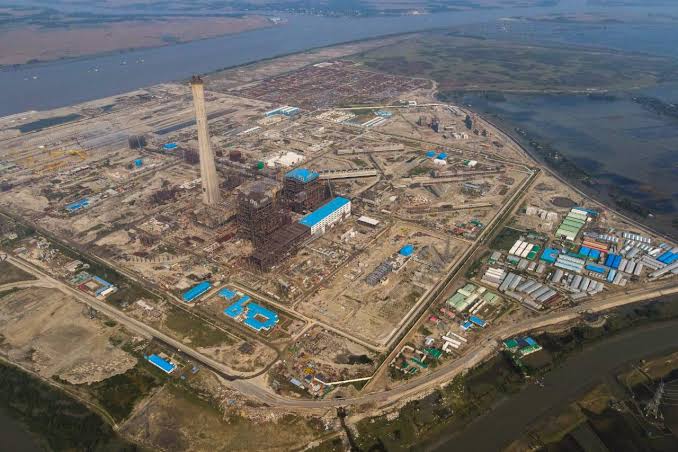 The Bangladesh-India Friendship Power Plant (PP) at Rampal in Bagerhat, a mega project of Tk 160 billion, will start electricity production by October 31, a top official has said.
"We have already completed financial progress by 78 percent and physical progress of 83 percent. We expect to begin electricity generation from unit-1 of the Rampal power plant on October, 2022 and unit two by February, 2023," Bangladesh-India Friendship Power Company (Pvt) Ltd (BIPCL) managing director Engr. Sayeed Akram Ullah said on Monday.
A workforce of 6250 people including 1625 experts are presently deployed at the site to put final touches to the unit-1 of the power plant that faced delays to commission several times due to Covid-19 outbreak.
Power transmission system through Payra-Gopalganj-Rampal 400kV to 230kV Khulna line through Rampal has already completed from April 7, 2022 to June 16, 2022. The power flow is on shutdown from June 16, 2022 for completing balance works of unit-1 and 400kV switchyard, sources said.
Officials said the boiler-1 of the power plant commenced on June 4, 2022 and light-up was completed on May 13, 2022.
Turbine generator (TG)-1 was put on barring gear on May 31, 2022 and trail-run of the coal handling plant (CHP) coal conveyor belt 1,2,3,4 and 5 has been done, officials informed.
Bashundhara Group will supply coal to feed the Bangladesh-India Friendship Power Plant during the commissioning of the power plant.
Initially, the industrial conglomerate will supply 300,000 tonnes of coal, according to an agreement signed recently.
The readiness of the coal handling system to unload the coal from vessel to coal shed may be completed by mid of next month, sources said.
The 1st cooling water pump (CWP) and primary air (PA) fan trial down and raw water chlorination system was commissioned on May 2, 2022.
BIPCL has signed a facility agreement involving $1600 million with Export-Import Bank of India for financing of the EPC contract award to BHEL along with capatilisation of interest during construction (IDC). Of the amount, $100 million has been earmarked for capitalization of interest during construction, sources said.
According to official sources, $1205 million has been disbursed to BHEL against the EPC contract.
According to sources the 400kV line from Gopalganj to Aminbazar will be completed by December, 2022 as the Padma bridge authorities will hand over the 7 towers and pile caps immediately after open the bridge to public on June 25, 2022.
The plant will able to supply the electricity to the national grid after completing the work of the transmission line over Padma bridge.
Earlier, the government has targeted to start electricity generation from the plant by December 16, 2021, but the plan has been deferred as Indian experts could not return to work in Bangladesh due to the second wave of coronavirus pandemic.
Taking about the issue of power evacuation, Power Grid Company of Bangladesh (PGCB) Managing Director Engr Golam Kibria said that the company will feed the Rampal unit-1 electricity to Khulna via Gopalganj district.
"We have already competed four towers out of seven over Padma crossing as the Padma bridge authorities handed over the towers on June 9, 2022,".
"We are hopeful of fishing the evacuation line project over the Padma at the end of this year," Kibria said.
Unauthorized use or reproduction of The Finance Today content for commercial purposes is strictly prohibited.