Economy /
Bangladesh economy ranks 41st in world, 2nd in South Asia
---
Staff Correspondent
Published:
2022-07-16 17:07:14 BdST
Bangladesh economy ranks 41st in world, 2nd in South Asia
---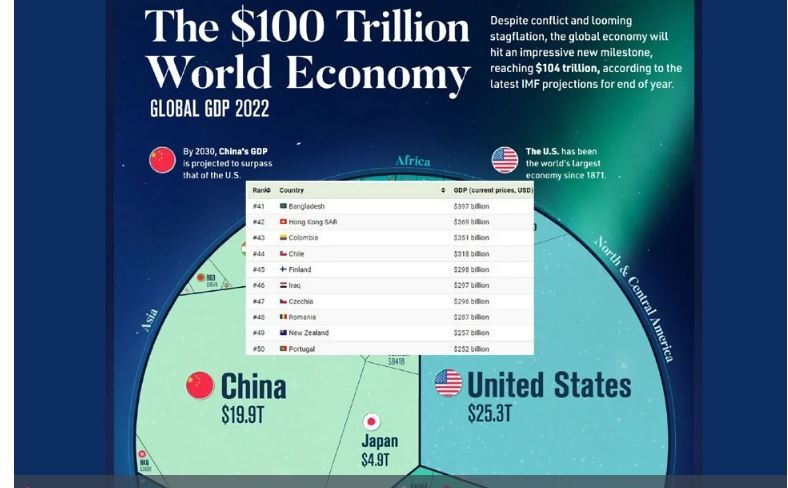 Bangladesh has secured the 41st position in global economy considering Gross Domestic Product (GDP) while second in the South Asia, says a global survey report.
The ranking came in a report published by the Canadian-based news agency Visual Capitalist.
It released a list of 191 countries based on the global GDP of 104 trillion dollars.
According to the report, GDP of Bangladesh is 397 billion or 39 thousand 7 billion dollars with only India above Bangladesh in South Asia having 3.3 trillion or three hundred and thirty thousand billion dollars of GDP. India's position is the 6th in the global list. Except India and Bangladesh, no other South Asian country is in the top 50 GDP.
The report has measured the size of the global economy based on the trillion dollar standard. The size of the world economy in 2020 was 88 trillion dollars and it increased to 94 trillion dollars next year. International Monetary Fund (IMF) report showed the size of the global economy (based on GDP) $104 trillion in 2022.
In the list, the United States remains atop based on the new criteria. The GDP of the country is 25.3 trillion dollars being one quarter of the total global GDP. China is in the next position having 19.9 trillion dollars which is one-fifth of the global GDP.
Meanwhile, Japan is at number three with 4.9 trillion dollars while Germany is the highest GDP among European countries with 4.3 trillion dollars. It holds fourth position in the global list.
The fifth position is held by the UK with 3.4 trillion dollars. France has ranked the 7th in the list with a GDP of 2.9 trillion dollars. Canada's GDP is 2.2 trillion dollars, securing 8th position globally.
Besides, Italy has GDP of 2.1 trillion dollars ranking the ninth. Of the South American countries, Brazil is atop having 1.8 trillion dollars of GDP. It has ranked the 10th in the world. Nigeria is the biggest economy in Africa with GDP worth 511 billion dollars, securing 31st position in the list.
Unauthorized use or reproduction of The Finance Today content for commercial purposes is strictly prohibited.