Economy /
Oil-price hike fuels chain reactions, overnight chaos
---
Staff Correspondent
Published:
2022-08-07 19:03:18 BdST
Oil-price hike fuels chain reactions, overnight chaos
---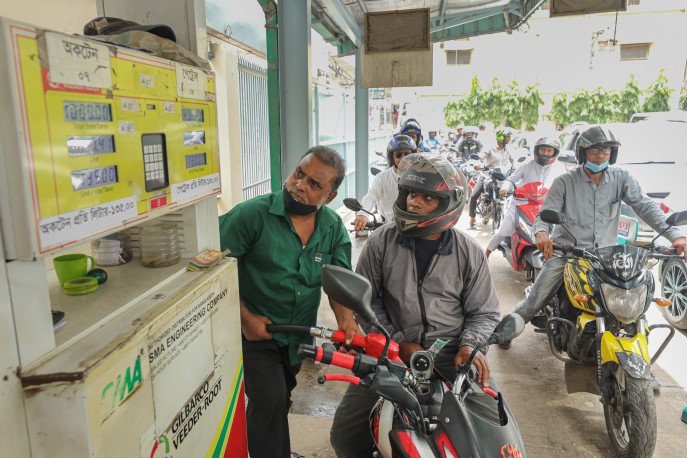 Commoners across the country stood shocked seeing the steepest hike in oil prices by the government overnight that fuelled wildcat protests and caused abject sufferings to commuters from early Saturday.
Bus owners restricted the plying of their vehicles on the street to have higher transport fares announced, while CNG (compressed natural gas)-run three-wheelers, ridesharing motorcycles and rickshaw-pullers charged higher, worsening public woes.
Launch owners also reduced their usual trips and decided to re-fix the fares higher to cope with the hiked oil prices on the domestic market.
Many petrol pumps across the country shut as they were yet to re-set the just-increased prices in the oil dispensers, leading to overnight scrambles for motor fuels.
Numerous filling stations across the country witnessed late-night vandalism as the transport owners thronged there to get the oils at previous rates well before the raise was disclosed at midnight, it was alleged.
The government raised the prices of refined petroleum products by up to 51.68 percent issuing a brief executive order at around 10 on Friday night.
The new oil prices, however, became effective around two hours after the announcement, from zero hours.
Prices of mostly-used diesel and less-used kerosene have been increased by 42.5 percent to Tk 114 per litre from the previous Tk 80 per litre, while the price of octane has been raised by 51.68 percent to Tk 135 per litre from previous Tk 89 and petrol price by 51.16 percent to Tk 130 per litre from the previous rate of Tk 86 per litre.
Economists and energy experts see the hike as a move to fulfill conditions tagged by the International Monetary Fund (IMF) to a foreign-currency loan meant for buttressing Bangladesh's dwindling reserves in lockstep with a global crunch.
They were also critical of the hike in oil prices at a time when international oil prices were on a downturn with modest production increase and little supply-chain ease.
"Public interest was not protected with the steepest hike in fuel prices overnight," says energy expert Dr Ijaz Hossain.
Bangladesh is now passing the worst time in history and hiking oil prices in such a situation is just pouring 'huge burden' on commoners, he adds.
It seems that the government is not willing to provide any subsidy anymore for importing petroleum products, observes Mr Hossain, who is also a professor of Chemical Engineering atq Bangladesh University of Engineering and Technology (BUET).
The regulated pricing of oils by the government ''is going against the interest of commoners.''
He demands that the oil price be fixed by Bangladesh Energy Regulatory Commission (BERC) through public hearing, where people will have a say and stakeholders will have to justify the hike.
Economist Dr Ahsan H Mansur suggests breaking the monopoly of state-run Bangladesh Petroleum Corporation (BPC) by opening up petroleum business for private sector.
This, he says, will ensure fair prices of petroleum products for the commoners like that of liquefied petroleum gas (LPG).
"It is, however, a right and bold decision by the government," he says, adding, "Now the government should link the movement of domestic oil prices with international market."
Inflation will increase by 2.0 to 3.0 percent as an immediate impact on domestic economy, says Mr Mansur, who is executive director of Policy Research Institute (PRI).
The government revenue will increase significantly, he said, adding that the BPC will no longer have to face trouble in opening letter of credit (LC) with the commercial banks.
"The government had informed us about the probability of oil-price hike a couple of weeks back where we had suggested implementing the hikes in two to three phases," said president of Bangladesh Petrol Pump Owners Association Nazmul Haq.
The petrol pump owners also had suggested executing the oil-price-hike decision with immediate effect, he adds.
The time lag of around two hours resulted in vandalism at many petrol pumps, he alleged.
Sources said many bus owners observed an 'unofficial strike' on different routes to pressure the government to raise transport fares, creating a severe shortage of public transports Saturday.
Most of the buses of Mohammadpur-Motijheel route, like Midland Paribahan, and Malancha, Mohammadpur-Banasri route's Taranga, Abdullahpur-Mohammadpur -based Prajapoti, Abdullapur-Gulistan-Motijheel-bound buses, Mirpur-Gulistan-Sadarghat, Mipur-Azimpur route buses remained garaged in tantrums over the diesel- price hike.
Many bus conductors and passengers were also found in altercation as the bus conductors were charging additional fares from passengers.
In absence of buses, CNG-run auto-rickshaws, human-paddled rickshaws and share riders raised their fares doubly to triply in absence of any monitoring, it has been alleged.
Julkar Naim works in a construction company at Arambag. He was waiting for a Motijheel-bound bus at Sankar Bus stand in Satmashjid Road on Saturday morning.
"I'm waiting for an hour in this hot weather but didn't get any bus," he said.
A BRTC-run bus came but it didn't stop as it was full with even standing passengers, he said, narrating his woes.
Later Naim hired an auto-rickshaw that charged him Tk 400 instead of Tk 200-220 of the normal fare.
Md Jamal, a conductor of Malancha Paribahan, was injured mildly at the Jigatola bus stand along with two passengers in a fistfight while charging some additional fare.
"Only two or three buses of Malancha have been operating on the street; Mohajon (owner) of our bus told us to take Tk 5.0 additional on per stoppage (waybill stoppage) but passengers are not willing to give," he said.
A passenger of the same bus said there is no declaration by the government over the hike in bus fares but bus conductors were charging higher fares.
Most of the motorbike share riders stopped operations on apps on the day and were charging double to triple fares than usual.
Ashraful Alam Murad, a private bank official, said that a motorbike charged him Tk 350 from his residence at Mohammadpur to his office at Banani when it is only Tk 130-150 in normal time.
Rickshaw-pullers were seen charging double on the day. The normal fare from Mohammadpur bus stand to Dhaka College is Tk 60-80 while rickshaw-pullers charged Tk 130-150 on the day.
Contacted, president of Bangladesh Transport Owners Association Md Enayetullah Khan said he was at the meeting between the BRTA and the transport owners for a review of bus- and other- transport fares.
He said they were expecting the government might raise fares rationally taking into consideration the interests of both the consumers and the transport owners.
Meanwhile, the Bangladesh Passenger Welfare Association lambasted the government's fuel-price hike and demanded cancellation of the relevant order to save millions of poor people during this tough time.
Consumers Association of Bangladesh vice-president SM Nazer Hossain said the hike in diesel price will affect the total value chain as it had affected the commodity market after the previous hike in diesel prices in November.
According to government data inflation already hit a nine-year high in June this year.
He said the latest hike already has started to hit the low-and middle-come consumers as prices of food items increased overnight.
''The inflation rate soon would reach its peak in the coming weeks, which could create the worst condition for both the consumers and the government,'' he added.
Launch operators have cut the number of operations amid the lower rush of passengers at Dhaka River Terminal Port at Sadarghat.
The launch owners have hinted that they would increase launch fares as the daily cost for launch operation would increase automatically due to fuel- oil prices hike.
"We will sit shortly to review launch fares," Secretary of Bangladesh Inland Waterways (Passenger Carriers) Association Siddiqur Rahman Patwary said.
Sources said during the previous hike in November 2021, Brent crude price, the benchmark of international oil pricing, was around US$ 82 per barrel.
The Brent crude price was around US$95.55 per barrel as on August 5 when the latest price hike was announced.
It had gone as high as around US$130 per barrel several weeks ago.
The November 2021 oil-price hike had sparked widespread protests, leading to several days of transport strike, which was called off after a hike in transport fares.
The commoners also protested the oil-price hike and students made home their demand for reducing the transport fares.
The BPC itself fixes the domestic prices of a number of petroleum products, which include furnace oil, jet fuel, bunker fuel and marine fuel, most of which have less direct reflection on commoners.
To cope with the uptrend in oil market, the BPC previously increased domestic prices of all such fuels, and among them, jet-fuel price was raised by Tk 5 per litre and furnace-oil price was raised by 19.35 percent to Tk 74 per litre on March 25, 2022.
The corporation currently imports around 5.0 million tonnes of diesel, 1.30 million tonnes of crude oil, 600,000 tonnes of jet fuel, 300,000 tonnes of octane, 500,000 tonnes of furnace oil and 120,000 tonnes of marine fuel annually.
Unauthorized use or reproduction of The Finance Today content for commercial purposes is strictly prohibited.