Economy /
Dr Atiur for flexible economic strategy in Kathmandu confce
---
Staff Correspondent
Published:
2022-08-14 20:13:44 BdST
Dr Atiur for flexible economic strategy in Kathmandu confce
---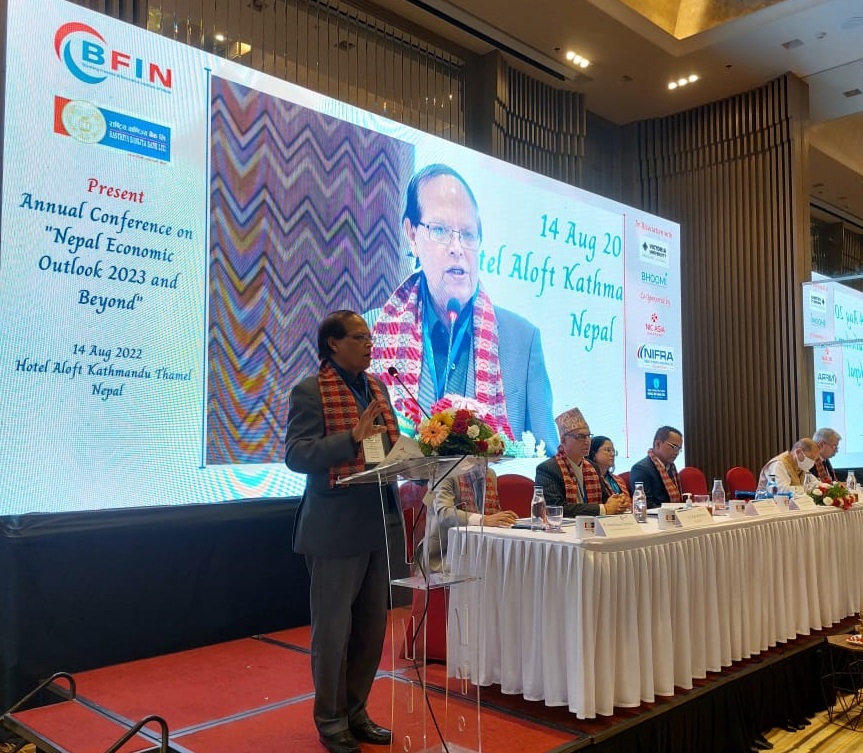 Former Bangladesh Bank Governor Prof Dr Atiur Rahman said the developing countries must remain flexible and grounded in responding to the ongoing global economic crisis.
"We are inspired by a quote of Bangabandhu, 'Don't jump, don't be adventurous' while responding to any crisis. Instead, we must move slowly and steadily fortifying our resilience through regional cooperation and building partnerships allowing all stakeholders to participate deeply to address the global challenges," Dr Atiur said while addressing a conference in Nepal as honourary guest on Saturday.
Banking, Finance and Insurance Institute of Nepal (BFIN) organised the 'Nepal Economic Outlook 2023 and Beyond' conference in Kathmandu marking the fourth anniversary celebration.
Nepal National Planning Commission Vice Chair Dr Biswo Nath Poudel was the chief guest while Dr Atiur gave a keynote address on the occasion.
The eminent economist elaborated on the steps taken by all the South Asian central banks to address the global economic crisis which is still creating serious uncertainties in the global financial and energy markets.
Dr Atiur appreciated Nepal Rastro Bank for remaining flexible in its response to global economic crisis by making both its interest rate and foreign exchange rate amenable to global concerns.
"It not only continued to raise basic rates and managed floating of the exchange rate to remain market-friendly but also provided low-cost support to agriculture and SME sectors by giving appropriate directions to the banks and non-banks for providing loans to these small entrepreneurs at a reasonable rate," he said.
The former governor also cited Bangladesh Bank's focused attention on inclusive finance for these smaller entrepreneurs who have been badly affected by the pandemic related slowdown of the economy.
Dr Atiur opined that these challenges are also creating new opportunities for further digitisation of the economy and finance.
He advised the South Asian regulators to go for experimental approach in adopting digital central bank currencies which Reserve Bank of India is poised to launch shortly.
Other central banks in the region can wait to learn from the Indian experience on this score and go for limited experimentations later, according to the macro economist.
Dr Atiur believes there will always be last mile transaction in cash even if the region goes for digital central bank currencies.
"The actual transition will take time. So, there is no need to hurry up at this stage. However, we must continue to instill in our organisations the culture of digital transformation by learning from each other and encouraging partnerships between central bank, banks, fintechs and MFIs," he added
He claimed the human factors will play most important role and therefore to adopt a blended approach where automation will still play strategic role.
Finally, Dr Atiur touched on the need for stabilizing exchange rate by focusing more on the sources of its instability like widened trade and current account deficits by working on both demand and supply sides.
"Let us understand the language of the market and also let market be given the direction to be more socially responsible in this difficult time when the sea is so rough. Both interest rate and exchange rate ought to remain flexible and market-driven within a robust regulatory regime which too encourages partnerships of all kinds," he said.
The eminent economist advocated enhanced level of monitoring of the trade finance to keep the market calm and stable.
In addition, he opined for open regionalism and shuns populism in the face of the balkanization of the global economy due to geopolitical tensions that are accelerating.
Unauthorized use or reproduction of The Finance Today content for commercial purposes is strictly prohibited.