Economy /
Planning Minister for concerted efforts to reap dev benefits
---
FT Online
Published:
2019-06-16 11:30:21 BdST
Planning Minister for concerted efforts to reap dev benefits
---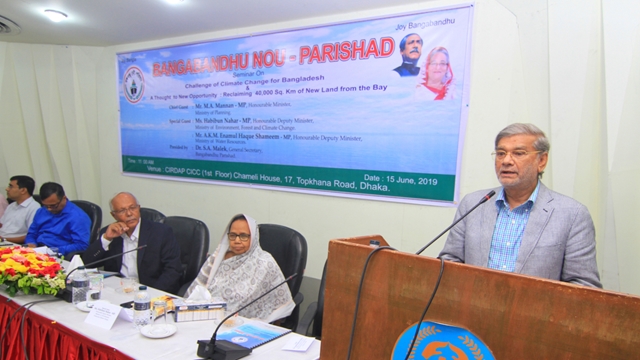 Claiming that the country has the resources to spend even 2-3 times more in development projects in the future, Planning Minister MA Mannan on Saturday underscored the need for taking integrated efforts to reap their benefits.
"We've resources to spend two times, even three times more (for development) in the future, if necessary. Now, we need integrated initiatives," he said while addressing a seminar on land reclamation from the Bay of Bengal.
Bangabandhu Nou Parishad arranged the programme at Cirdap auditorium.
"Now is the time to work. We've the opportunity to carry out research, work and think," said the minister about reclaiming land from rivers and the Bay of Bengal.
He urged all to have a positive attitude, saying, "We've to look forward and for this, we need to work hard as well as study more. Another thing that's required is confidence."
The minister stressed the need for using water bodies like sea and rivers as part of blue economy. "Water bodies can be identified as land property. We can be benefitted by utilising our waters through blue economy."
Noting that the country needs more land, Mannan, however, said playing with the nature is tantamount to playing with fire. "So, we need to adjust instead."
He also said all concerned must take an approach scientifically to reclaim land from the bay.
The minister assured that the government is aware about tackling climate change. "We've strong leadership. Our leader has given us a roadmap (for development). We've plans like SDGs and Delta Plan."
Deputy Minister for Environment, Forests and Climate Change Habibun Nahar and Deputy Minister for Water Resources AKM Enamul Haque Shamim also spoke at the seminar while Bangabandhu Nou Parishad Convener Ashraf Ibn Noor presented the keynote paper.
Speakers said 35,000-40,000 square kilometres of land can be recovered in the coastal region by dredging, filling and building breakwater which can resolve the land crisis caused by climate change.
Bangabandhu Nou Parishad put forward a set of proposals for the land reclamation process from the Bay of Bengal that include using cross dam method in river estuaries, using Trailing Suction Hopper Dredgers (TSHD) for digging, creating separate departments for implementing and monitoring projects as well as including the whole process in the Delta Plan-2100.
Unauthorized use or reproduction of The Finance Today content for commercial purposes is strictly prohibited.