Economy /
ODCs key barrier to signing of PTAs
---
SAM
Published:
2019-11-06 17:40:53 BdST
ODCs key barrier to signing of PTAs
---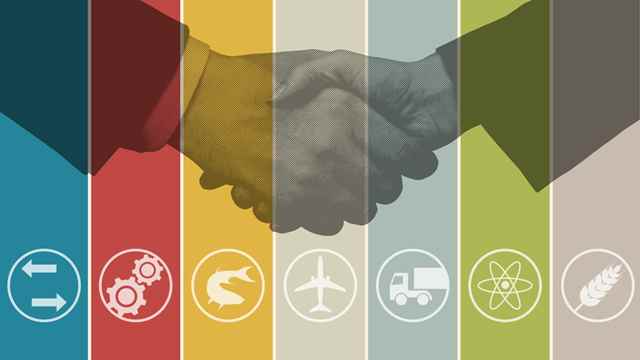 FT ONLINE
Other duties and charges (ODCs) have emerged as one of the major barriers to the signing of preferential trade agreements (PTAs) between Bangladesh and several countries, officials have said.
At present, Bangladesh is holding talks with Nepal, Bhutan and Indonesia about the signing of PTAs.
ODCs are kind of duties or charges which are levied on imported goods but not on locally produced goods, other than charges equivalent to internal taxes, anti-dumping duties and countervailing duties as well as fees and charges for services rendered.
ODCs are also a source of revenue for the government and give protection to domestic production and therefore, like customs duties, directly affect access to markets.
A senior commerce ministry official said on Monday that the government is eager to sign several PTAs and free trade area (FTA) deals before Bangladesh graduates to a developing country.
While negotiating duties and tax issues, the official said, those countries have raised a question about ODCs which they find very high in value.
Citing an example, the official also said Nepalese negotiators have told them if customs duty on a product in Bangladesh stands at 35 percent, it reaches 100 percent when ODCs are applied.
Bangladesh was granted duty-free market access to 18 Bhutanese products including a waiver of value-added tax (VAT) in 2010. In the last nine years, Bhutan's exports to Bangladesh soared to $102 million from $19 million, taking advantage of duty-free access.
Now Bhutan is seeking the same facility for 16 more products.
Another commerce ministry official said Bhutan was granted VAT waiver in 2010, considering its tiny export to Bangladesh. Now no VAT waiver will be given in case of granting duty-free access to new products.
The commerce ministry wrote several times to the National Board of Revenue (NBR) to make a decision on ODC issue in order to advance talks on PTAs, but to no avail.
Failing to get a response, now the commerce ministry has invited NBR chairman Mosharraf Hossain Bhuiyan to attend a meeting at the ministry and give his opinion on ODC issues.
When contacted over the phone on Monday, NBR member Khondaker Muhammad Aminur Rahman said that they have yet to take any decision about the removal of ODCs.
In the case of Bhutan, he said, VAT and advance income tax have already been waived. But in case of other countries, the government has not taken any decision, he added.
"Waiver of customs duty depends on how large bilateral trade is with the country concerned with us," Mr. Rahman said.
Even though Bangladesh has inked several multilateral trade deals, it is yet to sign any bilateral PTA or FTA.
The two multilateral FTA deals are the South Asia Free Trade Area (SAFTA) agreement and BIMSTEC FTA (Bay of Bengal Initiative for Multi-Sectoral Technical and Economic Cooperation Free Trade Agreement).
On the other hand, three multilateral PTA deals are the Asia Pacific Trade Agreement (APTA), TPS-OIC (Trade Preferential Scheme among the member states of the OIC), and D-8 PTA (Developing-8 Preferential Trading Agreement).
Economists plead that Bangladesh needs to go forward to sign PTAs and FTAs to open its market and be prepared to face challenges when it graduates to the next level.
Earlier, Distinguished Fellow of Centre for Policy Dialogue (CPD) Dr. Debapriya Bhattacharya said that there is no problem in exploring the possibility of FTAs with major countries.
But during the study, he said, some issues have to be taken into consideration so that Bangladesh can benefit from the deals.
Dr. Bhattacharya also said Bangladesh needs to check whether it will get preferential tariff reduction and products having export potential can be included in the FTA concession list.
"The amount of revenue loss from FTAs needs to be calculated and non-tariff barriers have to be addressed," he added.
Unauthorized use or reproduction of The Finance Today content for commercial purposes is strictly prohibited.