Economy /
Savings certificate sales rise even after high interest rate in bank deposits
---
SAM
Published:
2018-03-11 01:15:16 BdST
Savings certificate sales rise even after high interest rate in bank deposits
---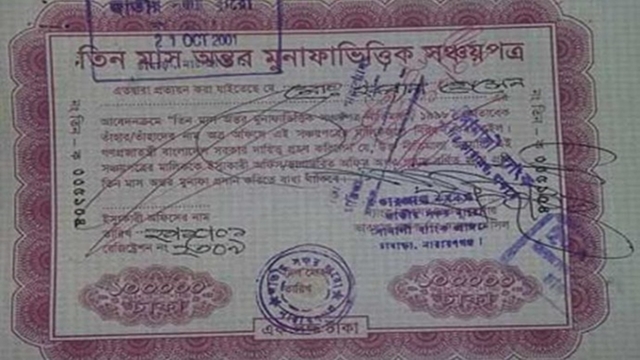 FT ONLINE
The depositors had turned away from the banks following the Farmers Bank Limited incident but now they are leaning towards savings certificate.
A total of around Tk8,060 crore was invested on savings certificate in January, 2018, said Bangladesh Bank's updated report.
According to the report, this is the highest amount invested in a month in this fiscal year 2017-18.
According to information provided by the central bank, the investors of the previous saving scheme were paid a total of around Tk2,920 crore.
As a result, the government's net loan stood in the vicinity of Tk5,139 crore from savings certificate in January, which is the highest net loan in this fiscal year.
On the other hand, the banks are failing to get the desired deposits in spite of announcing a higher rate for it.
At present over 30 private banks are facing financial crisis. Besides, the customers of Farmers Bank have not been paid money for a few months. Some relatively new banks are also facing similar issues.
Due to a funds crisis, NRB Global Bank has failed to submit a cash reserve ratio (CRR) to the Bangladesh Bank. NRB Global Bank is facing a crisis of some Tk200 crore every day since February 19 to maintain CRR.
The Bangladesh Bank has been issuing fines due to huge shortage in the fund.
According to Bangladesh Bank even though more loans are being issued, the banks are seeing less deposit in comparison to it. The central bank has issued an order to the banks to increase their deposits.
Wishing anonymity, managing directors of some banks have said the depositors are thinking twice before keeping their money in the banks. They said they have not been able to get the desired deposits even after offering higher interest rate.
Besides, some of the depositors are also withdrawing their money from new banks before the expiry of the tenure and depositing it in older banks.
Economists say that tension is prevailing among the depositors as Farmers Bank has failed to return the money to its clients.
They said many are withdrawing their money and investing in savings certificate, which is affecting the entire banking sector.
There have been instances of funds being withdrawn because the depositors fear that an occurrence similar to the Farmer's Bank incident might take place. People are now considering savings certificate as a safer option. Moreover, the rate of interest is higher in savings certificate.
According to the data of Bangladesh Bank, the government has take a loan of around Tk28,963 crore from savings certificate in seven months (July 2017 to January 2018), which is 96.06% of the total target for the fiscal year.
The government is supposed to take a loan of Tk30,150 crore from this sector to meet the budget deficit.
According to a report by Bangladesh Bank, even though the sale of savings certificate went up in October, 2017, the number decreased again in November. The sales have once more seen a rise since January 2018.
The Bangladesh Bank states that the government took a loan of Tk5,139 crore in January from the savings certificate while it had taken Tk2,651 crore last December.
In November, the government took a loan of Tk3,857 crore from the saving certificate, Tk4,620 crore in October, Tk3,665 crore in September, Tk3,975 crore in August and Tk5,053 crore in July.
The central bank data shows that the government took a loan of Tk10,445 crore from the family savings certificate in the last seven months while it took Tk7,812 crore from the interest based savings certificate.
The government took Tk2,440 crore from pension savings certificate and Tk2,077 crore from five-year savings certificate.
Savings certificate sale went up to Tk75,000 crore in 2016-17 fiscal year, breaking all its previous records.
A major reason behind the rising interest in saving certificate is because it offers a higher rate of interest than deposit. The interest rate of five-year family savings certificate is 11.52%, 11.76% for a pension certificate for five years, 11.28% for a five-year Bangladesh savings certificate, 11.04% for a three-year interest based savings certificate and 11.28% for a three-year post-office savings certificate.
Unauthorized use or reproduction of The Finance Today content for commercial purposes is strictly prohibited.