Economy /
Manpower exports fall in Feb on lower Saudi hiring
---
SAM
Published:
2018-03-11 10:58:50 BdST
Manpower exports fall in Feb on lower Saudi hiring
---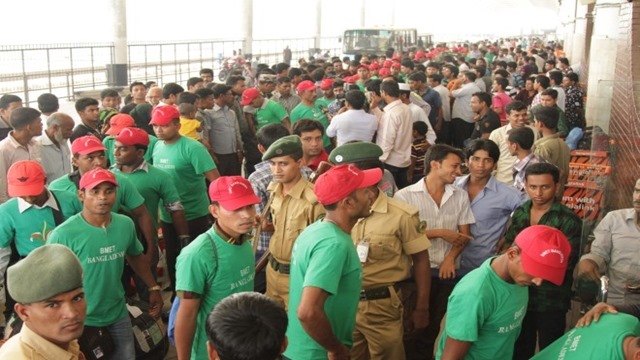 FT ONLINE
Slowed manpower export to Saudi Arabia, the key job market, pulled down Bangladesh's overseas jobs growth in February last, officials and sector insiders said.
The jobs in Saudi Arabia for Bangladeshi workers declined for different reasons. The kingdom recently put restrictions on recruitment of foreign workers in 12 categories.
The official figure available with the Bureau of Manpower, Employment and Training (BMET) shows that about 59,382 workers went abroad in February last against 85,038 in the corresponding month in 2017.
The Saudi kingdom hired about 27,000 workers from Bangladesh in February. But the oil-rich country recruited on an average 45,000 workers every month in 2017.
The Saudi government slapped a ban on 12 categories of jobs for foreign workers in early January. The categories include car and motorbike showrooms, readymade garment stores, home and office furniture stores, home appliances and kitchen utensil stores, electronics stores, watches and clocks stores, and optics stores.
Development work in the country slowed down in the wake of fall in oil prices. Resultantly, of the workers who were going to that country on individual, family and friend visas, many were not getting jobs.
Added to that was Bangladesh's strategy to ensure quality migration to the Arab country. It also left an impact on the overseas employment growth, sources said.
The manpower outflow might drop further in this Middle East country, said Ruhul Amin Swapan, secretary general of Bangladesh Association of International Recruiting Agencies (BAIRA).
If such a declining trend continues in this key job market, Bangladesh might fail to achieve the target of overseas jobs this calendar year, he observed.
The Ministry of Expatriates' Welfare and Overseas Employment set a target to send 1.2 million workers abroad in the current calendar year.
However, Bangladesh sent 1.0 million workers abroad in 2017, the highest in the history of the country's overseas jobs thanks to recruitments in Saudi Arabia.
Of the total jobs last year, Saudi Arabia recruited 551,308 workers alone, BMET data showed.
"Sometimes we are receiving complaints from workers' family members about exploitation or non-payment of wages. So, we are now more cautious about sending workers abroad," said Mr Swapan.
Many manpower recruiting agencies were also feeling discouraged to send women workers to Saudi Arabia fearing exploitation, he added.
Every demand of workers is being well-scrutinised, whether it is good or not, he added.
He said "the country should attach importance to Malaysia as the alternative to Saudi Arabia. Already 120,000 Bangladeshis went there and jobs for 100,000 are in the process under the 'Government to Government Plus' arrangement."
"We hope United Arab Emirates (UAE) market also will reopen soon. So, the outflow of manpower will increase there," he added.
Despite these opportunities, it will be very tough to achieve the goal of manpower export in 2018, he observed.
Besides, officials at the Ministry of Expatriates' Welfare and Overseas Employment said they were laying more emphasis on skilled and quality migration than the number.
But the target can be achieved as they are exploring new markets.
Nomita Halder, secretary of the ministry, said following the embargo many Bangladeshi workers were losing jobs in Saudi Arabia. So, it left an impact on overall migration.
"But we also should not depend only on Saudi market," she said. "We are exploring new job markets," she added. They were also focusing on skilled migration.
Already they started sending workers to Japan which is a big achievement.
Replying to a query, she, however, said it should not be speculated at this point of time about achievement of the target of employment, as the figure might rise in the remaining 10 months.
The UAE can reopen its door any time. Then the outflow of workers would increase notably, she added.
The monthly lower employment left a negative impact on overall migration in the last two months.
About 141,228 workers went abroad in the first two months of 2018 against 166,472 in the corresponding period of the last calendar year. The growth in overseas jobs declined by 15 per cent.
Between 1976 and 2017 more than 11 million workers went abroad from the country, of them about 700,000 were women. Most of the workers are working in Middle East as less-skilled workers.
Currently, about 1.3 million Bangladeshi workers are in Saudi Arabia. Bangladesh exports manpower to 165 countries. Of them, 20 countries are main job destinations.
Bangladeshi nationals working abroad sent US$1.15 billion home in February. The amount was lower by $230.79 million than the remittance sent home in the previous month. In January the remittance was recorded at $1.38 billion, according to the central bank's latest statistics.
Unauthorized use or reproduction of The Finance Today content for commercial purposes is strictly prohibited.