Schools, colleges gearing up for reopening
---
Special Correspondent
Published:
2021-03-11 04:57:14 BdST
Schools, colleges gearing up for reopening
---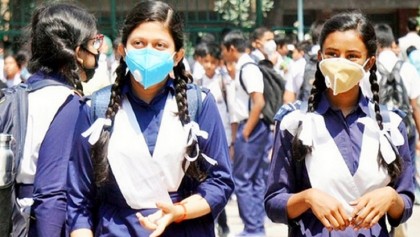 The authorities of schools and colleges across the country are working in full swing to prepare the educational institutions ahead of their reopening on March 30.
Visiting a number of schools and colleges in the capital, it was found that cleaners and other staff members were passing a busy time to clean classrooms and the premises by removing dust and dirt.
Most of the educational institutions have already completed all preparations, including installation of facilities for washing hands and cleaning the premises and classrooms, as per the health guidelines issued by the government for reopening the institutions.
"We've completed almost all preparations following health guidelines to reopen our school on March 30 as per the government's decision," said Farhad Hossain, principal of Monipur High School in the capital.
He also said, "We've set up disinfection tunnels at all of our campuses and are installing wash blocks or facilities for washing hands."
"Students will be allowed to enter the campuses only after wearing masks and washing hands," the principal said, adding that they will also keep a medical team and an isolation centre ready in each of the branches.
The government has decided to reopen schools and colleges on March 30 while all universities will reopen on May 24 and dormitories of the universities will open on May 17.
After an inter-ministerial meeting on the reopening of educational institutions, Education Minister Dr Dipu Moni on February 27 said the government decided to resume in-person teaching at all primary, secondary, and higher secondary levels in phases from March 30 maintaining health guidelines.
She said fifth graders, and Secondary School Certificate (SSC) and Higher Secondary Certificate (HSC) candidates will be brought back to schools and colleges for daily classes while students from Class-IX to XI will attend classes twice a week and students of others classes will have classes once in a week. But pre-primary pupils will not go to schools now.
The education minister also said health workers and education officials would monitor whether the Covid-19 guidelines are being maintained at schools and colleges.
The Directorate of Primary Education (DPE) and the Directorate of Secondary and Higher Education (DSHE) sent guidelines to all primary and high schools and colleges asking them to be ready for reopening.
The guidelines issued by both the bodies said students, teachers, staffers and others concerned must wear masks in schools and colleges as part of health safety measures.
In its directives, the DPE said only two students would be allowed to sit on each bench while the DSHE prioritised maintaining a three-foot physical distance between two students.
The DSHE directives also said the educational institutions must have a clean, hygienic, safe and joyful environment for the children not only to combat the coronavirus but also on the occasion of the 'Mujib Barsho'.
The guidelines include preparing a budget for buying disinfectants, creating a routine for daily cleaning and orienting cleaning staff to cleaning and disinfection.
Those also suggested dividing students of each class into shifts to ensure social distancing and directed to ensure distance-learning for those who are unwilling to attend classes physically.
The temperatures of students should be checked before they enter the campuses while steps should be taken for monitoring health of all concerned (teachers, students, staff and cleaners) when they enter the educational institutions every day.
"We've completed all preparations, including cleaning school, and prepared a class routine to reopen school on March 30 following health guidelines," SM Sayed Ulla, head teacher of Hazaribagh Girls' Govt Primary School.
He said they will try their best to maintain health guidelines but it is a challenging task for them as the students of primary schools are minors.
"We've installed a hand-washing point, ensured soap and enough water and masks for the students at our school," Sayed Ulla, also the spokesperson of Bangladesh Govt Primary School Head Masters Association, said, adding that other primary schools also got ready for the reopening.
Educational institutions were shut on March 17 last year after the country confirmed its first three Covid-19 cases on March 8. The closure was extended in phases in the last one year.
DSHE Director General Prof Syed Md Golam Faruk said they have taken various preparations ahead of the reopening of schools and colleges on March 30 and holding classes following health guidelines.
"New wash blocks have been installed along with hand-washing system at the entrances of schools and colleges while first aid boxes have been kept ready at all institutions," he said.
According to Bangladesh Bureau of Educational Information and Statistics (BANBEIS), there are 20,122,337 students in 129,258 primary schools while 10,349,323 students in 20,660 secondary schools and 43,85,210 students in 4,551 colleges across the country.
Unauthorized use or reproduction of The Finance Today content for commercial purposes is strictly prohibited.