Acute teacher crisis hobbles technical institutes
---
Mehedi Hasan
Published:
2023-11-19 23:11:01 BdST
Acute teacher crisis hobbles technical institutes
---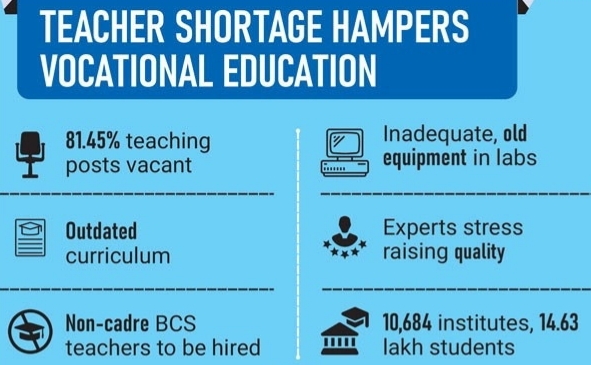 State-run technical education institutions are grappling with a severe shortage of teachers, which educationists say is hampering the quality of education to a great degree.
The Directorate of Technical Education data shows 81.45% of the teaching positions are vacant as there are only 2,893 teachers against 15,597 posts across the country. More than 6,000 officer posts are unfilled as well.
Director General (Additional Responsibilities) of the directorate AYM Ziauddin Al Mamun said teacher shortages have put them in trouble.
He said it is not possible to appoint such a large number of teachers at once but they are handling the matter sincerely. "We will be able to appoint some teachers within a month."
There are only four teachers for 350 students in two shifts in the electrical technology department at Jhenaidah Polytechnic Institute, but none of them is permanent. The department head's post has also been vacant for a long.
The four teachers are struggling to fully perform their duties. When it comes to delivering lectures and arranging exams, they are managing. But conducting practical classes has become a tall order.
Cumilla Polytechnic Institute has only 30 teachers in six technology departments, though there should be 198. Its authorities are employing part-time teachers to continue academic activities.
Dhaka Polytechnic Institute Principal Kazi Zakir Hossain said the crisis has been dragging on for a long time.
He said 70% of the posts in his institution are unfilled. Besides, the quality of technical education across the country will fall gradually if the crisis prolongs, he added.
A technical education directorate official said 375 non-cadre teachers from the 40th Bangladesh Civil Service (BCS) batch would be recruited at polytechnic institutes to resolve the crisis.
He said 400 teachers would also be hired from the same batch at technical schools and colleges.
"Moreover, 3,000 teachers will be recruited as part of regular hiring through the public service commission. The written tests for the appointments are over, but the oral exams have not yet been held," he added.
There are three levels of technical education in the country – certificate, diploma, and degree. Bangladesh has 10,684 institutes, including public and private, that offer education for these levels, and over 14.63 lakh students study there.
Concern over quality
Educationists say a large number of students study at technical institutes but they are not becoming skilled. They are also struggling to find jobs due to lack of skills.
There should be capacity building efforts at the institutes so that students can get the required education and skills. Otherwise, education will not be useful in the job market and unemployment will increase every year, experts noted.
Dr M Kaykobad, a former computer science professor at Bangladesh University of Engineering and Technology, said technical education is plagued with multiple problems.
"Without adequate teachers, classrooms, and labs, such education will not be complete. The authorities also have to consider what the job market demands, but they are not doing that."
Most of the government and private technical education institutions do not have the necessary laboratory equipment. Besides, the existing equipment has become old. There are even institutions where all the equipment is out of order.
The shortage of teachers is a hindrance to delivering full-fledged practical education even at institutions having adequate equipment. The students there are bearing the brunt as they are only getting certificates without developing skills. The situation is worse at the private institutions due to lack of monitoring.
There is a big shortage of equipment in labs at Jhenaidah Polytechnic Institute. A fifth-semester student of the electrical technology department said he chose polytechnic education to gain hands-on skills.
"But we do not have the necessary equipment in labs. We do not even have teachers. I do not know what I will do with the education I am receiving," he lamented.
Mahmud Haque, a craft instructor at Naogaon Polytechnic Institute, said they have some lab equipment but it is old and hence is not benefitting students much.
Outdated curriculum
Teachers at technical institutes say the general education curriculum is being updated but that of vocational education is not keeping up. The authorities are not modernising the age-old curriculum. That is why the country is failing to equip local students with the right skills while foreigners are being hired for the leading positions in various sectors, including apparel.
M Siddiqur Rahman, former director of the Institute of Education and Research at the University of Dhaka, said there is lack of awareness about technical education among Bangladeshis.
"That is why parents do not want to let their children pursue this track. Besides, the technical education curriculum has not been updated. The authorities should pay extra attention to this," he added.
The technical education directorate's Ziauddin said some initiatives have been taken to improve quality. "Once those are completed, the crisis will be over."
Unauthorized use or reproduction of The Finance Today content for commercial purposes is strictly prohibited.