PM proposes 3 factors to address child education in conflict-affected context
---
A. Malek
Published:
2018-09-25 15:31:04 BdST
PM proposes 3 factors to address child education in conflict-affected context
---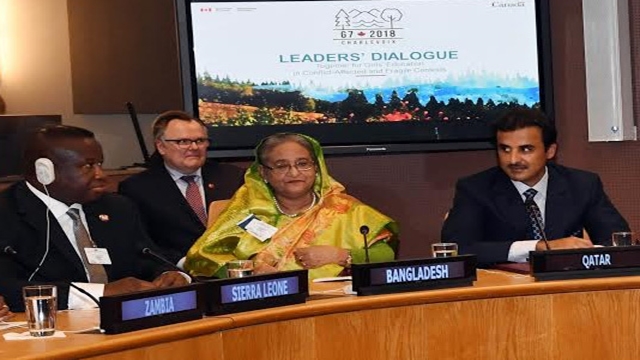 Prime Minister Sheikh Hasina has proposed to consider three critically important factors to address the needs of children's education in conflict-affected context.
Addressing a roundtable discussion, she also urged the international community to invest in Myanmar, so that the Rohingya children can enjoy their rights including the right to education upon their return to their homeland.
Canadian Prime Minister Justin Trudeau organised the roundtable on 'Investment for education of women and girls' at Conference Room 11 of the UN Headquarters here on Monday afternoon local time.
"Firstly, we have to understand that these children fleeing conflict, ethnic cleansing and genocide are carrying heavy psychological trauma. We have to look into their psycho-social needs," she said.
Secondly, the prime minister said the children fleeing conflict and ethnic cleansing cannot be expected to accustom themselves in a normal school setting. "Hence, they need to be provided with informal and life skill-based special learning facilities."
She said thirdly, forcibly displaced Rohingya children are now living in a different cultural setting. "These children need to be given education in line with their own culture, ethnicity and language," she said.
She added "Such education will help them keep their original identity. This will also prepare them for their life ahead once they return to their homeland."
The premier said Bangladesh is thankful to the international community for their support in providing education to the Rohingya children in Bangladesh.
"I call upon them to also invest in Myanmar, so that these children can enjoy their rights including the right to education upon their return to Myanmar," she said.
Sheikh Hasina said that many people around the world are confronting violence and terrorism. Such violent extremism are uprooting people from their homeland. "More than 65 million people remain displaced and the number is increasing every day. A majority of them are women and children," she said.
The premier said the issue of these refugees and forcibly displaced people are sensitive and delicate. "They are traumatized, destitute and carrying horrific experiences of violence and atrocities. Many of these communities have suffered oppression and discrimination for decades in their homeland."
Terming Bangladesh as a peace-loving nation, Sheikh Hasina said that her father the Father of the Nation Bangabandhu Sheikh Mujibur Rahman fought against violence, deprivation, inequality.
"Unfortunately, we are bearing the brunt of violence in another country. Currently, Bangladesh is hosting over 1.1 million forcibly displaced Myanmar nationals. They have fled violence and 'genocide' in Myanmar, where they lived for centuries."
She mentioned that the Rohingyas have been subject to discriminatory state policies over decades. "They were deprived of their rights to education, healthcare and freedom of movement. They were even stripped of their citizenship," she said
As they were fleeing atrocities in Myanmar, she said, Bangladesh has opened its border for them and stood beside them. "Our people opened their houses and shared their food during the most critical phase."
The prime minister said that around 55 percent of the Rohingyas hosted in Bangladesh are children.
"Eleven hundred and six learning centres have been established in partnership with the UNICEF for imparting informal education to these Rohingya children," she said.
She said these centres are providing psycho-social support and basic life skill training to one hundred and thirty-six thousand Rohingya children.
"We are continuing our efforts in adding new learning centres and distributing learning kits to the children. We have to bear in mind that the children fleeing conflict are in dire condition. They are devastated and lost. They require special attention," she said.
Unauthorized use or reproduction of The Finance Today content for commercial purposes is strictly prohibited.