TV programmes on National Mourning Day
---
Staff Correspondent
Published:
2021-08-15 09:47:04 BdST
TV programmes on National Mourning Day
---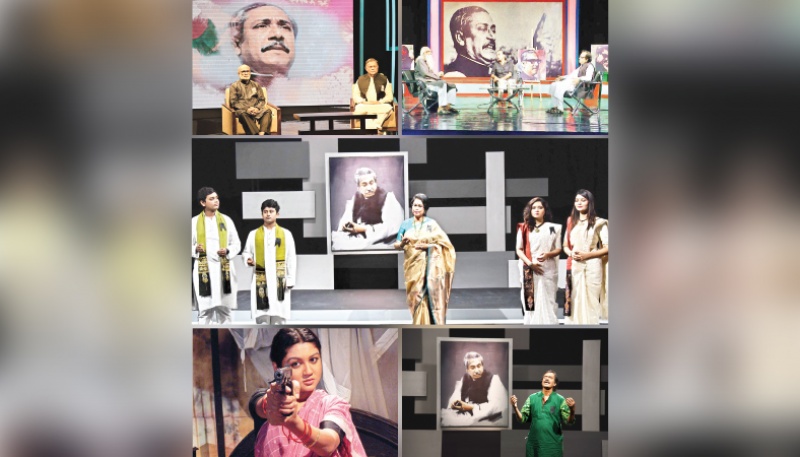 Today marks the 46th martyrdom anniversary of Father of the Nation Bangabandhu Sheikh Mujibur Rahman and the National Mourning Day. On the occasion, top television channels in the country will air a wide range of special programmes.
Bangladesh Television (BTV) will air a special programme titled 'Pitar Jonno Shokgatha' at 6:20 pm today. Produced by Mahfuza, the programme will be hosted by Shahadat Hossain Nipu.
In the programme, Asaduzzaman Noor and Hasanuzzaman Kallol will recite poetry while Jayanta Chattopadhyay, Azizul Hakim, Munira Yusuf Memi and Tanveen Sweety will read three books authored by Bangabandhu —'Karagarer Rojnamcha', 'Ashamapta Atmajibani, and 'Amar Dekha Naya Chin'. The programme will also have songs performed by singers Rafiqul Alam, Rezwana Choudhury Bannya and Kiron Chandra Roy.
A special episode of a discussion programme titled 'August 15, 1975, Keno Ei Nrishongshota?' will also be aired on the state-owned channel at 10:20 pm on the National Mourning Day. Information and Broadcasting Minister Dr Hasan Mahmud, Fisheries and Livestock Minister SM Rezaul Karim and Awami League Advisory Council member Amir Hossain Amu will take part in this episode titled 'Shok Theke Shokti, Shok Theke Jagoron'. Produced by Nur Anwar Ranju, the programe will be hosted by Abed Khan.
RTV will air a poetry recitation programme titled 'Kobitay Bangabandhu' at 5:05pm. Syed Hasan Imam, Arman Parvez Murad, Munira Yusuf Memi and Azizul Hakim will recite poetry in the programme produced by M Shamsuddin Mithu.
A documentary film titled 'Political Life of Bangabandhu and Emergence of Bangladesh' showcasing different periods of the great leader Father of the Nation Bangabandhu Sheikh Mujibur Rahman's eventful life and career will be aired on the same television channel at 2:10 pm.
The documentary is produced by Syed Ashik Rahman. Syed Hasan Imam, Mancha-Sarathi Ataur Rahman, Abdus Sabur Khan Chowdhury, Laila Hasan, Sayed Ismat Toha, Ramiz Raju, Rezaul Karim Siddik, Dr Likhon Rahman, Syed Shabab Ali Arzoo are in narration of the documentary.
Poet Nirmalendu Goon and Kaiyum Nizami will participate in a discussion on the literary works on Bangabandhu. Produced by Alamgir Russel and hosted by Shimul Mustafa, the discussion titled 'Amader Bangabandhu' will be aired on Boishakhi TV at 6:00 pm.
Singers Sumi Sabnam and Shilpi Biswas will perform patriotic songs in a programme titled 'Jonmobhumi' which will be aired at 7:45 am. Boishakhi TV will also air three Bangla movies—'Alor Michil' at 10:25 am, 'Hangor Nodi Grenade' at 2:45 pm Sunday and 'Desh Premik' at 12:00 am Monday.
Maasranga Television will air a special poetry recitation programme titled 'Bangabandhu-ke Nibedito Pongktimala' at 7:30 pm, a special documentary titled 'T-54' based on the assassination of Bangabandhu at 8:00 pm, and another documentary titled 'Tungiparar Khoka' at 11:30 pm.
A special drama titled 'Protigga' will be aired on Channel i at 8:50 pm. The drama is written and directed by Rajibul Islam Rajib featuring Allen Shuvro, Hannan Shelley, Momena Chowdhury, Sohail Khan and others. The story of the drama is taken from 'Ashamapta Atmajibani (Unfinished Memoirs)'.
Nasiruddin Yusuf-directed film 'Guerrilla' starring Jaya Ahsan will be aired at 3:05 pm on Channel i.
Channel i will also air Keka Ferdousi's special episode 'Bangabandhu's Priyo Khabar' 6:20 pm. Special programmes 'Bangabandhu-r Poribesh Vabna' will be aired at 9:30 pm and 'Mati O Manusher Mohan Neta' at 9:50 pm on the same channel.
NTV will livestream the event of paying tribute at the Bangabandhu's mausoleum at 10:05 am. A documentary titled 'Rahman, The Father Of Bengal' will be aired at 4:15 pm. A poetry recitation programme titled 'Tomake Hariye' will be aired on NTV at 9:00 pm.
At 11:30 pm, there will be a special talk show on NTV titled 'Mujib Tumi Mrittunjoyi'.
Unauthorized use or reproduction of The Finance Today content for commercial purposes is strictly prohibited.