Uttam, Suchitra starrer 17 classic films on Chorki
---
Staff Correspondent
Published:
2022-04-02 14:06:06 BdST
Uttam, Suchitra starrer 17 classic films on Chorki
---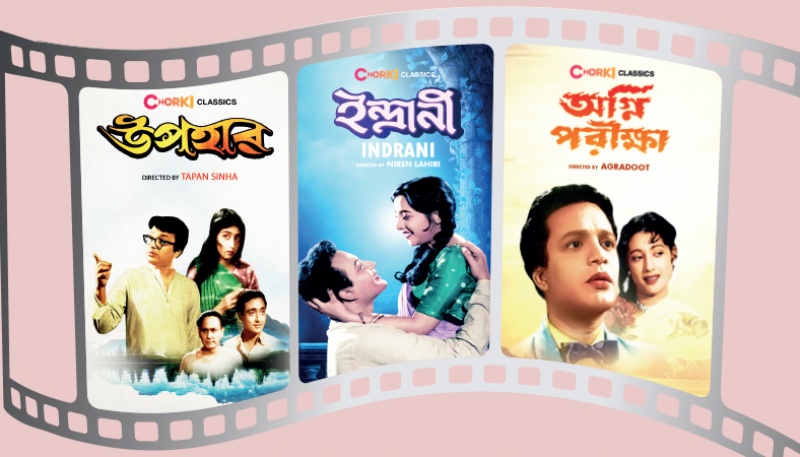 Online streaming platform Chorki has arranged a special section 'Chorki Classic' with 17 classic films of iconic duo of Bengali cinema 'Uttam-Suchitra' on Thursday. Chorki subscribers now can enjoy these films with just a click.
The films are- 'Debi Chowdhurani' , 'Pathey Holo Deri ', 'Sharey Chuattar', 'Antony Firingee ', 'Shilpi', 'Indrani', 'Har Mana Har', 'Sagarika', 'Bipasha' , 'Ora Thake Odhare', ' Agni Parikshya', 'Deya Neya', 'Deep Jweley Jai', 'Chourongi', 'Dui Prithibi', 'Upahar' and 'Shannashi Raja'.
Uttam Kumar, the undisputed megastar of Bengali cinema has won the hearts of the audience with his innocent smile and brilliant performance. With the evergreen beauty queen Suchitra Sen, Uttam Kumar struck an on-screen chemistry that remains hard to beat till now.
From the 1950s to the 1970s, Uttam and Suchitra were the origin of star power and charisma.
The pair was adored as the embodiment of eternal love and romance. The classic duo's cinematic relationship was distinguished by both passion and pathos.
Uttam and Suchitra's iconic hits like 'Priyo Bandhaobi,' 'Har Mana Har,' 'Nabarag,' 'Kamallata,' 'Grihadaho,' 'Uttar Phalguni,' and Sharey Chuattar' ushered in a new era in Bengali cinema.
Redwan Rony, Chief Operating Officer of Chorki, said, "Chorki has released the films to introduce the young generation of this timeless duo. Being able to show Uttam-Suchitra's movies to the audience is a milestone for Chorki."
Unauthorized use or reproduction of The Finance Today content for commercial purposes is strictly prohibited.