Twist in Tanushree's claim accusing Nana Patekar of sexual harassment
---
Titli Khan
Published:
2018-09-30 18:07:35 BdST
Twist in Tanushree's claim accusing Nana Patekar of sexual harassment
---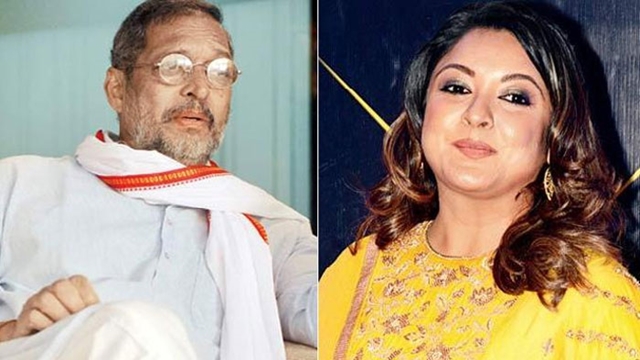 Nana Patekar and Tanushree Dutta
In the past 11 months since actors in the West named and shamed their sexual predators, B-Town stars have applauded their international counterparts for their bravado while diplomatically maintaining a studied silence on the ugly side of the Hindi film industry. In what could well be the first step towards initiating a much needed change in the industry, Tanushree Dutta, on Tuesday, accused co-star Nana Patekar of sexually harassing her on the set of Horn Ok Pleassss in 2008.
In separate interviews to Zoom TV and News18, she alleged that Patekar insisted on featuring alongside her in a song that was initially supposed to be a solo dance number. Dutta also spoke about how the actor "misbehaved" with her, and would "grab and push me around" on the set. She also called out producer Sami Siddiqui, director Rakesh Sarang and choreographer Ganesh Acharya for their inaction after she voiced her concern, leading to her opting out of the song. Her revelations have not gone down well with the director. Speaking to mid-day, Sarang claimed that his advice to Dutta would be "to move ahead". He felt she is "probably creating a controversy because she may want to make a comeback".
Challenging Dutta's claims, the director said, "Tanushree is saying that Nathni Utaro [the title of the song] was a solo dance that she rehearsed for. In that case, she must have heard the song during the rehearsals itself. Why doesn't she remember that the song had a male voice too? It was always supposed to be a duet song." Siding with the film's male lead, Sarang further said that Dutta "misjudged Nana's encouragement. He was shooting for a song after many years, so he was excited about it. She misjudged everything, including his encouragement. See, if your boss wants to flirt with you, he won't do it in a public area; he will invite you to his cabin. There were around 400 people on the set that day. Will anybody take advantage in front of 400 people?"
Dutta's ordeal didn't end there — she claimed that at Patekar's behest, a political party had vandalised her car after she refused to shoot the song with him. However, the director attributed the episode to a scuffle between her and a reporter. It may be noted that Dutta had spoken out against Patekar in 2008 itself, but to no avail. She had also approached the Cine and Television Artistes Association (CINTAA), demanding compensation for damage to her property and reputation. "The incident was resolved by CINTAA. We conceded to her demands. Now if she is bringing it up, I think Nana can seek legal recourse," said Sarang.
Tanushree Dutta also accused choreographer Ganesh Acharya, who was allegedly recommended for the song by her, of pandering to Nana Patekar and not paying heed to her discomfort during the song shoot. In a chat with News18, Acharya dismissed Dutta's claims that the song was designed as a solo number.
"When I was called for rehearsal, I was told that Nana ji was also there in the song. I don't have the agreement because we used to do it verbally then. The song didn't involve any kind of indecent step in the first place," he said. Refuting her claims of being sexually harassed, he also asserted that Patekar was a "very sweet person and can never do that."
Unauthorized use or reproduction of The Finance Today content for commercial purposes is strictly prohibited.