Transporters in dire straits amid nationwide lockdown
---
Siyam Hoque
Published:
2020-04-08 13:27:45 BdST
Transporters in dire straits amid nationwide lockdown
---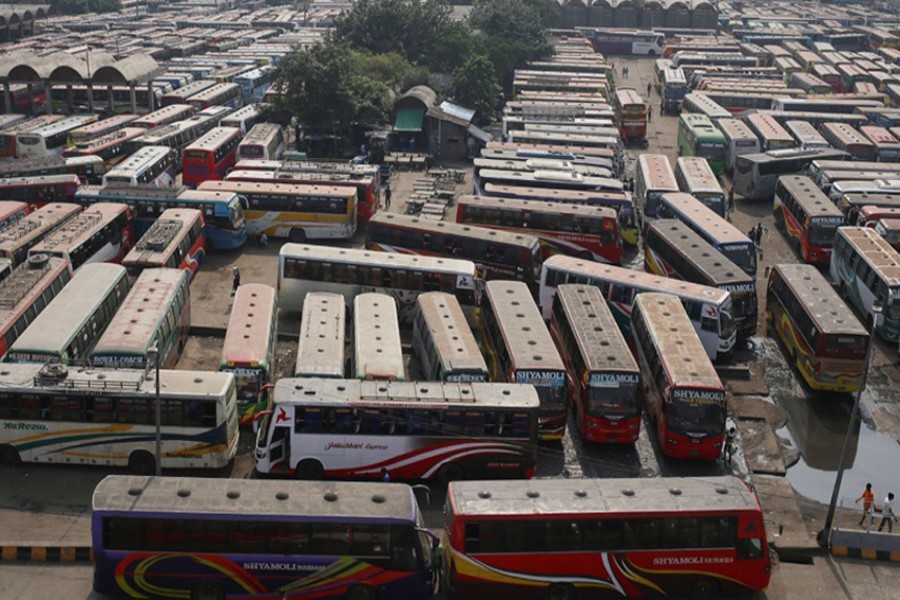 Hardship of daily-earner transport workers has reached an unbearable state during the ongoing lockdown in the country for not getting any financial support from welfare funds of workers' unions and owners' associations.
According to unofficial data, the country has more than 9.0 million road and water transport workers, who have to pay at least Tk 10 daily to respective unions in the name of welfare fund.
Talking with different transport workers, it is learnt that the money, popularly known as 'chanda', is paid by transport owners and drivers from the starting points of bus routes/terminals.
Though the amount varies from one terminal to another, each driver has to pay no less than Tk 1,000 to district- or union-level associations while crossing different districts.
The drivers and helpers said they have been staying home without any earning since the lockdown on March 26. The bus owners, except some companies or corporate entities, hire drivers and helpers on monthly basis.
"We work, for example, 15 days a month, and manage our living with the daily earning. But the earning has totally stopped for the last 13 days," said a driver.
He alleged that none of his fellow drivers or helpers has received any support from the workers unions or federations. Not even bus owners are supporting them since the lockdown has been imposed.
As it will continue up to at least April 14, it will be hard for them to manage their daily and family expenses, he added.
A driver plying bus on Dhaka-Khulna route said they have to pay daily Tk 930 in addition to the amount of Tk 70, fixed earlier in the name of transport workers' welfare fund, before leaving Gabtoli Bus Terminal.
The amount of Tk 70 was fixed by police administration after negotiation with transport owners and workers in 2010 to check uncontrolled collection of tolls. From the money, owners' association is supposed to get Tk 40, and workers' union Tk 30. But no slip has been given against the payment.
At Jatrabari, each bus pays Tk 240 to owners' association and workers' union. The inter-district bus terminals, including Sayedabad and Mohakhali, have different rates.
It is alleged that a part of the collected toll also goes to Bangladesh Road Transport Workers' Federation (BRTWF), the apex body of all workers' unions, headed by Shahjahan Khan, former shipping minister and now ruling Awami League Presidium member. The federation now has 231 unions as its members.
"The union leaders collected millions of taka from us every day in the name of welfare. But now we cannot see any of our leaders to help us from the fund," said another driver, plying bus on Dhaka-Munshiganj route.
When asked about contacting the leaders, he said it is not possible for the workers to reach the leaders in the lockdown situation, not even over phone.
The FE correspondents tried to reach Shahjahan Khan over phone and by sending message, but received no response. BRTWF General Secretary Osman Ali also kept his cell-phone off.
Mokhlesur Rahman, general secretary of Light Vehicle Transport Workers Union and organising secretary of BRTWF, admitted that the time is critical for transport workers.
But he expressed surprise at the question of supporting workers from the welfare fund.
He claimed that most of the welfare fund has already been used for paying expenses in cases of death of workers, treatment of injured workers, and wedding of workers' family members, and as office expenditure.
Insur Ali, General Secretary of Bangladesh Road Transport Workers' League, claimed that the federation's daily earning from toll collection is no less than Tk 110 million, as they collect money from terminals, ferry ghats, roads and highways.
He said the federation has been working for last 40 years. "Where is all the money that has been collected during all these years?"
It is alleged that transport sector has long been used for toll collection, whose shares are given to transport leaders, political bigwigs and police officials.
The Prime Minister recently announced a Tk 727.50-billion financial support package, including Tk 300 billion fund for service sector. But it has brought no benefit for transport sector, including its workers, as it is not credit compliance sector due to lack of discipline and system.
Rustom Ali, working president of Bangladesh Road Transport Owners Association and general secretary of Truck, Cover Van Owners Association, said they are now trying to talk with other leaders regarding the present situation.
"We really could not do anything for workers," he noted.
Meanwhile, Bangladesh Jatri Kalyan Samity (BJKS) on Tuesday called upon transport owners and labour unions to stand beside millions of road and water transport workers, who have become jobless due to the ongoing nationwide lockdown.
"Some 7.0 million drivers and staff of road transport sector and 2.0 million workers of water transport along with their family members have been passing an inhuman life after the government-imposed lockdown started," said Mozammel Hoque Chowdhury, BJKS secretary general, in a statement.
"In absence of a standard wage structure in the country's road and water transport sectors, 98 per cent of the total transport workers are working on daily basis like a labourer."
"They have become unemployed due to the countrywide lockdown since March 26, and are hardly able to support their family members with foods and other essentials."
He demanded urgent support for them from transport owners' associations and workers' unions.
Transport owners and union leaders have made huge wealth, but they are yet to be seen helping transport workers, he said.
Mentioning the contribution of the transport workers to the economy, Mr Mozammel added that the sector will face crisis, if these workers switch their profession.
Unauthorized use or reproduction of The Finance Today content for commercial purposes is strictly prohibited.