Russia expels 23 British diplomats in spy poisoning row
---
Nirmal Barman
Published:
2018-03-18 16:19:55 BdST
Russia expels 23 British diplomats in spy poisoning row
---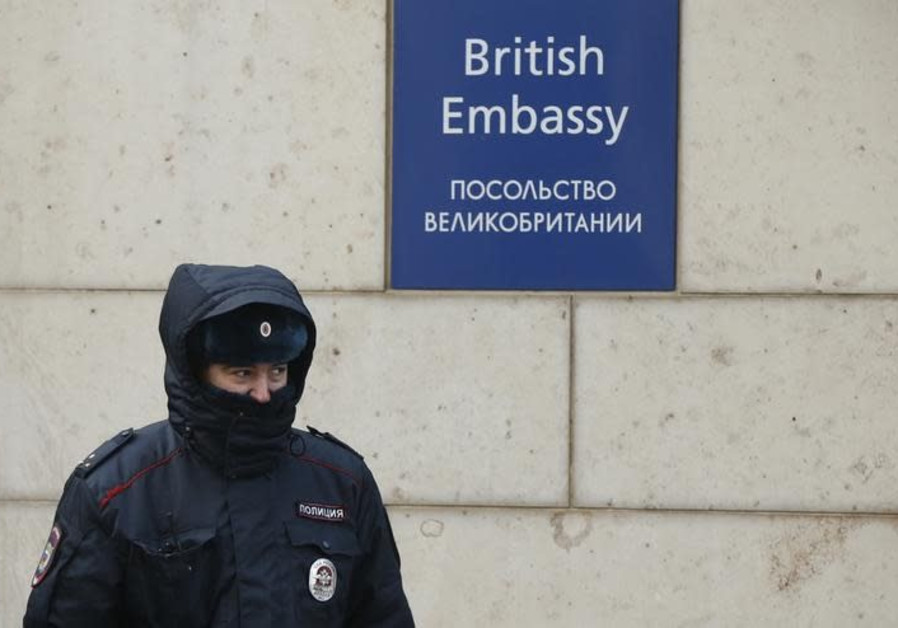 FT ONLINE
Russia said Saturday it would expel 23 British diplomats and close a British consulate following London's "provocative" measures over the poisoning of a double agent that has triggered a fierce diplomatic row.
Moscow also said it would halt the activities of the British Council in Russia in a tough series of retaliatory measures announced after it summoned British ambassador Laurie Bristow.
Prime Minister Theresa May responded defiantly to the tit-for-tat move, which followed Britain's expulsion of 23 Russian diplomats and the suspension of high-level contacts earlier this week.
She told a forum of her Conservative Party that Britain had "anticipated a response of this kind" and that it "will consider our next steps in the coming days, alongside our allies and partners".
She also repeated accusations made by Britain to the United Nations that the nerve agent attack on Sergei Skripal and his daughter Yulia in the English city of Salisbury on March 4 was a "flagrant breach of international law and the Chemical Weapons Convention."
The Russian response was announced on the eve of a presidential election which is expected to hand Vladimir Putin a fourth term in the Kremlin, but which comes as the country appears increasingly isolated.
The crisis erupted after the Skripals were exposed to a Soviet-designed military grade nerve agent, leaving them in critical condition.
London and its allies have blamed Moscow for the attack and on Friday, Britain directly implicated Putin himself, unleashing the Kremlin's fury.
"Twenty three diplomatic staff at the British embassy in Moscow are declared persona non grata and to be expelled within a week," a foreign ministry statement said.
It said this was a response to Britain's "provocative actions" and "baseless accusations over the Salisbury incident. - 'Harsh, but deserved' -
Russia also said it was closing Britain's consulate in the city of Saint Petersburg, citing a "disparity" in the number of diplomatic missions held by the two countries.
And it said it had halted the activities of the British Council, Britain's international organisation for cultural relations and educational opportunities.
The group said it was "profoundly disappointed" at the move.
The Russian ministry also warned Britain that it "retains the right to take other answering measures" in response to any "further unfriendly actions."
"The measures are more harsh, but the British deserved them. And I don't rule out that something else could follow," first deputy head of the Russian Senate's foreign affairs committee Vladimir Dzhabarov told Interfax news agency.
In a similar move, Russia closed the British Council's regional offices in 2008 after relations nosedived over the poisoning of former Russian agent Alexander Litvinenko.
The Russian dissident died of Polonium radiation poisoning in London in 2006 in an attack that Britain also blamed on Russia.
- First nerve attack since WWII -
Skripal had taken his daughter, who was on a visit from Moscow, out for lunch in Salisbury before they both collapsed on a bench.
Russia insists it had no motive to target Skripal with what Britain says was a highly-potent nerve agent called Novichok, in the first such attack in Europe since World War II.
On Friday, Kremlin spokesman Dmitry Peskov said statements by British Foreign Secretary Boris Johnson tying Putin to the attack were "shocking and unforgivable".
Putin himself has yet to make a public comment on the incident aside from one remark to a BBC reporter earlier this week in which he said: "Sort things out from your side and then we will discuss this with you."
Western leaders have strongly backed Britain's response.
EU leaders are to discuss the incident at a Brussels summit next week and it is also on the agenda for talks on Monday between Johnson, his EU counterparts and NATO Secretary General Jens Stoltenberg. - Suspicious deaths -
Following the Salisbury incident, the British government has also pledged to re-examine 14 deaths on UK soil following a report that they could have been carried out by Moscow or the Russian mafia.
The BBC on Saturday said the police had made contact with Russians living in Britain to discuss their safety.
On Friday, police said they were treating the March 12 death of exiled businessman Nikolai Glushkov as murder after a post-mortem found he died from "compression to the neck".
The murder is not believed to be linked to the attack on the Skripals.
Russia has also said it is opening a murder probe after Glushkov was found dead at his London home.
Glushkov was an associate of the late Kremlin opponent Boris Berezovsky, a one-time Putin supporter who then turned against him.
Berezovsky was found hanged in a bathroom at his home outside London in 2013. afp
Unauthorized use or reproduction of The Finance Today content for commercial purposes is strictly prohibited.