Putin orders military to put nuclear forces on high alert
---
Int'l Correspondent
Published:
2022-02-28 09:31:59 BdST
Putin orders military to put nuclear forces on high alert
---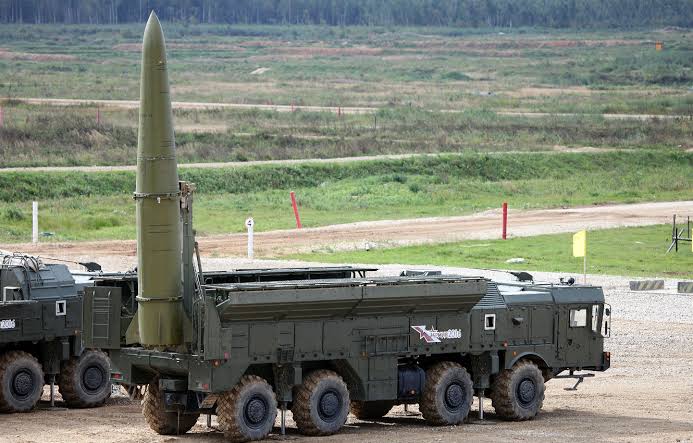 President Vladimir Putin dramatically escalated East-West tensions by ordering Russian nuclear forces put on high alert Sunday, while Ukraine's embattled leader agreed to talks with Moscow as Putin's troops and tanks drove deeper into the country, closing in around the capital.
Citing "aggressive statements" by NATO and tough financial sanctions, Putin issued a directive to increase the readiness of Russia's nuclear weapons, raising fears that the invasion of Ukraine could lead to nuclear war, whether by design or mistake.
The Russian leader is "potentially putting in play forces that, if there's a miscalculation, could make things much, much more dangerous," said a senior U.S. defense official, speaking on condition of anonymity to discuss rapidly unfolding military operations.
Putin's directive came as Russian forces encountered strong resistance from Ukraine defenders. Despite Russian advances across the country, U.S. officials say they believe the invasion has been more difficult, and slower, than the Kremlin envisioned, though that could change as Moscow adapts.
Amid the mounting tensions, Western nations said they would tighten sanctions and buy and deliver weapons for Ukraine, including Stinger missiles for shooting down helicopters and other aircraft.
Ukrainian President Volodymyr Zelenskyy's office, meanwhile, announced plans for a meeting with a Russian delegation at an unspecified location on the Belarusian border.
It wasn't immediately clear when the meeting would take place, nor what the Kremlin was ultimately seeking, either in those potential talks on the border or, more broadly, from its war in Ukraine. Western officials believe Putin wants to overthrow Ukraine's government and replace it with a regime of his own, reviving Moscow's Cold War-era influence.
The fast-moving developments came as scattered fighting was reported in Kyiv. Battles also broke out in Ukraine's second-largest city, Kharkiv, and strategic ports in the country's south came under assault from Russian forces.
By late Sunday, Russian forces had taken Berdyansk, a Ukrainian city of 100,000 on the Azov Sea coast, according to Oleksiy Arestovich, an adviser to Zelenskyy's office. Russian troops also made advances toward Kherson, another city in the south of Ukraine, while Mariupol, a port city on the Sea of Azov that is considered a prime Russian target, is "hanging on," Arestovich said.
With Russian troops closing in around Kyiv, a city of almost 3 million, the mayor of the capital expressed doubt that civilians could be evacuated. Authorities have been handing out weapons to anyone willing to defend the city. Ukraine is also releasing prisoners with military experience who want to fight, and training people to make firebombs.
In Mariupol, where Ukrainians were trying to fend off attack, a medical team at a city hospital desperately tried to revive a 6-year-old girl in unicorn pajamas who was mortally wounded in Russian shelling.
Unauthorized use or reproduction of The Finance Today content for commercial purposes is strictly prohibited.