Pakistan to select new PM today
---
Int'l Correspondent
Published:
2022-04-11 06:52:53 BdST
Pakistan to select new PM today
---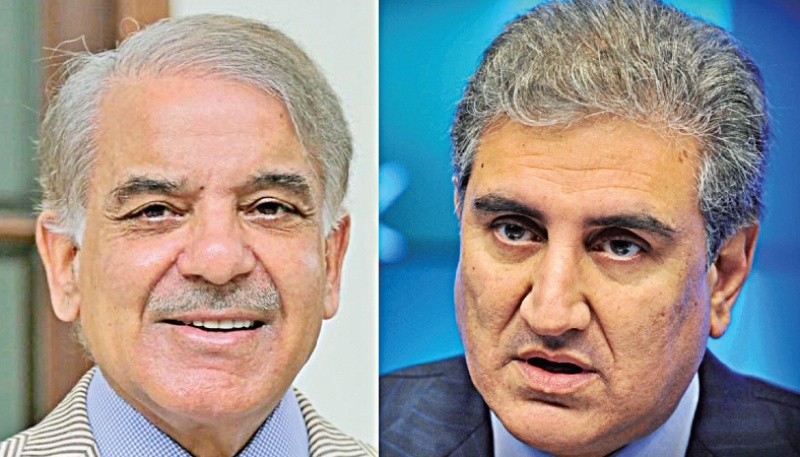 Shehbaz Sharif and Shah Mahmood Qureshi
As Pakistan recovered from Saturday's long and tiring National Assembly session which saw Imran Khan lose his government, politicians submitted their nomination papers for the prime minister's election, to be held on Monday.
Pakistan National Parliament (NA) will meet on Monday at 2:00 pm to elect the new prime minister after Tehreek-e-Insaf (PTI) Chairman Imran Khan was ousted from power through a no-confidence motion filed against him by the opposition.
PTI Vice-Chairman Shah Mahmood Qureshi submitted four forms with the NA Secretariat, while centrist Pakistan Muslim League-N (PML-N) President Shehbaz Sharif, the joint opposition's candidate for the post, filed 13 forms.
New dawn
Shehbaz Sharif, the person most likely to be Pakistan's next prime minister, is little known outside his home country but has a reputation domestically as an effective administrator more than as a politician.
The younger brother of three-time prime minister Nawaz Sharif, Shehbaz, 70, led a successful bid by the opposition in parliament to topple Imran Khan.
Analysts say Shehbaz, unlike Nawaz, enjoys amicable relations with Pakistan's military, which traditionally controls foreign and defence policy in the nuclear-armed nation of 220 million people. Shehbaz Sharif said Imran Khan's departure was a chance for a new beginning.
"A new dawn has started ... This alliance will rebuild Pakistan," he told parliament on Sunday.
Sharif was for years chief minister of Punjab province and has a reputation as an effective administrator.
Shehbaz, part of the wealthy Sharif dynasty, is best known for his direct, "can-do" administrative style, which was on display when, as chief minister of Punjab province, he worked closely with China on Beijing-funded projects.
Analysts also say Sharif will not act with complete independence as he will have to work on a collective agenda with the other opposition parties and his brother.
Shehbaz entered the national political scene when he became the chief of the Pakistan Muslim League-Nawaz (PML-N) party after Nawaz was found guilty in 2017 on charges of concealing assets related to the Panama Papers revelations.
The man picked as Imran Khan's 'replacement'
After the parliament ousted Imran Khan, the former information minister Fawad Chaudhry said the PTI leadership had recommended its representatives resign en masse from the national assembly, reported AFP.
But the party would also file papers nominating ex-foreign minister Shah Mahmood Qureshi for prime minister against Sharif, he said.
Qureshi has served as Minister of Foreign Affairs twice, once from 2008 to 2011 and again since August 2018 till now. His political career began in 1983 with the District Council and progressed to the Provincial Assembly.
He served in the Punjab Assembly for nine years, from 1985 to 1993, and has held several ministerial responsibilities, including Minister of Planning and Development and Minister of Finance.
He was also the Mayor of Multan from 2000 to 2002, and he was elected to the National Assembly five times from Multan.
Unauthorized use or reproduction of The Finance Today content for commercial purposes is strictly prohibited.