Airstrikes on Myanmar village feared to have killed 100
---
Int'l Correspondent
Published:
2023-04-13 13:00:49 BdST
Airstrikes on Myanmar village feared to have killed 100
---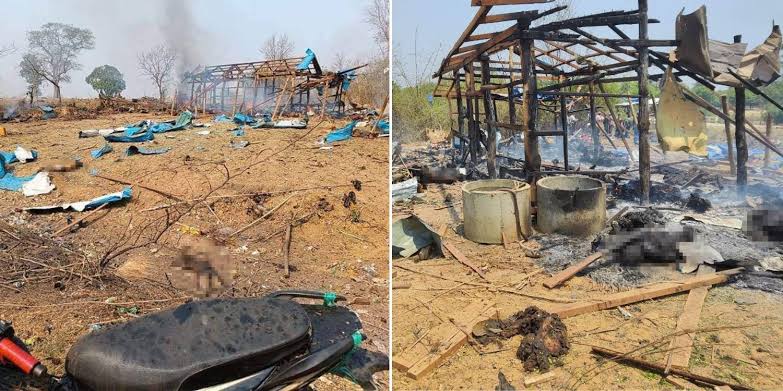 Airstrikes by Myanmar's military on Tuesday killed as many as 100 people, including many children, who were attending a ceremony held by opponents of army rule, said a witness, a member of a local pro-democracy group and independent media.
The military is increasingly using airstrikes to counter a widespread armed struggle against its rule, which began in February 2021 when it seized power from the elected government of Aung San Suu Kyi. More than 3,000 civilians are estimated to have been killed since then by security forces.
A witness said that a fighter jet dropped bombs directly onto a crowd of people who were gathering at 8 a.m. for the opening of a local office of the country's opposition movement outside Pazigyi village in Sagaing region's Kanbalu township.
The area is about 110 kilometers (70 miles) north of Mandalay, the country's second-largest city.
About half an hour later, a helicopter appeared and fired at the site, said the witness, who asked not to be identified because he feared punishment by the authorities.
Initial reports put the death toll at around 50, but later tallies reported by independent media raised it to about 100. It was impossible to independently confirm details of the attack because reporting is restricted by the military government.
"I was standing a short distance from the crowd when a friend of mine contacted me on the phone about the approach of a fighter jet," the witness said.
"The jet dropped bombs directly on the crowd, and I jumped into a nearby ditch and hid. A few moments later, when I stood up and looked around, I saw people cut to pieces and dead in the smoke. The office building was destroyed by fire. About 30 people were injured. While the wounded were being transported, a helicopter arrived and shot more people. We are now cremating the bodies quickly."
About 150 people had gathered for the opening ceremony, and women and 20 to 30 children were among the dead, he said, adding that those killed also included leaders of locally formed anti-government armed groups and other opposition organizations.
The United Nations, United States and others strongly condemned the attack and pledged to work toward holding the military accountable.
'This heinous act by the terrorist military is yet another example of their indiscriminate use of extreme force against innocent civilians, constituting a war crime," the opposition National Unity Government said in a statement. The NUG calls itself the country's legitim
Unauthorized use or reproduction of The Finance Today content for commercial purposes is strictly prohibited.