Venezuela's Maduro wins presidential vote
---
Nirmal Barman
Published:
2018-05-21 14:09:26 BdST
Venezuela's Maduro wins presidential vote
---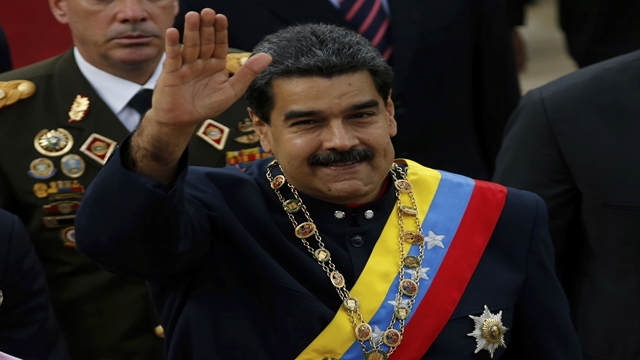 FT ONLINE
Venezuela's President Nicolas Maduro won a new six-year term on Sunday, the election board announced in what is being seen as a controversial vote.
According to the results announced by Tibisay Lucena, president of the National Electoral Council (CNE), President Maduro obtained 5.8 million votes while his main opponent, Henri Falcon, collected a total of 1.8 million votes.
The turnout was 46.01 percent and the projection was at 48 percent, a total of 8.6 million Venezuelans voted, the CNE reported.
Maduro, an unpopular political heir to the late leftist President Hugo Chavez, hailed his win as a victory against "imperialism," but his main rival refused to recognise the result alleging irregularities.
The country's main opposition coalition, the Democratic Unity Roundtable (MUD), had boycotted the election, while the two most popular opposition leaders, Henrique Capriles and Leopoldo Lopez, were barred from running in the vote.
Turnout in Sunday's vote was low compared to the 2013 presidential elections, which had witnessed above 80 percent voting. Polling stations were opened beyond its closing time at 6 pm. Telesur, the state broadcaster, announced they would stay open "as long as there are people in line to cast their vote".
READ MORE
Venezuela elections 2018: A look at the key points
"This was a historic day!.. the day of a beautiful victory," Maduro said outside the presidential palace in Caracas on Sunday night.
"They underestimated me," the 55-year-old leader told supporters, as fireworks went off and confetti was fired in the air.
"Never before has a presidential candidate taken 68 percent of the popular vote," he said. "We are the force of history turned into a permanent popular victory."
But his main rival, Falcon, called for a new vote, alleging the vote was marred by irregularities and lacked legitimacy. "We do not recognise this electoral process as valid," he told local media. "There must be new elections in Venezuela."
Unauthorized use or reproduction of The Finance Today content for commercial purposes is strictly prohibited.