White House arranging second Trump-Kim summit
---
A H Khan
Published:
2018-09-11 17:48:59 BdST
White House arranging second Trump-Kim summit
---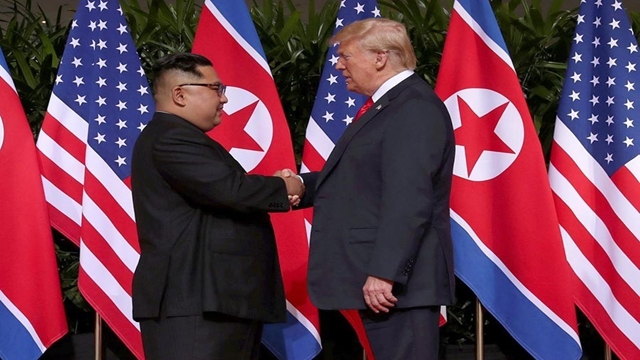 President Donald Trump meets with North Korea's leader Kim Jong Un at the start of their historic U.S.-North Korea summit, at the Capella Hotel on Sentosa island in Singapore on June 12, 2018
United States President Donald Trump has received a "very positive" letter from North Korean leader Kim Jong Un seeking a follow-up meeting after their historic summit in Singapore, the White House said Monday .
"It was a very warm, very positive letter," White House spokeswoman Sarah Sanders said, adding that the message showed Pyongyang's "continued commitment to focus on denuclearisation" on the Korean Peninsula.
"The primary purpose of the letter was to schedule another meeting with the president, which we are open to and are already in the process of coordinating," she said at the first White House press briefing in nearly three weeks.
Sanders added that the letter was "further evidence of progress" in Washington's relationship with Pyongyang. She noted that the White House will not release the letter unless Kim agrees, according to CNN.
Trump and Kim held a historic summit in Singapore in June that raised prospects of a breakthrough on curtailing North Korea's nuclear programme.
The likely timing of a second Trump-Kim meeting was unclear.
WINDOW OF OPPORTUNITY
South Korean President Moon Jae-in on Tuesday (Sept 11) called for a "bold decision" by Trump and Kim on denuclearisation.
"The complete denuclearisation of the Korean peninsula is an issue that should fundamentally be resolved between the US and North Korea through negotiation," Moon told a Cabinet meeting.
"But until talks and communication between the North and the US become more active, we cannot but work to mediate between them," he said, adding: "President Trump and Chairman Kim have asked that I play this role."
Moon, who brokered June's historic Singapore summit between Trump and Kim, will fly to Pyongyang next week for his third meeting with the North Korean leader this year.
"A big vision and a bold decision between the leaders of North Korea and the US are needed again in order to advance to a higher level in discarding Pyongyang's existing nuclear weapons," Moon said.
The nuclear envoys of South Korea and the United States also held a meeting on Tuesday (Sept 11) as part of efforts to jumpstart stalled nuclear talks between Pyongyang and Washington.
Lee Do-hoon, South Korea's nuclear negotiator, told reporters that he and his US counterpart Stephen Biegun discussed how to bring progress on the North's denuclearisation and establishing peace on the Korean peninsula.
North Korean leader Kim Jong Un smiles as he shakes hands with US President Donald Trump during the signing of the declaration, after their historic summit meeting at Capella Singapore hotel on Sentosa in Singapore, on June 12, 2018.
Moon's government had pushed for a three-way summit involving Trump, with the aim of agreeing a joint declaration to end the 1950-53 Korean War.
The conflict ended with an armistice, not a peace treaty, leaving the US-led United Nations forces including South Korea technically still at war with North Korea.
While South Korea had hoped an accord formally ending the conflict could have been unveiled on the sidelines of the UN General Assembly later this month, Moon's security chief Chung Eui-yong said last week, without elaborating, that the necessary conditions for a three-way meeting were missing.
Despite follow-on negotiations on denuclearising the peninsula hitting a snag leading to Secretary of State Mike Pompeo cancelling a planned trip to the North late last month, the new letter showed signs that the discussions remain alive after weeks of apparent deadlock.
"We think it's important and we're glad that we're making progress," Sanders said, adding that Trump deserves the "credit" for bringing the two parties to the table.
"At the end of the day, ultimately, it's always going to be best when you can have the two leaders sit down," she added.
The White House has pointed to a series of accomplishments in recent months, including a release of US hostages, the repatriation of war remains believed to be of US service members and a pause in North Korea's missile and nuclear tests, to suggest progress between the foes.
And on Sunday, North Korea refrained from displaying its intercontinental missiles - long a bone of contention in its nuclear tensions with Washington - in a massive parade through Pyongyang celebrating the country's 70th birthday.
'STILL WAITING'
The latest parade "for once was not about their nuclear arsenal," Sanders said.
Trump thanked Kim for the gesture, saying on Twitter: "This is a big and very positive statement from North Korea."
Sanders was asked whether the next Trump-Kim meeting would take place in Washington, but she demurred, saying, "we'll let you know when we have further details."
The letter's arrival was confirmed as Trump's top security advisor said the White House was looking to North Korea for next steps.
"We're still waiting for them. The possibility of another meeting between the two presidents obviously exists," said National Security Advisor John Bolton.
"But President Trump can't make the North Koreans walk through the door he's holding open. They are the ones that have to take the steps to denuclearise. And that's what we are waiting for."
Bolton said in a speech to the Federalist Society that during the Singapore meeting with Trump in June, Kim committed to getting rid of his nuclear weapons, and later agreed with South Korean President Moon Jae-in that it could be done in one year.
After his speech, Bolton told reporters "it's entirely possible" for the two leaders to meet by year's end.The Straits Times.
Unauthorized use or reproduction of The Finance Today content for commercial purposes is strictly prohibited.