Trump hits India trade after NAFTA deal
---
SAM
Published:
2018-10-02 23:13:30 BdST
Trump hits India trade after NAFTA deal
---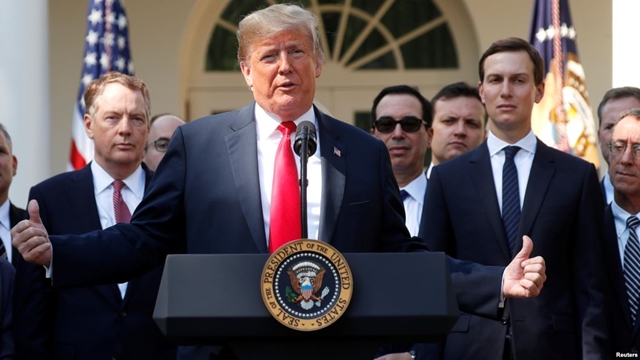 FT ONLINE
Fresh from clinching an updated North American commerce pact, US President Donald Trump on Monday criticised Indian and Brazilian trade tactics, describing the latter as being "maybe the toughest in the world" in terms of protectionism.
Addressing reporters at a White House event to celebrate the agreement of an updated trilateral trade deal between the United States, Mexico and Canada, Trump added India and Brazil to a growing list of countries that, he argues, treat the world's top economy unfairly in terms of commerce.
"India charges us tremendous tariffs. When we send Harley Davidson motorcycles, other things to India, they charge very, very high tariffs," Trump said, adding that he had brought up the issue with Indian Prime Minster Narendra Modi, who he said was "going to reduce them very substantially."
Modi's office could not immediately be reached for a request for comment. India's government has become more protectionist in recent months, raising import tariffs on a growing number of goods as it promotes its 'Make in India' programme.
After criticising India, Trump turned to Brazil, the second-largest economy in the Americas behind the United States.
"Brazil's another one. That's a beauty. They charge us whatever they want," he said. "If you ask some of the companies, they say Brazil is among the toughest in the world - maybe the toughest in the world."
According to Reuters news agency, Brazil is one of the world's most closed major economies, and in recent months has tussled with the Trump administration over trade in sectors such as ethanol and steel.
After Trump's comments, Brazil's Foreign Trade Minister, Abrão Neto, defended the relationship, saying it was "very positive." He added that over the last 10 years, the United States has enjoyed a trade surplus with Brazil of $90 billion in goods, and of $250 billion in goods and services.
Neto pointed out that the United States was Brazil's second-largest trading partner, behind China, and that the two countries had a "complementary and strategic" commercial relationship that could, nonetheless, be improved.
Trump's "America First" trade policies, particularly his escalating trade war with China, are aimed at boosting US manufacturing, but they have spooked investors who worry that supply lines could be fractured and global growth derailed.
There are now US tariffs active on $250 billion worth of Chinese goods, with threats on additional goods worth $267 billion.
Unauthorized use or reproduction of The Finance Today content for commercial purposes is strictly prohibited.