Turkey 'wants proof Saudi left consulate'
---
SAM
Published:
2018-10-10 01:45:06 BdST
Turkey 'wants proof Saudi left consulate'
---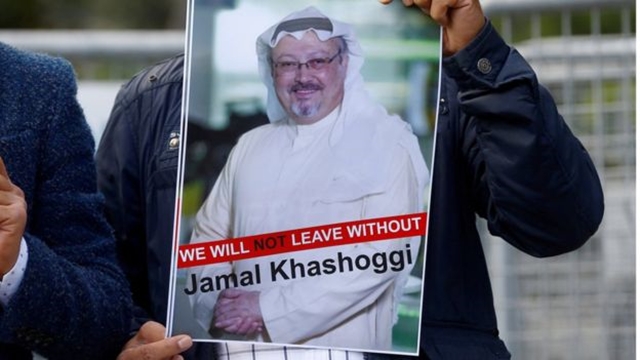 FT ONLINE
Turkish President Recep Tayyip Erdogan has challenged Saudi Arabia to provide proof that a missing journalist has left its consulate in Istanbul.
Saudi national Jamal Khashoggi was last seen visiting the building last week. US President Donald Trump expressed concern about his fate on Monday.
Turkey requested a search of the consulate, after saying that Mr Khashoggi had been murdered within its walls, media reports say.
Saudi Arabia has denied the claims.
"Consulate officials cannot save themselves by saying that he left the building," Mr Erdogan told a news conference on Monday.
"If he left, you have to prove it with footage."
On Sunday Turkish officials said investigators had "concrete proof" of the killing which, they said, was carried out by a 15-person Saudi team who arrived in the country last week.
No evidence has been presented. Crown Prince Mohammed bin Salman has previously said officials are welcome to conduct a search as there is nothing to hide.
Mr Khashoggi had been living in the US, where he contributed articles to the Washington Post's opinion section. The newspaper said the US should demand answers from the Saudis.
Mr Trump later told reporters at the White House: "I am concerned about it. I don't like hearing about it.
"Hopefully that will sort itself out. Right now nobody knows anything about it."
Meanwhile, US Secretary of State Mike Pompeo said: "We call on the government of Saudi Arabia to support a thorough investigation of Mr Khashoggi's disappearance and to be transparent about the results of that investigation."
When was he last seen?
Jamal Khashoggi went to the consulate last Tuesday to obtain a document certifying he had divorced his ex-wife, so that he could remarry his Turkish fiancée, Hatice Cengiz.
She said Mr Khashoggi had been required to surrender his mobile phone, which is standard practice in some diplomatic missions.
He told her to call an adviser to President Erdogan if he did not return.
What has Turkey said?
Turkish officials say Mr Khashoggi was killed on the premises and his body was then removed.
The head of the Turkish-Arab Media Association, Turan Kislakci, told the New York Times that Turkish police officers providing security for the consulate had checked their security cameras and did not see the journalist leave on foot.
But he added that diplomatic cars had been seen moving in and out.
Mr Erdogan was more circumspect, saying on Sunday he remained "positive" and would await the results of an investigation.
Who is Jamal Khashoggi?
He is a high-profile critic of the crown prince. Mr Khashoggi, 59, has more than 1.6 million Twitter followers and has written for the Washington Post opinion section.
A former editor of the al-Watan newspaper and a short-lived Saudi TV news channel, Mr Khashoggi was for years seen as close to the Saudi royal family. He served as an adviser to senior Saudi officials.
Unauthorized use or reproduction of The Finance Today content for commercial purposes is strictly prohibited.