Saudi crown prince starts his first foreign trip
---
SAM
Published:
2018-03-05 17:04:18 BdST
Saudi crown prince starts his first foreign trip
---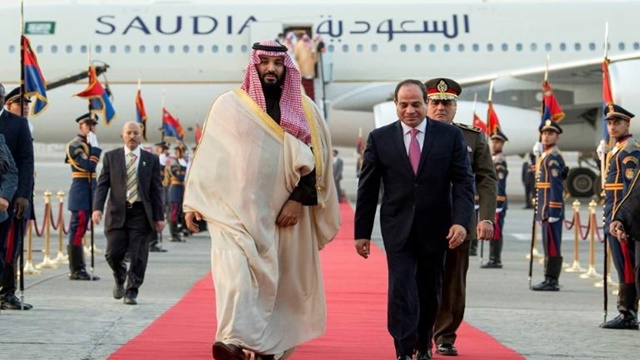 FT ONLINE
Saudi Arabia's Crown Prince Mohammed bin Salman held talks in the Egyptian capital on Sunday at the start of his first foreign tour as heir to the throne.
A beaming Egyptian President Abdel Fattah al-Sisi greeted the prince at Cairo airport after he descended the red-carpeted steps of his plane.
The head of Prince Mohammed's office, Bader al-Asaker, tweeted that the prince's plane was escorted by Egyptian fighter jets when it entered Egypt's airspace.
Prince Mohammed and Sisi, a key regional ally, agreed in talks to bolster economic ties and launch joint projects, "particularly in the tourism sector on the Red Sea", said Egyptian presidential spokesman Bassam Radi.
The prince is to fly off to Britain on Wednesday and then later this month to the United States.
Saudi Arabia views Egypt as a cornerstone of regional stability, after the former army chief Sisi overthrew his Islamist predecessor Mohamed Morsi in 2013.
Riyadh viewed Morsi's Muslim Brotherhood with suspicion and at one point briefly recalled its ambassador from Cairo during his turbulent year in power.
It has since showered Cairo with aid to prop up the country's economy, in a relationship that has led to some controversy in Egypt.
In 2015, during a visit by King Salman to Cairo, the two countries agreed on the transfer of two Red Sea islands to Saudi Arabia, sparking protests in Egypt.
Sisi ratified the deal last year, and Egypt's top court annulled lower court rulings for and against the treaty on the eve of the crown prince's arrival.
Prince Mohammed's visit comes ahead of Egypt's presidential polls in late March, with Sisi expected to win a second four-year term.
The visit "will be interpreted as proof of Saudi support for Sisi to remain as the president of Egypt", Mostafa Kamel al-Sayed, a political science professor at Cairo University.
Cairo and Riyadh have maintained close ties, although Egypt has signalled a lack of enthusiasm for Saudi regional policy, both on the Yemen war and a potential escalation with Iran.
But it is among a bloc of Arab nations that joined a Saudi-led boycott since June of Qatar.
The crown prince's tour also aims to court investors and comes after a tumultuous period that has seen a military shake-up and a royal purge in Saudi Arabia, part of his sweeping power play.
Prince Mohammed is already seen as the country's de facto ruler controlling the major levers of government.
Unauthorized use or reproduction of The Finance Today content for commercial purposes is strictly prohibited.