National /
Bangladesh to remain without other's help: PM
---
Nirmal Barman
Published:
2018-03-25 21:48:55 BdST
Bangladesh to remain without other's help: PM
---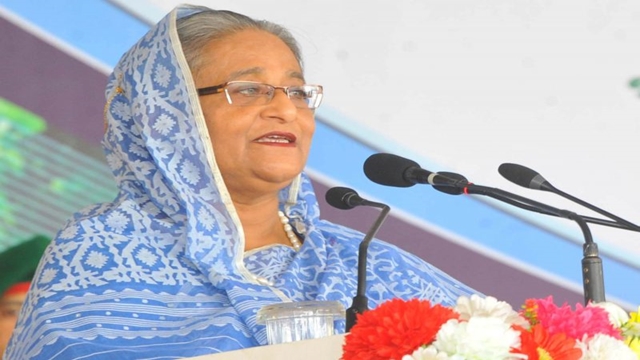 FT ONLINE
Prime Minister Sheikh Hasina on Sunday said Bangladesh as a victorious nation would live in the world forever keeping its head high without seeking help to others.
"We are moving ahead as best as possible on our part and we will continue our progress to take the country to a more dignified position," she said while distributing the "Swadhinata Padak-2018" (Independence Award-2018) at Osmany Memorial Auditorium in the capital today.
Sheikh Hasina said Bangladesh was born with most of its people under poverty. Bangabandhu turned the war ravaged country into to a complete State within three and a half years of his tenure.
"When people saw 'light of hope'---unfortunately, the black chapter descended upon the nation on August 15, 1975," she said, adding that Bangladesh would have been a prosperous country much before if Bangabandhu was alive.
The prime minister said the Independence Award would inspire new generation to be imbued with the spirit of patriotism, carrying out their responsibility to the nation to take it forward in future.
Sheikh Hasina congratulated the recipients of the Independence Award-2018, saying the government has given the award this year to those personalities, who have immense contribution to independence as well as country's socio- economic advancement.
This year 18 noted citizens including Cultural Affairs Minister Assaduzzaman Noor were given the highest national award in recognition of their outstanding contribution to their respective fields.
Out of them, eleven persons were given the award for their contribution and supreme sacrifice for the independence while seven received the award for their outstanding contribution to their respective fields.
The premier adorned 'Swadhinata Padak- 2018' to eight recipients while wives and family members of the others received the crest, medal and certificate at the function held under the auspices of the Cabinet Division.
The recipients are - late Kazi Zakir Hasan, martyred intellectual SMA Rashidul Hasan, late Shankar Gobinda Chowdhury, Air Vice-marshal (Retd.) Sultan Mahmud, Bir Uttam, late M Abdur Rahim, late Bhupati Bhushan Chowdhury alias Manik Chowdhury, Shaheed Lt M Anwarul Azim, late Humayun Rashid Chowdhury, Shaheed Amanullah Mohammad Asaduzzaman, Shaheed Matiur Rahman Mallik, Shaheed Sergeant Zahurul Haque and Amzadul Haque (Independence and Liberation War), Dr AK MD Ahsan Ali (Medical Science), Professor AK Azad Khan (Social Service), Selina Hossain (Literature) and Dr Md Abdul Mazid (Food Security), Cultural Affairs Minister Assaduzzaman Noor (Culture) and Channel I director Shykh Seraj (agricultural journalism).
Cabinet Secretary Md Shafiul Alam conducted the function and read out the citation of the Independence Award recipients with their brief life sketch.
Professor Dr Md. Abdul Mazid spoke on the occasion on behalf of the award recipients
Each award recipients was given a medal weighing 50-gram gold of 18 karat, Taka three lakh and a citation while 247 personalities and organizations were given the award so far.
Bangabandhu daughter Sheikh Rehana, ministers, advisers to the Prime Minister, Deputy Speaker, judges, parliament members, chiefs of three services, diplomats, vice-chancellors of different universities and high civil and military officials were present on the occasion.
Sheikh Hasina said Bangladesh had to wait for 43 years since 1975 to become a developing nation. But in only in three years of independence, she said, Bangladesh entered into the least developed countries club.
"Bangladesh moved back after 1975 carnage and so the country needed 43 years to attain the status of a developing country," she said.
The success, however, came due to the performance of her government in 2014, she added.
The premier said Bangladesh gained the UN certificate of graduation as a developing country based on three criterions: per capita gross national income (GNI), human assets index (HAI) and economic vulnerability index (EVI).
In the review process, she said, UN determines threshold levels on two criterions while Bangladesh's position was much better in all thresholds, she said.
The Prime Minister gave a comparative study on major economic indicators of the country during 2005-2006, last year of BNP-Jamaat regime, and 2016- 2017, last fiscal year of the present government.
"What Bangladesh achieved during our 14 years in government, it could not do so during the other political regimes though their duration in power almost double than us," she said.
Sheikh Hasina said per capita income during last year of BNP-Jamaat regime was US$ 543 which rose to US$ 1610 in 2016-2017 while the poverty rate reduced to 22 percent from 41.5 percent during the period.
"Export volume is now about US$ 34.67 billion which was US$ 10.5 billion in 2005-2006," she said.
The premier said the country's economic growth rate was 5.40 percent during BNP-Jamaat regime which is now 7.28 percent while the export volume is now about US$ 34.67 billion which was US$ 10.5 billion in 2005-2006.
Now, she said, the size of GDP is Taka 19,75,817 crore which was Taka 4,82,337 crore in 20015-2006. Foreign reserve was now stands at US$ 33 billion from US$ 3.48 billion during BNP-Jamaat regime.
On the other hand, she said, inflation rate during last year of BNP-Jamaat rule was 7.16 percent which was 5.84 percent in 2016-2017.
Bangladesh now drew direct foreign investment (FDI) worth about US$ 3 billion which was US$ 744 million in 2005-2006.
The prime minister said the size of the annual budget is now Taka 4,00,266 crore out of which Taka 1,64,000 crore are allocated for annual development program (ADP). The last budget of BNP-Jamaat government was Taka 61,057 crore and ADP was of Taka Taka 19,000 crore only.
Country's capacity of electricity generation is now 16,600 megawatt which was only 3200 MW during BNP regime, she said.
Sheikh Hasina said the World Bank in 2015 recognized Bangladesh as a lower-middle income country which was possible due to hard labour of the country's peasants, labourers and working class people.
Unauthorized use or reproduction of The Finance Today content for commercial purposes is strictly prohibited.