National /
Right groups urge for an all-inclusive integrated plan for Cox's Bazar to fight COVID19
---
Rezaul Karim Chowdhury
Published:
2020-06-19 00:06:53 BdST
Opinions of speakers at a virtual seminar organized by Coast on the occasion of World Refugee DayRight groups urge for an all-inclusive integrated plan for Cox's Bazar to fight COVID19
---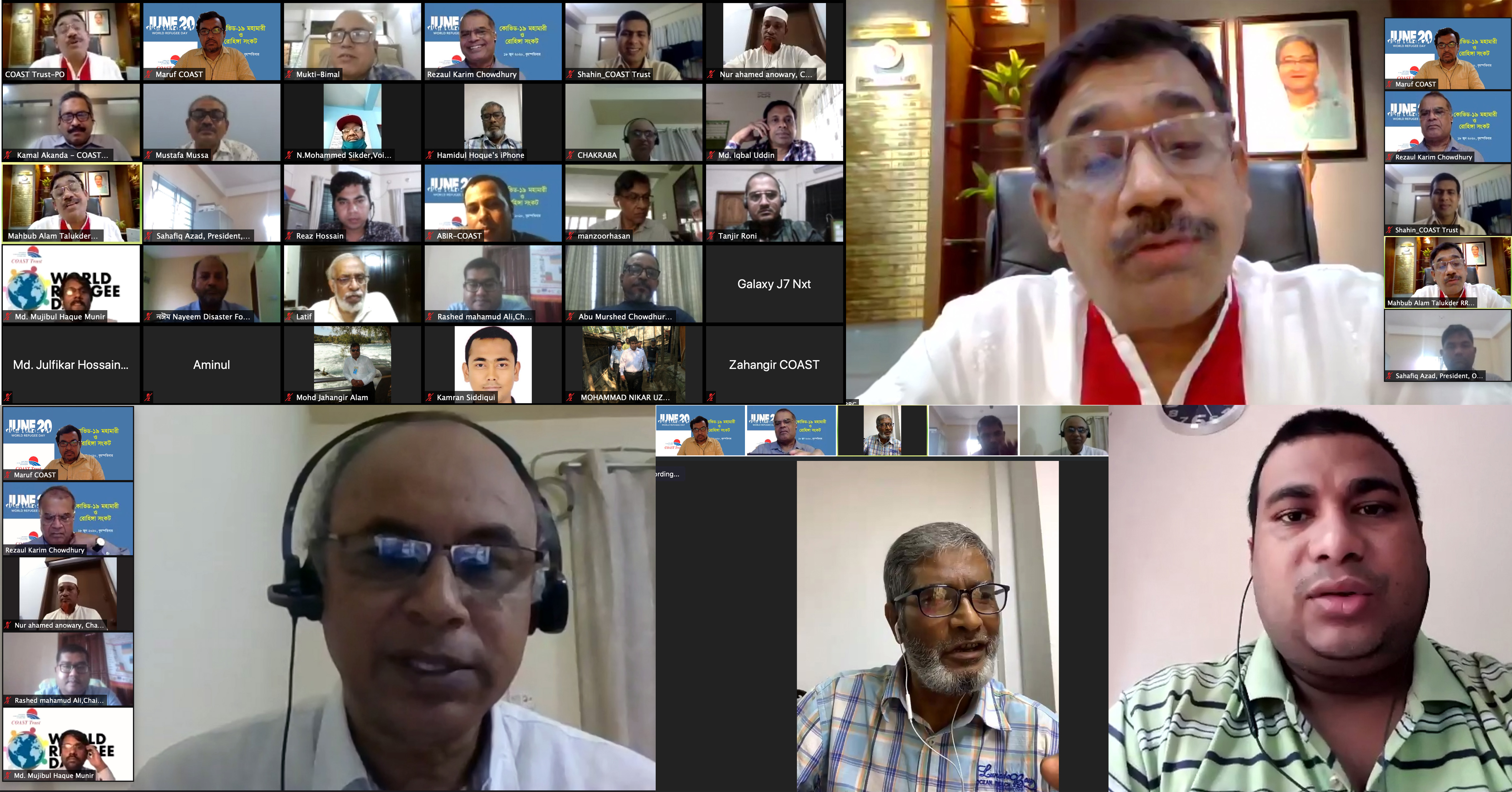 To save the Rohingya and the host community people from coronavirus infection, an inclusive effort by all concerned is required to successfully address this crisis with the participation of local governments, local organizations, local-national NGOs, INGOs and UN Agencies in all processes is essential.
The speakers expressed these views at a virtual seminar organized on the occasion of World Refugee Day to be held on the 20th June.
This year's theme is every action counts.
Ukhia Upazila Parishad Chairman Hamidul Haque Chowdhury presided over the seminar titled "Human Being is Above All: COVID-19 Host Communities and Rohingya Refugees" organized by COAST Trust.
Refugee Relief and Repatriation Commissioner Md Mahbub Alam Talukder was the Chief Guest of the seminar Moderated by COAST Trust Executive Director Rezaul Karim Chowdhury, while Ukhia Upazila Nirbahi Officer Md Nikaruzzaman was the Special Guest.
Among others, Jahangir Kabir Chowdhury Chairman Rajapalang Union Parishad, Nur Ahmed Anwari Chairman Huaikong Union Parishad, Rashed Mahmud Ali Chairman Hnila Union Parishad, Safiq Azad, President, Online Press Club Ukhia, Subrata Kumar Chakraborty Livelihood Officer UNHCR, Nur Mohammad Sikder Editor Voice of Ukhia, Mostafa Kamal Chowdhury Musa President Teknaf Teachers Association, Abu Morshed Chowdhury President Coxsbazar Chamber of Commerce, Bimal Dey Sarkar Executive Director Mukti Cox's Bazar, Nayeem Gowhar Wara, Disaster Forum, Abdul Latif Khan NAHAB, and Barrister Manzoor Ahmed, BRAC University also taken part.
Refugee Relief and Repatriation Commissioner Md. Mahbub Alam Talukder said, "We have been able to successfully fight against the widespread threat of Corona infection in the Rohingya camps, for which all concerned had a role to play."
To prevent corona, the presence of personnel working in the camp area has been reduced to 20% and the number of vehicles to 10%.
So far, 230 isolation beds have been made for Corona patients, with a 1,900-bed hospital soon to be built. For the locals we have brought PCR machine at Cox's Bazar Hospital. Ukhia Upazila Nirbahi Officer Md. Nikaruzzaman said the local NGOs understand the needs of the people of Ukhia and Teknaf better, they are always by their side. It must continue.
Nur Ahmed Anwari, Chairman of the Huaikong Union Council, said local NGOs could come forward to make local people aware and help them comply with health regulations. Many have become jobless, lacking the support and manpower in various educational institutions. In these cases, NGOs have to come forward.
Hnila Union Parishad Chairman Rashed Mahmud Ali said many middle-class people are in crisis now, they need special cooperation.
UNHCR Livelihood Officer Subrata Kumar Chakraborty said 10 bed ICU and 8 high dependency bed at Cox's Bazar sadar hospital supported by UNHCR will be inaugurated on 20 June, World Refugee Day. 6,000 families have already been given vegetable seeds. In addition, the organization has trained 260 health workers, 250 clinical technologists and 1,500 volunteers on the corona virus.
Safiq Azad, president of the Online Press Club, said as many Rohingya moved out of the camps, their movements needed to be carefully controlled to prevent corona infection.
Teknaf Teachers' Association president Mostafa Kamal Chowdhury Musa said the syllabus and examination number system would have to be redistributed to compensate students for losing their studies. The shift system needs to be introduced to maintain the physical distance. We should place emphasis on online learning activities.
Nur Mohammad Sikder, editor of Voice of Ukhia, said a science and technology university was needed to create employment opportunities for the youth. Abul Kashem of Help Cox's Bazar said local NGOs were standing by the affected people in Corona to the best of their abilities.
Disaster Forum's Gowhar Naum Warha said locally produced salt, dry fish and rice husk from local could be used to the Rohingya camp, which would increase employment and financial opportunities for the local people. We can use rice husk to make fuel stick in local level so that we can reduce the use of LPG gas.
Abu Morshed Chowdhury President Coxsbazar Chamber of Commerce, said there was a demand for various product and services in the Rohingya camp. Locals can supply those products and services according to that demand. These are the best approach to maintaining social harmony.
Abdul Latif of NAHAB said all concerned need a inclusive participatory plan to save the Rohingya and the local population from corona infection.
Rezaul Karim Chowdhury, Executive Director of COAST Trust, said, we have to take financial advantage of the positive image that Bangladesh has created around the world by sheltering Rohingyas. Rohingya refugees created an opportunity for Bangladesh.
Upazila Parishad Chairman Hamidul Haque Chowdhury said, Since there is no absolute treatment for corona at the moment, we have to be more awareness oriented, maintaining health norms to prevent.
Unauthorized use or reproduction of The Finance Today content for commercial purposes is strictly prohibited.