National /
Big hilsas being netted aplenty
---
SAMI
Published:
2020-08-13 13:06:51 BdST
Big hilsas being netted aplenty
---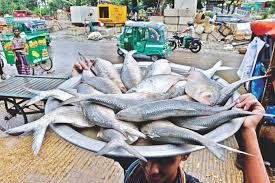 Large-size hilsas are being netted aplenty this season thanks to favourable environment created through various government measures to stop catching of hilsa fry (jhatka).
Size of the national fish has increased as the government has been able to stop catching of mother and hilsa fry, fish experts said.
An average size hilsa was 510 gram in 2014, 535 gram in 2015, 880 gram in 2016 and 915 gram in 2019, according to the statistics of WorldFish.
Dr Md Abdul Wahab, Team Leader of ECOFISH II Project at WorldFish, said that Bangladesh has been able to create favourable environment for hilsa population.
Over 50 percent hilsa weighing over one kg are being netted by fishermen and it is a sign of healthy population of the national fish, he said.
Fishermen are now catching huge hilsa and most them are of big size.
Most of the kitchen markets in the capital are flooded with big-size hilsa selling at affordable prices.
The government introduced the ban on catching mother and small-size hilsa in 2011 to boost production of the national fish. It banned hilsa catching, selling, transporting, hoarding and marketing for 22 days in the month of October.
A two-month ban was imposed on catching, selling, hoarding and transporting of hilsa from 1 March to 30 April in six sanctuaries to protect the mother and small size hilsa.
The government also slapped 65-day ban on catching hilsa in the Bay of Bengal between May 20 and July 23.
Researcher Wahab said such banning of mother and juvenile hilsa and awareness among the fishermen have increased production and size of hilsa.
Dr M Anisur Rahman, senior scientific officer of Bangladesh Fisheries Research Institute (Riverine Station, Chandpur) said fishermen were unable to catch fish because of the lockdown over corona virus.
"River pollution has decreased and different government initiative of hilsa production is also showing positive results," he said.
Rahman, also doing research on hilsa, said in the previous years, 1-2 percent hilsa weighing over one kg was netted by fishermen but this year 6-8 percent hilsa weigh over on kg.
"Hilsa weighing over 1.5 to 2 kg is being netted by 1-2 percent this year while it was below 1 percent," said the Hilsa researcher.
Hilsa is the national fish of Bangladesh. It comprises 12 percent of total fish production and contributes more than 1 percent to the gross domestic product.
Hilsa production was 2,90,000 tonnes in 2007-08 FY but it has increased to 5, 17,000 tonnes in 2018-19 and production stood at record 5, 33,000 tonnes last year.
Unauthorized use or reproduction of The Finance Today content for commercial purposes is strictly prohibited.