National /
Prices of edible oil, chicken, pulses see fresh hike
---
Staff Correspondent
Published:
2021-11-28 01:33:22 BdST
Prices of edible oil, chicken, pulses see fresh hike
---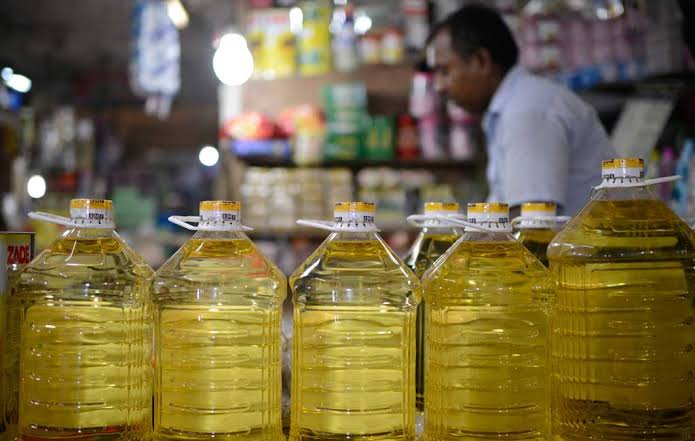 Prices of edible oils, broiler chickens and pulses increased further last week intensifying the sufferings of the low-income consumers.
Loose soybean and loose palm oil prices further increased by Tk 3.0-4.0 a litre while broiler chicken by Tk 10 a kg battering the limited-income groups already hit hard by the rocketing trend of other daily essentials.
Loose soybean sold at Tk144-147 a litre and loose palm oil at Tk135-138 (normal) and Tk140-143 (super) a litre on Friday.
Bottled soybean oil prices remained static at the previous high of Tk158-160 a litre.
Galib Rahman, a vendor at Rayer Bazar in the city, said wholesale prices of edible oil rose by Tk02.0-Tk 2.5 a litre and super palm by Tk 3.0 a litre at Moulovibazar in the city in the last few days.
He said the wholesale price of soybean oil increased to Tk142 a litre and super palm Tk133-Tk 134 a litre on Thursday evening.
Gulam Rashid Kamal, a Moulovibazar-based wholesaler, said millers have squeezed the supply of loose oil as they are thinking of raising the price further.
He said traders are collecting oil using old DOs (delivery orders) to retain their customer base.
He said the actual price of normal palm oil is Tk118-120 a litre at the mill-gates but it costs Tk 126-127 a litre now.
Mr Kamal said the price of soybean oil is above Tk138 a litre against the normal price of Tk132 a litre.
However, the major refiners of the country again proposed to raise the edible oil prices a few days back.
Bangladesh Vegetable Oil Refiners and Vanaspati Manufacturers Association (BVORVMA) has recently proposed to the Commerce Ministry to take necessary steps in this regard.
The group of millers mentioned in the proposal that they wanted to apply the rates from December 03 next month.
The association increased the soybean oil prices for the fourth time this year in October last amid a rise in edible oil prices on the international market.
Besides, BVORVMA also proposed to increase the maximum retail price of loose soybean oil to Tk148 from Tk 136 per litre and palm oil to Tk 129 from Tk 118 per litre respectively.
Bangladesh has a demand for 2.2-2.4 million tonnes of edible oil annually of which it imports above 90 percent.
Consumers Association of Bangladesh vice president SM Nazer Hossain said that the government has already raised living costs notably by increasing diesel prices by 23 percent.
He said the government should not respond to the refiners on raising prices of cooking oil further rather it should remove all kinds of import duties on the product for a certain period to give the low-come people some relief.
Hossain said the Trade and Tariff Commission (BTTC) should also prepare an updated logical price chart of key essentials like cooking oil following the global price trend of the last three months of a specific commodity.
Broiler chicken prices increased by Tk10 a kg as it sold at Tk 160-170 a kg while coarse lentil prices showed a Tk10-12 surge per kg in a week.
Meanwhile, prices of a few winter vegetables showed a slight decline but early harvested ripened tomato entered the city kitchen markets with high prices of Tk 150-170 a kg. New green tomato was retailed at Tk 60-80 a kg.
The imported tomato was also selling at as high as Tk 140-150 a kg.
Unauthorized use or reproduction of The Finance Today content for commercial purposes is strictly prohibited.