National /
Bangladesh to extend policy support for investment-friendly environment: PM
---
Staff Correspondent
Published:
2021-11-29 02:46:47 BdST
Bangladesh to extend policy support for investment-friendly environment: PM
---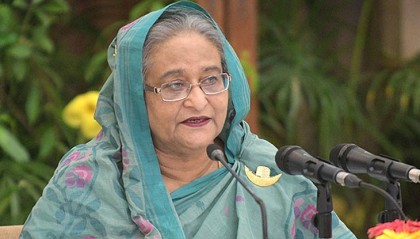 Prime Minister Sheikh Hasina on Sunday invited investors of the world to come up with investment in Bangladesh, saying her country is ready to provide all policy support for creating investment- friendly environment.
"...We are committed to providing all policy support, including infrastructure, to create an investment-friendly environment in Bangladesh," she said.
She was addressing the opening ceremony of two-day International Investment Summit-2021, Bangladesh in a city hotel, joining virtually from her official residence Ganabhaban.
The premier expressed her hope that through this conference, investors will be able to learn more about the potential of Bangladesh.
She said new markets for Bangladeshi products will be created and Bangladesh will be able to attract the desired investment during the summit.
Sheikh Hasina said her government has identified 11 potential investment sectors, including infrastructure, capital markets, financial services, information technology, electronics manufacturing, leather, automotive and light engineering, agro-products and food processing, healthcare and medicine, jute-textiles, and blue-economy.
The prime minister mentioned that Awami League (AL) got people's verdict for three consecutive times in the elections since 2008.
She said the importance of Bangladesh due to political stability, creation of skilled workforce, liberal investment policy through attractive incentives, and geographical position between the huge markets of South and Southeast Asia is increasing day by day.
"As a result of confidence in Bangladesh, more than 60 per cent of foreign direct investment is coming through reinvestment," she said.
Bangladesh Investment Development Authority (BIDA) organised this Summit.
Prime Minister's Private Industry and Investment Advisor Salman Fazlur Rahman, Saudi Arabia's Minister of Transport and Logistics Saleh Nasser A Al- Jasser, and the Federation of Bangladesh Chambers of Commerce and Industry (FBCCI) President Jashim Uddin, among others, also spoke.
BIDA Executive Chairman Md Sirazul Islam delivered the welcome address.
Video messages of Indian Minister of Commerce and Industry, Consumer Affairs, Food and Public Distribution and Textiles Shri Piyush Goyal, Chinese Vice Minister for Commerce Ren Hongbin, World Economic Forum Managing Director Jeremy Jurgens, Regional Vice President for Asia and Pacific of International Finance Corporation Alfonso Garcia Mora and President Consumer Durables of Koc Holding AS Turkey and Chairman of Singer Bangladesh Dr Fatih Kemal Ebiclioglu were played.
In addition, Japanese Ambassador to Bangladesh Ito Naoki read out the message of Parliamentary Vice-Minister for Foreign Affairs Honda Taro.
At the function, an audio-visual documentary titled Discover Limitless Opportunities was also screened.
The prime minister also unveiled the publication of the summit.
The prime minister said the government has formulated sector-wise industrial development policies along with National Industrial Policy, passed the Labor (Amendment) Act-2018, considering environmental protection in taking every project, automating bond management for the growth of the export-oriented industry.
She added the government has built 39 high-tech parks and are building 100 economic zones in phases.
"We received investment proposals of US$ 27.07 billion in the economic zones," she said.
Sheikh Hasina highlighted that the government is building "Bangabandhu Sheikh Mujib Industrial City" in Mirsarai, Sonagazi, and Sitakunda Upazilas while Japanese Economic Zone in Araihazar has already counted investment proposals of US$ 1 billion.
She continued the government has enacted the "Bangladesh Public Private Partnership Act, 2015" and established the Public Private Partnership Authority.
In this connection, she mentioned that currently about US$ 30 billion investment proposal is awaiting implementation in 79 Public-private partnership (PPP) projects.
The premier also said her government has formulated the "Bangladesh Investment Development Authority Act, 2016" and established Investment Development Authority.
She said since 2019, the government has been working to provide 154 investment services of 35 companies online through One-Stop Service.
The head of the government said, "We prioritize economic diplomacy and work to conclude Bilateral and Regional Preferential Trade Agreements, Free Trade Agreements, and Integrated Economic Partnership Agreements. We signed PTA with Bhutan."
In this connection, she said Bangladesh is getting unilateral duty-free export facilities from 38 countries of the world and avoidance of Double Taxation agreements are in force with 36 countries.
"We are working closely with various trade alliances," she added. Sheikh Hasina said Bangladesh is now the "Role Model" of development in the world, adding that it has received the "SDG Progress Award."
She said 99.75 percent of people in the country are getting electricity facilities and more than 120 million people of the country are using the internet.
"We are preparing to reap maximum benefits from the Fourth Industrial Revolution (4IR) by creating a skilled workforce with state-of-the-art technology. We aim to export IT products worth US$ 5 billion by 2025," she said.
She also said Bangladesh has 'Bangabandhu Satellite-1' in space and the construction work of the Padma Bridge is nearing completion with own funds.
She mentioned that constructions of Metro rail and Expressway in Dhaka and the third terminal at Hazrat Shahjalal International Airport, Regional Airport at Syedpur, another international airport at Cox's Bazar, Karnafuli Tunnel in Chittagong, and deep seaport at Matarbari and Payra are on in full swing.
"We have given an incentive of Taka 187,000 crore to counter the externalities of the Corona pandemic and people are getting the result of it," she said.
Sheikh Hasina said Bangladesh has graduated from a least developed block to a developing country as the size of its economy is now US$ 411 billion, foreign exchange reserves are US$ 46 billion and per capita income is US$ 2,554.
"We have adopted the second perspective plan for the implementation of Vision-2041. We are also implementing 'Bangladesh Delta Plan-2100'," she added.
The premier said that her party Awami League formed the government in 1996 with a 21-point election manifesto and out of which, to increase investment, develop infrastructure, achieve rapid growth through economic diplomacy.
"Our government's increased investment in FY 2000-2001 stands at US$ 816 million. Where only US$ 286 million was in the 1995-96 fiscal year. We increased power generation to 4,300 MW in FY 2000-2001, from only 1,600 MW in FY 1995-96," she said.
She added, "We build Bangabandhu Bridge over Jamuna. We have taken the initiative to build IT-Village and Hi-Tech Park to develop the IT-oriented export industry. However, the BNP rejected the offer of free fiber optic cable."
She also mentioned that Father of the Nation Bangabandhu Sheikh Mujibur Rahman has brought the Bengali nation from darkness to light by breaking the shackle of long two hundred and twenty-five years of subjugation.
She also said that when Bangabandhu took charge of the state, there was no single cargo ship, and the entire communication infrastructure was in ruins.
"There were no foreign exchange and gold reserves and he (Bangabandhu) fought for the establishment of 'Golden Bangladesh' with empty hands," she added.
The prime minister also narrated the initiatives taken by the Father of the Nation immediately after the independence to build the country.
Unauthorized use or reproduction of The Finance Today content for commercial purposes is strictly prohibited.