National /
ECNEC approves Tk 2,541.64cr EDGE project
---
Staff Correspondent
Published:
2021-12-08 07:07:25 BdST
ECNEC approves Tk 2,541.64cr EDGE project
---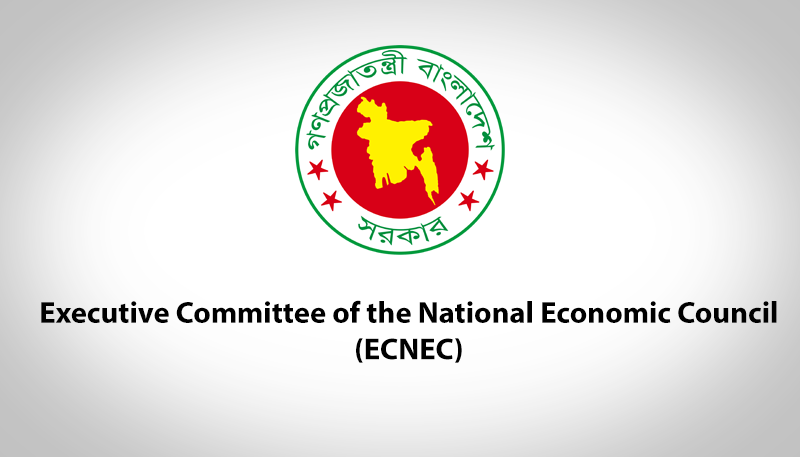 The Executive Committee of the National Economic Council (ECNEC) on Tuesday approved a Tk 2,541.64 crore Enhancing Digital Government and Economy (EDGE) project in a bid to create necessary environment for digital economy and also ensuring its flourish in Bangladesh.
The approval came from the 7th ECNEC meeting of the current fiscal year (FY22) with ECNEC Chairperson and Prime Minister Sheikh Hasina in the chair.
The Premier joined the meeting virtually from her official Ganobhaban residence while Ministers, State Ministers, Planning Commission members and secretaries concerned attended the meeting from the NEC Conference Room in the city's Sher-e-Bangla Nagar area.
Briefing reporters after the meeting, Planning Minister MA Mannan said that the meeting approved a total of 10 projects involving an overall estimated cost of Tk 7,447.07 crore. "Of the total project cost, Tk 3,682.28 crore will come from the government of Bangladesh portion, Tk 153.81 crore from the concerned organization's own fund while the rest of Tk 3,610.98 crore as project loans,"
State Minister for Planning Dr Shamsul Alam, Planning Commission members and secretaries concerned attended the briefing.
Of the approved 10 projects, five are new while five others are revised projects.
The planning minister said that Bangladesh Computer Council (BCC) under the ICT Division will implement the EDGE project by December 2026. Out of the total estimated cost of Tk 2,541.64 crore for the EDGE project, the government will provide Tk 34.59 crore while the rest of Tk 2,507.05 crore will come from the IDA of the World Bank.
The EDGE project will ensure an integrated, cloud-computing digital platform for all government agencies and improve cyber-security, which will result in savings of $200 million in the public sector's IT investments. Further, it will build resiliency during future crises, whereby the platform will enable the government to operate virtually and deliver critical public services to citizens and businesses.
The project will create 100,000 jobs, with a special focus on women, train 100,000 youths in digital and disruptive technologies and establish a digital leadership academy and centers of excellence. It will also help raise the revenues of IT firms by $300 million and promote local IT firms in international markets.
To reduce vulnerabilities from the pandemic and prepare for the Fourth Industrial Revolution, the project will help digitalize small and medium enterprises and strategic industries.
Answering to a question, Planning Commission member Mst Nasima Begum said that there are some 4,000 IT and software companies in the country and they exported IT materials and software worth $1 billion in the last fiscal year.
She said that this EDGE project would expedite the materialization of "Digital Bangladesh" in the country adding that around Tk 514 crore has been kept as block allocation in this project for facing the post Covid-19 pandemic situation.
Planning Division Secretary Prodeep Ranjan Chakrabarty said that the ICT Division would develop a methodology on how to utilize this block allocation.
The planning minister said the prime minister asked the Ministry of Water Resources and the Ministry of Shipping to work in an integrated way in case of those projects relating to river dredging and checking river erosion.
Mannan said such project works should have to be done cautiously where the Ministry of Planning could coordinate if necessary.
He said the Premier also suggested for setting up sports schools in all the divisions, ensuring maximum utilization of surface water as well as utilizing barren or unused land.
The planning minister said the ECNEC congratulated the prime minister and the people of the country for attaining unprecedented development in Bangladesh over the last one era.
In the wake of worldwide detection of Omicron, a new variant of Covid-19, Mannan urged the countrymen to follow the health safety guidelines, especially to wear face masks.
When asked about the trend for revision of development projects, Mannan said that this is a "running problem" while projects are often revised due to some practical problems like Covid-19 pandemic, changes in rate schedule, land related problems.
"But, we're trying our best to reduce the tendency of revising projects," he added.
State Minister for Planning Dr Shamsul Alam informed that the prime minister suggested for naming the greater Cumilla as Meghna Division and the greater Faridpur as Padma Division.
Turning to the project for countywide establishment of model mosque cum Islamic centers, Shamsul said that the Premier opined that those mosques cum Islamic centers should motivate the youths so that they do not resort to militancy.
He said the prime minister also put emphasis on boosting the production of paddy, especially the salt tolerant variety one, in the southern region.
The prime minister also directed the Local Government Division so that the quality of works is maintained in the projects related to rural infrastructures development.
Replying to another question, Planning Commission member Mst Nasima Begum said that the work for some 50 model mosques cum Islamic centers have already been completed, some 100 model mosques are nearing completion while the rest would be completed in phases.
Meanwhile, the day's ECNEC meeting also approved a Tk 1,538.10 crore project to ensure integrated infrastructural development of Cumilla City Corporation for rendering better service delivery and civic facilities to the
city dwellers.
The project titled "Integrated infrastructural development of Cumilla City Corporation" will be implemented with an estimated cost of Tk 1,538.10 crore.
The Cumilla City Corporation under the Local Government Division will implement the project by December 2024.
Out of the total project cost, Tk 1,384.29 crore will come from the Government of Bangladesh portion while the rest of Tk 153.81 crore from the City Corporation's own fund.
The project aims to increase the various civic facilities of the city corporation.
Once the project is implemented, it would be possible to ease the traffic congestion and thus developing an improved communication system through construction of new roads, drains and footpaths in the Cumilla city.
The main project operations include construction of two 21,360 square-meter modern city corporation buildings having 15-storey foundation, upward extension of regional office, construction of 40,473.97 square meter Mostafapur Truck Terminal and 8,194.98 square meter Chakbazar Bus Terminal,
10 acres of land acquisition and land development, beautification and development of Old Gomoti River, DC Pond and Rajbari Pond, development of 146 graveyards and crematory grounds, construction of seven public toilets, construction of 305.14 kilometer roads, 203.09 kilometer drains and 13.83 kilometer footpaths.
The other projects approved in the meeting are Improvement of navigability of River route from Mongla Port-Chandpur-Mawa-Goalondo-Pakshi, 1st revised with an additional cost of Tk 334 crore, Establishment of Sports Schools at Chattogram and Rajshahi under BKSP, 3rd revised with an additional cost of Tk 31.86 crore, Establishment of burn and plastic surgery units at five medical college hospitals (Sylhet, Barishal, Rangpur, Rajshahi and Faridpur) with Tk 456.09 crore, Establishment of 563 model mosques and Islamic centers at each district and upazila, 2nd revised with an additional cost of Tk 713 crore, Development of ICT infrastructures, Human Resources and technology skills of Jatiya Sangsad Secretariat, 3rd revised with an additional cost of Tk 13.84 crore, Rehabilitation of irrigation infrastructures with Tk 322.99 crore, Climate Smart Agriculture and Water Management (CSAWMP) (BWDB part) with Tk 1,182.55 crore and Rural infrastructure development of greater Noakhali district, 3rd phase, 1st revised with an additional cost of Tk 313 crore.
Unauthorized use or reproduction of The Finance Today content for commercial purposes is strictly prohibited.