National /
Lightning strikes kill 19 in eight districts
---
Nirmal Barman
Published:
2018-04-30 12:07:09 BdST
Lightning strikes kill 19 in eight districts
---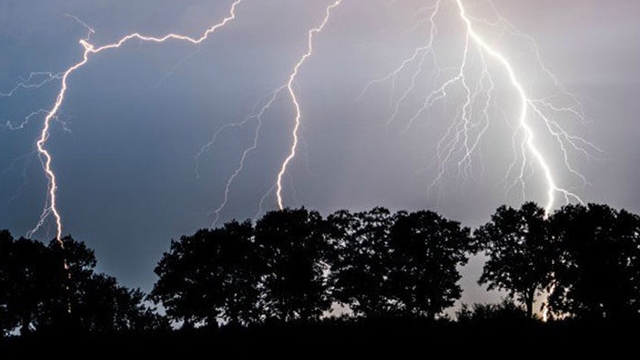 FT ONLINE
Lightning strikes from freak storms during the monsoon season have left 19 people dead in eight districts of Bangladesh.
At least 16 others were injured when lightning bolts slammed into the ground in Sirajganj, Magura, Naogaon, Rangamati, Noakhali, Sunamganj, Brahmanbaria, Gopalganj and Gazipur on Sunday.
In Sirajganj, five people were killed and four others injured by the outburst of lightning different areas of the district on Sunday.
Two died in Shahjadpur Upazila, two more in Kazipur Upazila and one in Kamarkhanda Upazila.
The dead have been identified as 'Nabil', 17, 'Polin', 15, Shamsul Mandal, 55, Mandal's 14-year-old son 'Arman' and Kader Hossain, 37.
Shamsul and his son were working in a peanut field on Sunday morning when the two were struck by lightning, said Kazpur UP Chairman Md Harun.
They died on their way to Kazipur Health Complex, he said.
Another victim Kader Hossin was hit by lightning while working on a paddy field around 10am and died on his way to hospital, said Tanjila Begum, medical officer of Kamarkhanda Upazila Health Complex.
Nabil and Polin were struck by lightning as they were gathering mangoes during the storm.
Four others injured by lightning strikes and have been admitted to Shahjadpur Sadar Hospital, said medical officer Rajibul Islam Siddiqui.
In Magura, a total of four people were killed in Sadar Upazila, Raigram and Salikha Upazila.
Shamim, a van driver, was struck by lightning as he was heading to Sreepur Upazila from Magura, said Magura Sadar Police Station Ashraf Hossain.
The second victim Alam was killed returning home to Raigram from Magura.
The third victim, Mededi, was struck by in lightning while he was working on a mobile phone tower at Bunagati village in Shalikha.
He was rushed to hospital where emergency department doctor Porikkhit Paul declared him dead.
The fourth victim is Prahallad Biwas, 40, son of Shaktipada Biwas of Bakolbaria village.
In Naogaon, two people were killed and three others injured in lightning and thunderstorm. Sonavan, a 22-year-old housewife at Shapahar Upazila and Muktar Hossain, a 14-year-old schoolboy at Porsha Upazila were killed. Sonavan's husband and two others were also injured.
According to OC of Shapahar Police Station Shamsul Alam, the injured are Rubel Hossain, 28, Saleha Bibi, 42 and Raj Ahmadur, 12.
In Sunamganj, Lalit Mia, 30, of Sadar Upazila, was killed when lightning struck him around 10am.
According to Sadar Police Station OC, Lalit was working at the paddy field at that time. He was taken to the hospital, but the duty doctor pronounced him dead.
The Rangamati victim, housewife Mansura Begum, 35, was a resident of Muslim Block area of Baghaichharhi Upazila of the hills district, according to local police.
In Noakhali, two people were killed and as many others injured. The deceased are Iqbal Hasnat Piash, a 13-year-old schoolboy in Lakshmipur Sadar Upazila and Md Shaheen, 26, of Tajumddin Upazila in Bhola.
In Gazipur, two people were killed in lightning strikes while five others were injured. The deceased are Jafirul Islam, 28, a resident of Gobindaganj Upazila of Gaibandha district and Bilkis Begum, 43, a resident of Sreepur Upazila's Rajbari Union and wife of Kalu Kabiraj.
In Brahmanbaria, one Abdur Rahim, 40, was killed. The storm and lightning also injured two others. Rahim was from Moulavibazar but working as a day labourer in the paddy field at Akhaurha Upazila.
The Gopalganj victim has been identified as Ashok Pandey, 22, a resident of Kotaliparha Upazila's Sadullahpur Union.
Union Parishad Chairman Bhim Baroi said Ashok stood by the side of the road during the rain. He was injured by a lightening bolt and rushed to the hospital where doctors declared him dead.
Unauthorized use or reproduction of The Finance Today content for commercial purposes is strictly prohibited.