National /
Sheikh Hasina asks Khaleda Zia to visit Padma Bridge
---
Staff Correspondent
Published:
2022-06-25 16:23:34 BdST
Sheikh Hasina asks Khaleda Zia to visit Padma Bridge
---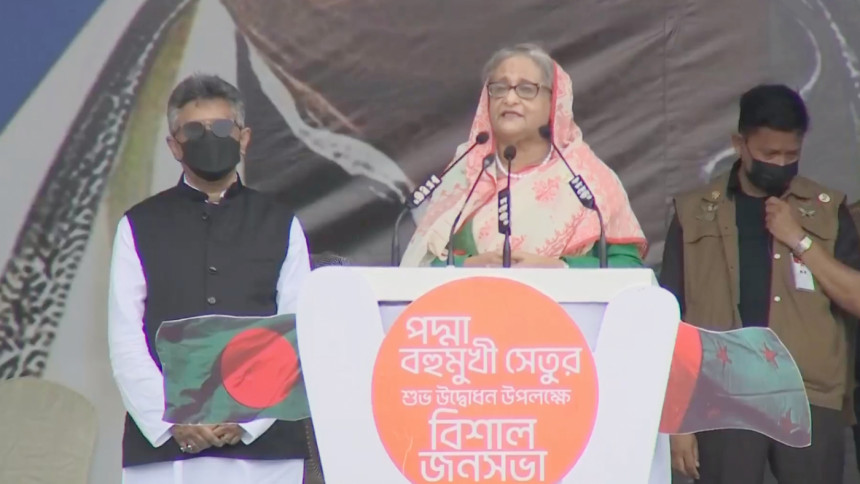 Prime Minister Sheikh Hasina has asked BNP Chaiperson Khaleda Zia that the Awami League government has constructed the Padma Bridge.
Sheikh Hasina also asked Khaleda Zia to visit the Padma Bridge.
She made the call at a Awami League rally at Jazira point after inaugurating the much-expected Padma Bridge on Saturday.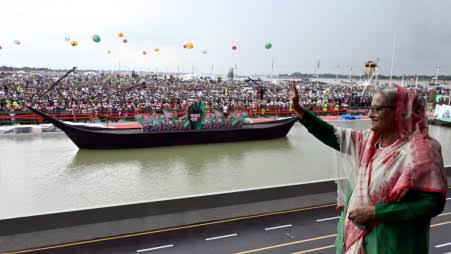 After opening the biggest self-financed project Padma Bridge, the premier will join AL's public rally at 12 noon.
Sheikh Hasina said, "People of Bangladesh cast their votes and we have been nominated. Then, we working to fulfil the dream of the countrymen."
She said, "Overcoming many odds, we have ensured food security of the people. We are now independent in food production."
The rally began at 9.15 am with recitation from the Holy Scriptures. Awami League Presidium Member Jahangir Kabir Nanak delivered the welcome address while AL's Publicity and Publications Secretary Abdus Sobhan Golap is moderating it.
Since the dawn, people from different parts of the country especially from the 21 south and southwestern districts starting coming to the venue located on the bank of river Padma at Kathalbari ghat which has been decorated gorgeously with making a symbolic makeshift Padma Bridge having 10 spans on 11 pillars.
Clad in colorful traditional panjabee, sharee, t-shirt with inscription of greetings for Padma Bridge opening, caps, ribbons and hats, a huge number of men and women irrespective of ages thronged the venue.
They also came with holding different banners extending thanks to Prime Minister Sheikh Hasina for her dynamic leadership in implementing the dream project which will bring a massive progress in road connectivity in the 21 districts.
Talking to reporters, elderly Abdul Halim Talukder, member of Joynagar union under Janjira upazila of Shariatpur said: "We reached Jamaddar stand of Shibchar last night to join the public rally today. As many as 3000 leaders and workers of Joynagar union have come here. There was arrangement of food and small cultural function at the stand for their refreshment".
Lavlu Sheikh, who came from Mollarhat upazila of Bagerhat, said they started their journey at 10.30 pm last night and reached the venue around 6am today.
He said around 30,000 people have come from that upazila to join the rally.
The venue has been decorated with small and large boats. Before the symbolic bridge, opening stage has been set up. The makeshift bridge is 200 feet long and 8 feet wide. The stage is 15 feet long and 40 feet wide.
A 60-feet long gigantic boat floats on water in front of the stage. Several small boats are also there. The venue has been prepared on around 15 acres of land.
Stringent security measures have also been taken to avert any untoward incident. Six watch towers have been set up on the premises of the stage. More than 150 CCTV cameras have been set up.
Members of Army, several units of Rapid Action Battalion (RAB) and police, SSF members are working at the venue.
Inspector General of Police (IGP) Dr Benazir Ahmed said stringent security measures have been taken to avert any untoward situation.
Full-proof security measures were taken as check-posts have been set up at all points and intersections on the way to the venue.
Modern watch towers have been set up to keep surveillance.
As preparations have been taken to host a mammoth public gathering, 500 temporary toilets, 22 toilets for VIP, pure drinking water, a 20-beded and two 10-beded mobile hospitals and medical centers have been ensured. There was a ambulance facilities too.
The entire Madaipur district along with Shariatpur wore a festive look as colorful banners have been hanged on rope in the streets and roads.
The programme includes colorful cultural function, fireworks and laser show.
Unauthorized use or reproduction of The Finance Today content for commercial purposes is strictly prohibited.