National /
Over Tk2 crore toll collected on 1st day
---
Staff Correspondent
Published:
2022-06-27 17:16:39 BdST
Padma BridgeOver Tk2 crore toll collected on 1st day
---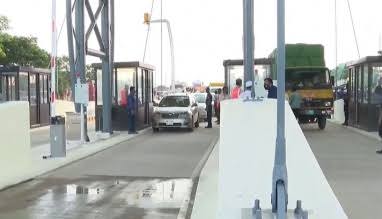 The Padma Bridge authority collected Tk2,09,40,300 toll in first 24 hours of opening of the Padma Bridge for traffic movement.
The toll was collected from 6.00 am on Sunday to 6.00 am on Monday, an official of Padma Bridge project said.
A total of 51,316 vehicles crossed the bridge over the same period, he said.
The Padma Bridge was opened for vehicular movement from 6:00 am on Sunday.
Prime Minister Sheikh Hasina unveiled the plaque of the 6.15 kilometre Padma Bridge on Saturday.
The government expects that Padma Bridge's construction cost will be recovered in the next 35 years, according to the Bangladesh Bridge Authority (BBA).
The finance ministry provided BBA with an amount of Tk 30,000 crore as credit, which will be repaid with a one per cent interest rate in 35 years.
Meanwhile, the government announced that stopping vehicles, walking and taking pictures on the Padma Bridge are completely prohibited and punishable offences.
The cabinet urged the public to be vigilant in complying with the ban.
The government also requested all to pay tolls while crossing the bridge.
The government on May 17 finalised the toll rate for different types of vehicles. The Bridges Division under the Road Transport and Bridges Ministry issued a gazette notification in this regard.
According to the government decision, Tk 100 toll has been fixed for motorbikes, Tk 750 for private car and jeep, Tk 1200 from pick-up, Tk 1300 for microbus, Tk 1400 for the small bus (with 31 seats), Tk 2000 for the middle bus (with 32 seats), Tk 2400 for big-size bus, Tk 1600 for the small truck (5 tonnes), Tk 2100 for middle size truck (over 5 tonnes to 8 tonnes), Tk 2800 for middle size truck (over 8 tonnes to 11 tonnes), Tk 5500 for the big truck (up to 3 excel) Tk 6000 for trailer truck (4 excel) and Tk 6,000 plus for trailer (over 4 excel).
Unauthorized use or reproduction of The Finance Today content for commercial purposes is strictly prohibited.