National /
Country switches to coal power to substitute petroleum imports
---
Staff Correspondent
Published:
2022-07-26 16:06:35 BdST
Country switches to coal power to substitute petroleum imports
---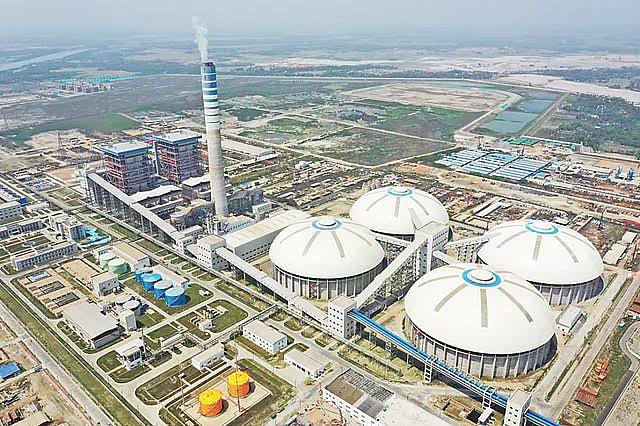 Following footstep of many others, Bangladesh intends to augment imported-coal use for electricity generation to substitute costly diesel, furnace oil and liquefied natural gas (LNG) imports.
Although coal price seems cheaper, sources say, its price on the international market also has almost doubled since the Russia-Ukraine war flared up on February 25 from US$239 to as high as US$425 per tonne.
The price prance occurs for coal-demand rise following fuel-and food-supply blockades from the Russia-Ukraine hub amid the war and sanctions. As such, reports say, different countries are falling back to coal use in what stands as digression from green-development goals.
Global coal price, however, lost some steam over the past one week. But it is still hovering around US$415 a tonne.
To increase overall electricity output from coal, Bangladesh's overall coal import will also increase significantly.
Currently, around 1,200 megawatts of electricity is generated from coal, of which around 200MW is being generated with local coal in Barapukuria mine-side thermal power plant and 1,000MW from imported Indonesian coal in Payra 1320MW coal-fired power plant.
Bangladesh-China Power Company (Pvt) Ltd, the owning company of Payra power plant, currently burns around 10,000 tonnes of coal every day to generate around 1,000MW electricity.
It will have to consume 25-percent higher quantity of coal to the tune of around 12,500 tonnes per day within next several days as it has been asked to ramp up electricity generation.
"State-run Bangladesh Power Development Board (BPDB) has asked BCPCL to increase electricity generation from Payra plant," a senior BCPCL official said Monday.
The remaining Barapukuria coal-fired plant can generate only around 200MW electricity, out of its total 524MW capacity, utilizing local coal extracted from the adjacent Barapukuia coalmine.
The first two units of Barapukuria coal power plants having the total generation capacity of 250MW lie idle for what is called technical fault.
Sources say BCPCL imports coal from Indonesia under a 10-year-long term deal.
While Barapukuria power plant has around 45,000 tonnes of coal stockpiled for its generation as coal extraction in Barapukuria coalmine remained shut over the past three months since May 1.
Bangladesh since last week has shut all diesel-fired power plants temporarily under an austerity measure to reduce diesel imports and save foreign-exchange reserves--now under two-pronged pressure from balance-of-payments deficit and global price rises.
To cope with energy-supply shortfalls for generation squeeze the government instructed on June 20 shutting all shops and shopping malls after 8pm every day.
It also prohibited illumination in different junkets at community centres, shopping malls, shops, offices and houses by an order issued on July 7.
Separately, a six-hour supply hiatus for compressed natural gas (CNG) filling stations from 5:00 pm to 11:00 pm daily is in execution to conserve power and energy.
To cut import bills to prop up falling reserves of the US dollar, Bangladesh has ceased LNG import from spot market since July.
Petrobangla, the country's parent gas company, is currently importing some five LNG cargoes every month from two long- term suppliers: Qatargas and Oman Trading International, or OQ.
Bangladesh's liquefied natural gas (LNG) re-gasification dipped to around 520 million cubic feet per day (mmcfd) Saturday, which is nearly 50 per cent of the aggregated re-gasification capacity from the country's two operating floating LNG terminals.
Countrywide electricity load-shedding fell to around 1785MW Saturday from around 2,400MW mostly due to cooler temperatures following rain across the country.
"Oil allocation to government officials' cars has already been reduced by 20 percent under the belt-tightening measure as the energy ministry has asked the state-run Bangladesh Petroleum Corporation (BPC) to cut diesel import by up to 30 percent to save foreign currency," said a senior BPC official.
Allegations still have it that the state-run distribution companies are failing to carry out the government-mandated daily one-hour area-based scheduled load-shedding properly.
Rural areas across the country are undergoing several hours of outages daily, consumers alleged.
Although the government has instructed the electricity-distribution companies to inform consumers about load-shedding through short message service (SMS), most of them have not yet sent SMSs over load-shedding schedules.
Although not utilized fully, the distribution companies have prepared schedules separately for the areas under their jurisdiction to enforce daily one-hour blackout.
Unauthorized use or reproduction of The Finance Today content for commercial purposes is strictly prohibited.