National /
Karatoya boat capsize toll climbs to 50
---
Staff Correspondent
Published:
2022-09-27 09:13:38 BdST
Karatoya boat capsize toll climbs to 50
---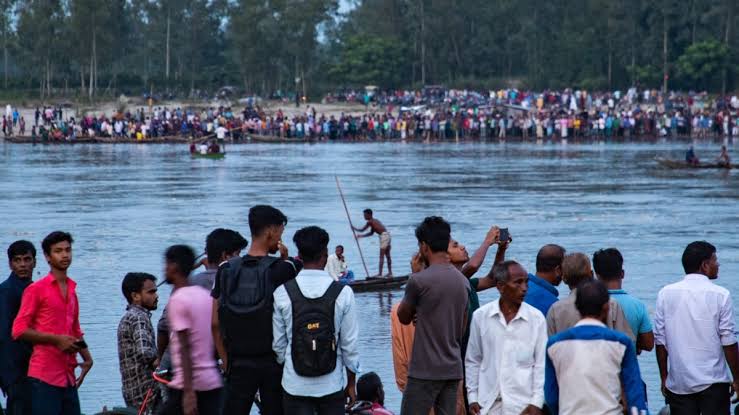 Rescuers recovered 25 more bodies of passengers on Monday, climbing the death toll in the tragic boat capsize in Panchagarh to 50.
The bodies were found in Karatoya and Atrai rivers in Boda and Debiganj upazilas in Panchagarh and Khansama and Birganj upazials in Dinajpur.
Officer-in-Charge of Boda Police Station Sujoy Sarkar, Duty Officer of Debiganj Police Station Sohel Rana and OC of Khansama Police Station Chittaranjan confirmed the news.
Earlier, rescuers recovered 25 bodies on Sunday after a boat with over 100 people, mostly Hindu pilgrims, aboard sank in the Karatoya river near Awalia ghat in Boda.
The identities of 16 deceased were ascertained. They were Kabita Rani, 50, Suchitra Rani, 22, Dip Babu, 10, Jharna Bala, 50, Bejjobala, 50, Di Shikha Rani, 10, Jagadis Chandra, 60, Subrata, 2, Joti Mitra Roy, 15, Genda Rani, 50, Kanika Rani, 40, Sumitra Rani, 45, Adori Rani, 50, Pushpa Rani, 50, Protima Rani, 50 and Surzi Nath Barman, 12.
Additional District Magistrate Dipankar Roy, who is the chief of a five-member probe committee to investigate the incident, said over 40 passengers were still missing.
A rescue operation was being carried out to rescue the missing people, he said, adding that they already began investigation into the tragic incident.
Sheikh Mohammad Mahbubul Alam, assistant deputy director of the District Fire Service and Civil Defence, said that eight units of firefighters from the district and its adjoining areas were conducting the rescue operation, along with nine divers from Rangpur, Kurigram and Rajshahi.
The family members and relatives of the missing people gathered on the Karatoya riverbank to know if their near and dear ones were found.
60-year-old Krishna Chandra Roy came to the riverbank to search for his brother and nephew.
He said his brother Naresh and nephew Sintu left their house for Bodeswari Temple to celebrate Mahalaya. They came to Awalia Ghat. After that, they remained missing, he said.
Sumol Chandra, who came from Panchpir area, was moving on the riverbank, aiming to know if his grandson was found.
He said, "At least, if the body can be got, we can cremate it."
The Ministry of Disaster Management and Relief paid Tk one lakh to the family members of each deceased while Bangladesh Hindu Buddhist Christian Unity Council paid Tk 25,000 to each deceased family and Panchagarh district administration Tk 20,000 to each dead family.
State Minister for Religious Affairs Md Faridul Haq Khan, Panchagarh-2 MP Nurul Islam Sujan and Thakugaon-1 MP Ramesh Chandra visited the spot.
At about 2:30pm on Sunday, the boat with over 100 passengers, mostly Hindu pilgrims, was sailed for Badeshwari Temple IN Debiganj from Awalia Ghat in Boda.
It sank after going a few yards, leaving all the passengers in the river water.
Suvas Chandra Roy, who survived the accident, said, "We were five friends in the boat. There were more than 150 passengers in it. After getting on it, water began to enter it. Then, the passengers began rushing. At one point, the boat sank."
Unauthorized use or reproduction of The Finance Today content for commercial purposes is strictly prohibited.