National /
Padma Bridge: Toll collection crosses Tk 200-crore mark
---
Staff Correspondent
Published:
2022-09-28 18:54:09 BdST
Padma Bridge: Toll collection crosses Tk 200-crore mark
---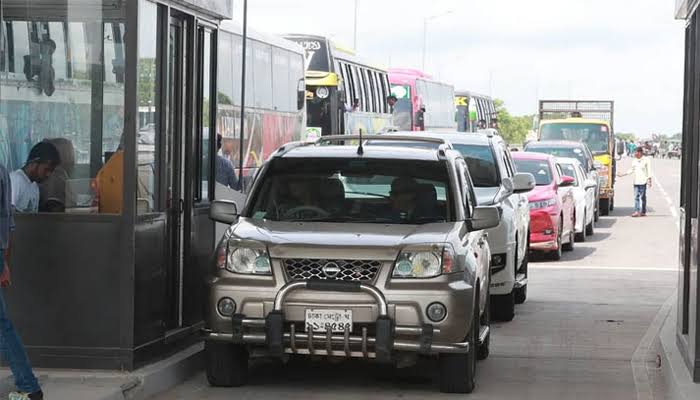 Over Tk 200-crore toll has been collected from vehicles that crossed the Padma Bridge in three months since its inauguration.
Dewan Md Abdul Kader, executive engineer of the Padma Multipurpose Bridge project, on Tuesday evening said a total of Tk 2,011,327,050 has been collected at the Mawa and Jazira ends of the bridges in 92 days from June 26 to September 26.
During the period, some 1,447,852 vehicles crossed the bridge, he said, adding that 15,568 vehicles made their journey through the bridge every day on average while the daily toll collection was Tk 21,627,172.
The maximum toll of Tk 785,019,400 was collected in the month of July when highest 587,020 vehicles crossed the Padma Bridge.
During this period, Tk 1,389 toll has been collected from each vehicle on average. Maximum 51,316 vehicles crossed the bridge on June 16 while highest Tk 41,939,650 toll was collected at both ends of the bridge on July 8.
After the bridge was opened to traffic, some 117,104 vehicles, including motorcycles, crossed the Padma Bridge in the five days of June with an average of 23,421 per day. Tk 10,141,000 was collected as toll in the month. Some 587,020 vehicles crossed the bridge in 31 days of July when Tk 785,019,400 was collected as toll.
In August, Tk 619,734,400 was collected from some 412,303 vehicles while Tk 505,171,400 was realised from some 331,425 vehicles in the 26 days of September.
Kader said the pressure of traffic on the Padma Bridge will increase further after the opening of the Kalna Bridge. If additional vehicles cross the Padma Bridge, the revenue collection will also go up.
After the inauguration of the Padma Bridge by Prime Minister Sheikh Hasina on June 25, the bridge was opened for traffic on June 26.
Unauthorized use or reproduction of The Finance Today content for commercial purposes is strictly prohibited.