National /
First batch of workers leaves for Malaysia
---
Staff Correspondent
Published:
2022-11-29 15:38:18 BdST
First batch of workers leaves for Malaysia
---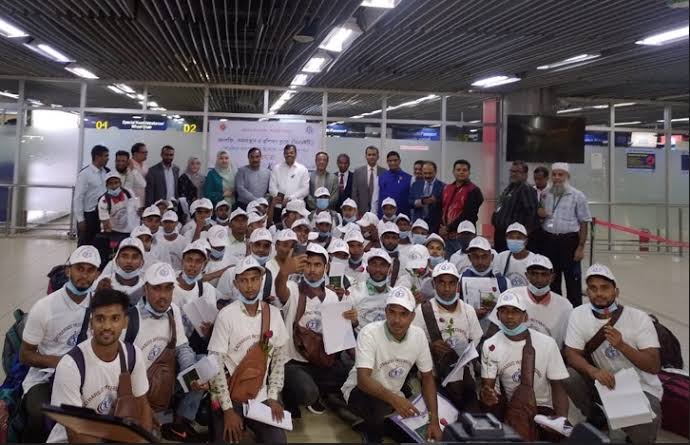 The first batch of Bangladeshi workers recruited under the government management left Dhaka for Malaysia today from Hazrat Shahjalal International Airport.
A flight of US-Bangla Airlines carrying 30 workers left for Kuala Lumpur in the morning.
The workers, being sent under the management of the government organisation Bangladesh Overseas Employment and Services Limited (BOESL), will work in the plantation sector.
Expatriates' Welfare and Overseas Employment Secretary Dr. Ahmed Munirus Saleheen and BOESL Managing Director Dr. Mallick Anwar Hossain bid farewell to the workers at the airport.
While speaking about sending the first batch of workers, Dr. Mallick Anwar Hossain said the total cost of migration will be borne by the hiring company.
"The workers will go to Malaysia at free of cost. Even the expenses incurred in the Bangladesh part are also paid by the company," he said.
Thirty more will go the next day and the remaining 30 workers will be sent on December 1, said the BOESL Managing Director.
"We are sending them experimentally. We got a demand of about 1000 workers. If we receive further demand, we will send more workers," he added.
Sources at BOESL said that although there is a demand for 1000 workers, initially a small number of workers will go to Malaysia in three phases in three consecutive days.
According to the Ministry of Expatriates' Welfare and Overseas Employment, the Ministry of Foreign Affairs has informed it that about 10,000 workers will be sent from Bangladesh to different sectors of Malaysia through BOESL under the Special One-off Recruitment Project.
Bangladesh has already received a demand of about 1000 workers from six companies. Some 700 aspirant workers have been prepared by collecting a list of workers through random selection from the Bureau of Manpower, Employment and Training (BMET) database and through job fairs in various districts.
Under the Special One-off Recruitment Project, the cost of sending workers through BOESL is around Tk 46,000.
BOESL has received a demand for 550 workers from United Plantation (UP), one of Malaysia's largest plantation companies.
All expenses related to travel to Malaysia are borne by the company. The selected workers are going to Malaysia through BOESL at no cost.
Earlier last September, Deputy Secretary-General (Operation) at the Malaysia's Ministry of Human Resources Khair Razman Mohamed Annuar said in a statement that they will take workers under a government-to-government contract as a one-time measure.
This recruitment process has nothing to do with the already appointed Bangladeshi recruiting agencies.
The government agreed to the move, mainly to avoid high immigration costs being encouraged by the Malaysian employers.
Malaysia and Bangladesh signed a memorandum of understanding on the recruitment of workers on December 19 last year.
Under that agreement, Bangladeshi workers started going to Malaysia on August 8 this year.
Unauthorized use or reproduction of The Finance Today content for commercial purposes is strictly prohibited.