National /
Ensuring access to electricity at an affordable cost is govt's prime goal: PM's Energy Advisor
---
Staff Correspondent
Published:
2022-12-06 19:50:50 BdST
Ensuring access to electricity at an affordable cost is govt's prime goal: PM's Energy Advisor
---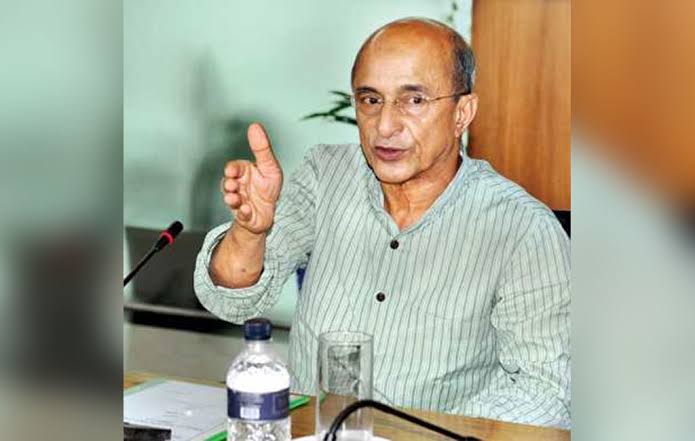 Prime Minister's Energy Advisor Dr Tawfiq-e-Elahi Chowdhury has said that the government's goal is to ensure first the access to uninterrupted electricity at an affordable cost with a concept of clean energy.
He made the remarks while addressing a discussion titled, "Investing in Green Energy Transition: Partnership Opportunities for Bangladesh and Europe" on Tuesday.
Team Europe, an initiative of the EU on green energy transition, organised the discussion at a city hotel on Tuesday.
He also urged the European Union to cooperate with Bangladesh through its financial support to find innovative solutions to cope up with the global energy transition.
Distinguishing Bangladesh's energy transition as something different from Europe's one he said the EU countries have reached a level of development while Bangladesh is still growing and growth has been its primary objective.
"So, Bangladesh and EU nations' energy transition should not be the same,"he said.
"The event, hosted by its co-chairs, Ambassador of the European Union to Bangladesh Charles Whiteley, and German Ambassador to Bangladesh Achim Tröster, was also addressed by Minister for Power, Energy and Mineral Resources Nasrul Hamid, additional secretary to the Power Division Md Nurul Alam and chairman of Sustainable and Renewable Energy Development Authority (Sreda) Munira Sultana.
Team Europe was launched in June 2021, aiming at supporting Bangladesh to build a power system that leads to maximum coverage of the country's energy demand through renewable energy, while reducing greenhouse gas emissions, energy consumption and demand through energy efficiency.
Tawfiq Elahi said that considering the national demand goals, Bangladesh has to design its own plan aiming at evolution to meet our own challenges from a national responsibility.
"There are so many choices and nuclear is one of such choices. Nuclear emits less carbon than renewable energy,"he added.
Nasrul Hamid said Bangladesh has been committed to the Paris Agreement to reduce its carbon emission.
"We have already cancelled 10 coal-fired power plants worth of $10 billion foreign investments and are now focusing on developing renewable energy on those sites," he said.
He also informed that the government has initiated a move to revise the renewable energy policy to make it more private sector investment friendly.
The event was participated by representatives from Denmark, France, Italy, Spain, Sweden, The Netherlands, and like-minded partner countries like Norway and Switzerland as well as European Financing Institutions like the Agence Française de Développement (AFD), Deutsche Gesellschaft für Internationale Zusammenarbeit GmbH (GIZ), Kreditanstalt für Wiederaufbau (KFW), the European Investment Bank (EIB) and many other development partners.
Highlighting the importance of the Team Europe support to green energy transition as part of the EU global gateway strategy, E Charles Whiteley said, "The current global energy crisis, largely caused by the Russian aggression in Ukraine, has affected us all."
"However, in these hard times, we can turn it into an opportunity for a long-term shift towards a cleaner and more sustainable energy and power system," he said.
Achim Tröster, Ambassador of Germany said, "Collaboration between Team Europe and Bangladesh will play a pivotal role in a successful green energy transition in Bangladesh."
"Global challenges not only need local actions, but also international collaborations, and broader cooperation. We need each other now more than ever, to make sure that we continue to find ways to push for the green transition," he said.
Sustainability is fundamental to our future, and it must be integrated in all spheres of society," said Alexandra Berg von Linde, Ambassador of Sweden.
The event included two panel discussions: the first focused on innovation, technologies, and success stories on renewable energy generation and grid integration; the second revolved around the opportunities and challenges of investing in green energy transition in Bangladesh.
The Team Europe Initiative is co-chaired by the European Union and Germany counts with support from Denmark, France, Italy, Spain, Sweden, The Netherlands, the European Investment Bank (EIB), Norway and Switzerland.
Unauthorized use or reproduction of The Finance Today content for commercial purposes is strictly prohibited.