National /
Korea, Bangladesh sign deal to prepare a transport master plan for CMP area
---
Diplomatic correspondent
Published:
2022-12-08 23:39:33 BdST
Korea, Bangladesh sign deal to prepare a transport master plan for CMP area
---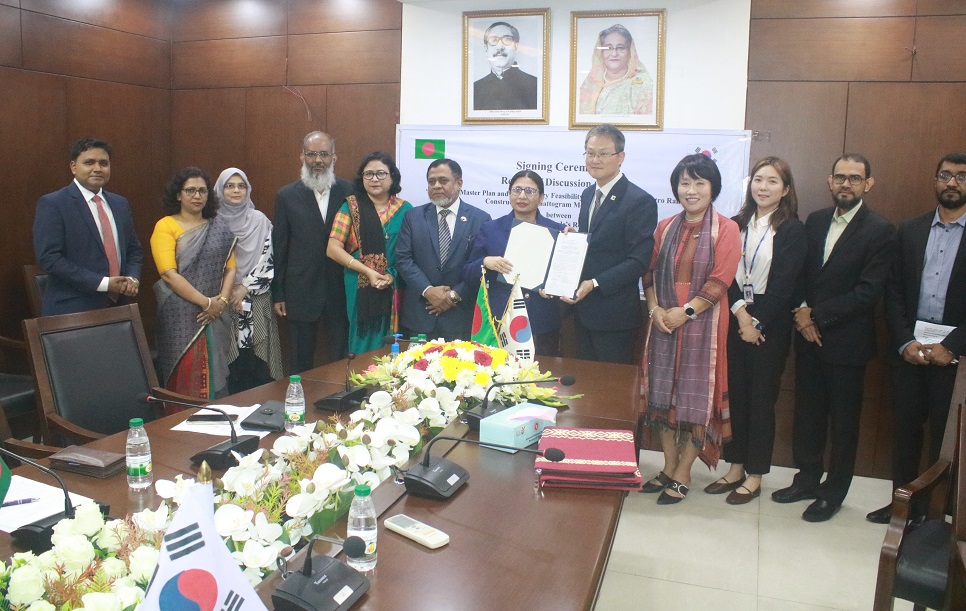 South Korea, through the Korea International Cooperation Agency (KOICA) in collaboration with Dhaka Transport Coordination Authority (DTCA), Roads Transport and Highways Division, and Ministry of Road Transport and Bridges signed a deal to launch a two-year project on the transport master plan and a preliminary feasibility study for urban metro rail transit construction in the Chattogram Metropolitan Area.
Dhaka Transport Coordination Authority under Roads Transport and Highways Division will be the partner with KOICA to implement this project, said a press release.
Next year 2023 will mark the 50th anniversary of the establishment of diplomatic relations between the Republic of Korea and Bangladesh.
In anticipation of this milestone, the governmental organisation KOICA, which offers grant aid programmes for international development, has collaborated with the Ministry of Road Transport and Bridge's Roads Transport and Highways Division and the Ministry of Finance's Economic Relations Division to sign this grant agreement.
The agreement was signed in Dhaka on Thursday by Doh Young-ah, Country Director of KOICA Bangladesh, ABM Amin Ullah Nuri, Secretary, Road Transport and Highways Division, and Additional Secretary, ERD Md. Shahriar Kader Siddiky.
ERD Secretary Ms. Sharifa Khan and Korean Ambassador to Bangladesh Lee Jang-keun were present at the signing ceremony.
On behalf of the Republic of Korea, KOICA signed this project with a grant of 6 million USD (Tk 60.01).
This project will include the following activities over the next 24 months: 1. the development of a transportation master plan for the Chattogram Metropolitan Area. 2. A pre-feasibility study and preliminary concept design for MRT construction in the Chattogram metro area 3. Enhance the institutional capacity of DTCA for establishing an efficient transportation system.
Speaking at the project signing ceremony, Ambassador of the Korea stated that he was thrilled to attend his first signing ceremony in Bangladesh. He said "Korea has long viewed Bangladesh as a trusted partner and is willing to assist in a variety of development areas, including transport, governance, and others.
Officials stated that Korea developed two master plans for Bangladesh in 2003 and 2018 on the Chattogram sewerage system and e-Government, respectively. Not only did Korea develop the masterplan, but it is also attempting to implement it.
Under this initiative, a third master plan will be developed that will improve the daily lives of Chattogram's common residents."
The Country Director of KOICA Bangladesh, Ms. Young-Ah Doh said: "I really hope that through this comprehensive cooperation from the Republic of Korea, Bangladesh will be able to improve traffic safety and the environment by offering eco-friendly, convenient, and fast public transportation services in accordance with the Masterplan."
"In addition, the Masterplan will build a road management system that will minimize travel time and the number of road accidents, resulting in the much-needed improvement of the country's road conditions. Furthermore, the project will solve current challenges and make positive contributions to the Mass transit sector in Bangladesh."
On this occasion, Ms. Sharifa, Secretary of the Economic Relations Division of the Ministry of Finance, was also pleased to be present for the first time at the RoD signing session.
She also praised the bilateral relationship between Korea and Bangladesh, which will assist to improve the traffic situation in Chattogram, the economic hub of Bangladesh.
Along with this new pledge, KOICA is currently implementing over 10 development projects in the following priority areas with 15 million USD grants per annum: Education (skills development), Transportation, Public Health and ICT (innovation).
In skills development area, KOICA is working with Bureau of Manpower, Employment and Training (BMET) to promote demand-driven competency-based skill training, whereas in the public health area, the organization is working together with Ministry of Health and Family Welfare to establishing Eye Health Care Units and improving Maternal and Child Health.
In the ICT area, KOICA is supporting ICT Division for developing e-Government Master Plan. In addition, KOICA is supporting Department of Narcotics Control (DNC) and Bangladesh Fire Service & Civil Defence (FSCD) for developing IT-based management and reengineering their business process.
Unauthorized use or reproduction of The Finance Today content for commercial purposes is strictly prohibited.