National /
Dhaka city exists with no effective sewerage system
---
SAM
Published:
2018-07-08 10:48:41 BdST
80pc city area remains out of coverageDhaka city exists with no effective sewerage system
---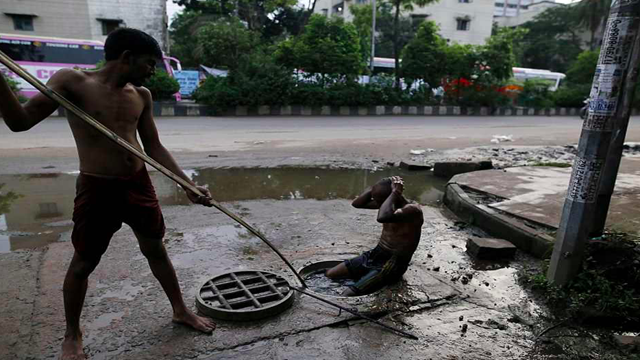 FT ONLINE
Almost 80 per cent area of Dhaka city is still beyond the coverage of a sewerage system, thus exposing the residents concerned to an unhealthy environment.
Officials said residents in most part of Dhaka city install septic tanks and soak wells to manage sewage or release the same directly in surface drains.
They said Dhaka Water Supply and Sewerage Authority (DWASA) has a sewerage system that can carry less than 3.0 per cent of the domestic sludge.
Even the on-site sanitation system does not function properly for lack of strong monitoring, they mentioned.
According to the experts, most people discharge untreated waste water to nearby water bodies or surface drains. Such discharge ultimately ends up in rivers around the city.
The result is obvious: Dhaka's lifeline -- Buriganga, Turag, Sitalakkhya and Balu -- and wetlands around it have become heavily polluted.
The government also identified untreated sewage as one of the nine major reasons for river pollution.
It accounted for around seven per cent of the pollution.
Urban planners warned that the government might fall short of achieving sustainable development goals (SDGs) unless it prioritises the issues.
Quality sanitation is one of the 16 SDG goals.
Belated though, the DWASA has chalked up a master plan involving an investment worth $2.0 billion to bring the entire city under a sewerage network and treatment plants.
A senior DWASA official said the city's sewerage network coverage is now reduced to 20 per cent from that of 30 per cent two decades ago due to the rapid expansion of the city.
He said the only sewage treatment plant located at Pagla can treat one-third of its capacity.
"Effluent does not reach the plant in sufficient quantity as it oozes out through several leaks in the decades-old pipeline," the official said.
DWASA managing director Taqsem A Khan said they have undertaken two master plans for water supply and sewage works to become the best public-sector utility provider in Asia.
"We've already been declared as the best utility provider in South Asia in terms of water supply. Now, we are focussing on sewerage system," he said.
As planned, the DWASA will bring the whole of Dhaka city under a full network with sewage treatment plants by 2030, he said.
Mr Khan said, "Though it might sound ambitious, but we want to complete the project by 2025 under a crash programme. We have taken it as a challenge."
As part of the plan, he said they will revive the Pagla plant as a state-of-the-art unit. Four other plants will also be installed in Dasherkandi, Uttara, Mirpur and Rayerbazar. The greater Dhaka will get six more plants in phases, the DWAHA chief cited.
"We're implementing these five sewage plants with networking. We're upgrading the backdated Pagla plants with the backing from the World Bank (WB)," he said.
Mr Khan said a Chinese company with the funds of EXIM Bank of China is working on Dasherkandi plant.
The DWASA has already finished the design of Uttara plant where the WB promised to finance.
A preliminary design and drawing of the Mirpur plant has been done, the chief of the utility agency said.
Mr Khan said the Asian Development Bank already invited tender for a feasibility study on Rayerbazar plant.
Untreated human excreta have emerged as one of the major threats to water management in Dhaka city.
"If we want to overcome this problem, we need such treatment plants." the DWASA chief added.
Prof Dr Md Mujibur Rahman of Bangladesh University of Engineering and Technology (BUET) said eleven sewage treatment plants will be made as per the 2013 master plan.
"It's 2018 now… How much we have progressed? Executing the plan by 2025 seems unrealistic as we're still doing groundwork for Dasherkandi plant that was planned in 2006," he said.
The DWASA is making plants, but simultaneously it should develop the sewerage network, said Mr Rahman who teaches environmental engineering at BUET.
"We haven't seen network expansion or rehabilitation work yet. What good these plants would do if we do not have pipeline to take the sewage to those," he queried.
He said the city's sanitation system needs a holistic change.
"If you want on-site sanitation, it should be done through faecal sludge management. It's a sustainable practice," he added.
Architect Mubasshar Hussein said there are two kinds of sanitation practices-one is off-site meaning sewerage networking and the other is on-site system.
But nobody maintains on-site sanitation properly as soak well where effluent comes from a septic tank does not work for its rapid reduction of soil infiltration capacity, he said.
Giving example of Hatirjheel Lake, the city planner said it was built to retain rainwater for a certain period.
But unfortunately, it has turned into a lake of sewage due to untreated sewage seepage from storm drains.
Dhaka generates some 2,000 million litres of waste water per day.
Unauthorized use or reproduction of The Finance Today content for commercial purposes is strictly prohibited.