National /
Aug 21 grenade attack: All set for verdicts
---
SAM
Published:
2018-10-10 12:11:32 BdST
Aug 21 grenade attack: All set for verdicts
---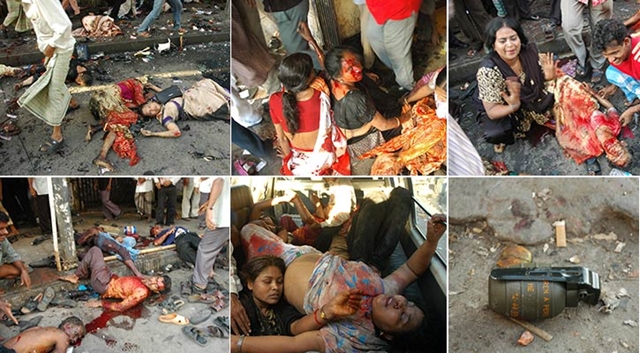 FT ONLINE
After a long wait for over 14 years, a speedy trial tribunal is set to deliver its verdict Wednesday in two cases filed over the August 21 grenade attack on an Awami League rally in Dhaka in 2004.
A total of 31 accused of August 21 grenade attack cases including former state minister for home Lutfozzaman Babar and former deputy minister Abdus Salam Pintu were being shifted to a Dhaka court from Kashimpur High Security Prison in Gazipur.
A prison van carrying them started from the Gazipur jail around 7:00am, Bikash Raihan, jailor of Kashimpur High Security Prison said to media.
Judge Shahed Nuruddin of the Speedy Trial Tribunal-1 at Old Dhaka's Nazimuddin Road may start delivering the verdict in the two cases around 10:45am, court sources said.
BNP acting Chairman Tarique Rahman, two former ministers Abdus Salam Pintu and Lutfozzaman Babar and former top police and intelligence officials of the then BNP-led four-party alliance government are among 49 accused in the cases.
Working with militant outfit Harkat-ul-Jihad-al-Islami Bangladesh (Huji-B), they had collaborated with a section of senior officials of the Home Ministry, police, Directorate General of Forces Intelligence (DGFI), National Security Intelligence (NSI) and Prime Minister's Office (PMO).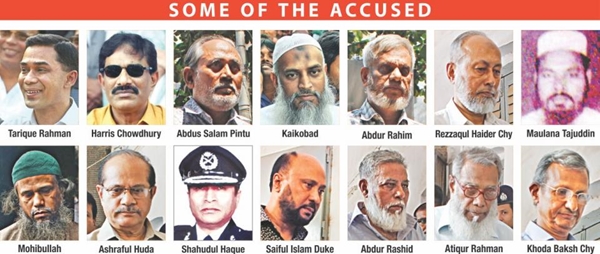 Three other accused — Jamaat secretary general Ali Ahsan Mohammad Mujaheed, and militant leaders Mufti Abdul Hannan and Sharif Shahedul Alam alias Bipul– were dropped from the cases as they had been executed after convictions in other cases.
Of the accused, Tarique, then Prime Minister Khaleda Zia's political secretary Abul Harris Chowdhury, former BNP MP Mofazzal Hossain Kaikobad and 15 others are on the run.
Earlier on September 18, the tribunal fixed October 10 to pronounce its verdict in two cases– one for murder and the other for grenade blast– after both the prosecution and the defence completed their arguments.
Closing their arguments, the prosecution sought the highest punishment to all the accused, including Tarique, saying they were able to prove all the charges beyond reasonable doubt.
They also said Tarique masterminded the attack and helped militants in order to kill Sheikh Hasina by throwing the grenades to make AL leaderless.
But the defence lawyers sought acquittal of their clients as they said the prosecution failed to present substantial evidence to prove the charges.
They also claimed that Tarique, who has been staying in London since 2008, was implicated in the cases with a political motive.
Earlier, the court set September 17 and 18 for hearing the closing arguments after hearing the prosecution's rebuttal arguments against defence arguments on September 12.
On October 23 last, the prosecution started placing arguments before the tribunal in connection with the two cases filed over the August 21 grenade attack on an Awami League rally in the capital in 2004.
On August 21, 2004, the grisly grenade attack was carried out on an anti-terrorism rally arranged by AL at Bangabandhu Avenue during the BNP-Jamaat alliance's rule, aiming to kill then opposition leader Sheikh Hasina.
At least 24 leaders and activists, including AL's women affairs secretary and late President Zillur Rahman's wife Ivy Rahman, were killed and 300 others injured in the grenade attack.
Although Sheikh Hasina fortunately escaped the attack unhurt, her hearing was affected badly.
At least 13 grenades were thrown from the rooftops of a nearby building soon after Sheikh Hasina had finished her speech at the rally.
Then the two cases — one under the Explosive Substances Act and another for murder — were filed in connection with the grenade attack.
The then BNP-led government formed a one-member investigation committee comprising of High Court Justice Jainul Abedin on August 22, 2004.
Justice Jainul Abedin submitted his report after 40 days indicting that a powerful foreign intelligence agency had a hand in the incident. But AL turned down the probe report.
According to case dockets, government high-ups had then made efforts to bury the truth and protect the masterminds by derailing the police investigation.
Media reports also attempted to feed people another story woven around one Joj Mia, a petty criminal.
They forced Joj to make a confessional statement naming Mokhlesur as one of the plotters.
The investigation into the grenade attack took a new turn after the military-backed caretaker government took over following the 1/11 political changeover in 2007.
On June 11, 2008, the CID assistant police superintendent Fazlul Kabir submitted two separate charge-sheets in the two cases, accusing 22 people, including Harkat-ul-Jihad-al-Islami operations commander Mufti Abdul Hannan and Abdus Salam Pintu.
After recording the testimonies of 61 prosecution witnesses, a court on August 3, 2009 ordered further investigation into the cases following petitions filed by the prosecution after the Awami League came to power.
In July, 2011, a supplementary charge-sheet was submitted accusing 30 more people, including Tarique Rahman, former state minister for home Lutfozzaman Babar, Abul Harris Chowdhury and the Ali Ahsan Mohammad Mujaheed.
Unauthorized use or reproduction of The Finance Today content for commercial purposes is strictly prohibited.