National /
Historic 7th March: PM pays homage to Bangabandhu
---
Siyam Hoque
Published:
2020-03-07 16:20:30 BdST
Historic 7th March: PM pays homage to Bangabandhu
---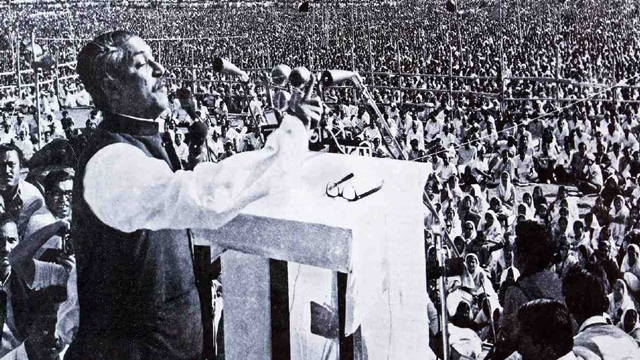 Prime Minister Sheikh Hasina on Saturday paid rich tributes to the great leader and greatest Bengali of all time Bangabandhu Sheikh Mujibur Rahman by placing wreaths at his portrait at Dhanmondi-32 marking the historic 7th March.
The Prime Minister laid a wreath at the portrait of the great leader in front of the Bangabandhu Memorial Museum in the capital at 7 am today.
At that time, the Prime Minister observed silence for some time showing respect to the architect of Bangladesh's Independence Bangabandhu Sheikh Mujibur Rahman.
Later, flanked by senior and central leaders of Bangladesh Awami League, Sheikh Hasina placed another wreath at the portrait of Bangabandhu paying homage on behalf of the party.
Later, the leaders and workers of Awami League's associate bodies, including Awami Jubo League, Chhatra League, Mohila Awami League, Sramik League, Krishak League, Jubo Mohila League, and Swechchhasebok League, also paid homage to Bangabandhu by placing wreaths at his portrait on the occasion.
On this day in 1971, Bangabandhu through his historic address made a clarion call to the people to fight against the Pakistani occupation forces to achieve the long-cherished independence.
2017, United Nations Educational, Scientific and Cultural Organization (Unesco) recognized the historic March 7 Speech of Father of the Nation Bangabandhu Sheikh Mujibur Rahman as a world documentary heritage.
On this day in 1971, Bangabandhu, the undisputed leader of Bangalees, had delivered his epoch-making speech of independence before a mammoth rally at the then historic Racecourse Maidan, now Suhrawardy Udyan, in Dhaka city.
In his 19-minute extempore speech before a million freedom-loving people, Bangabandhu had made a clarion call for a non-cooperation movement asking the nation to prepare for the War of Independence to liberate the country from the exploitative Pakistan regime.
"The struggle this time is for freedom, the struggle this time is for independence, Joy Bangla," Bangabandhu declared from the massive rally.
Unauthorized use or reproduction of The Finance Today content for commercial purposes is strictly prohibited.