Opinion /
Why Australia and England reluctant to host Bangladesh?
---
AHMED TANVIR
Published:
2020-12-02 14:01:34 BdST
Why Australia and England reluctant to host Bangladesh?
---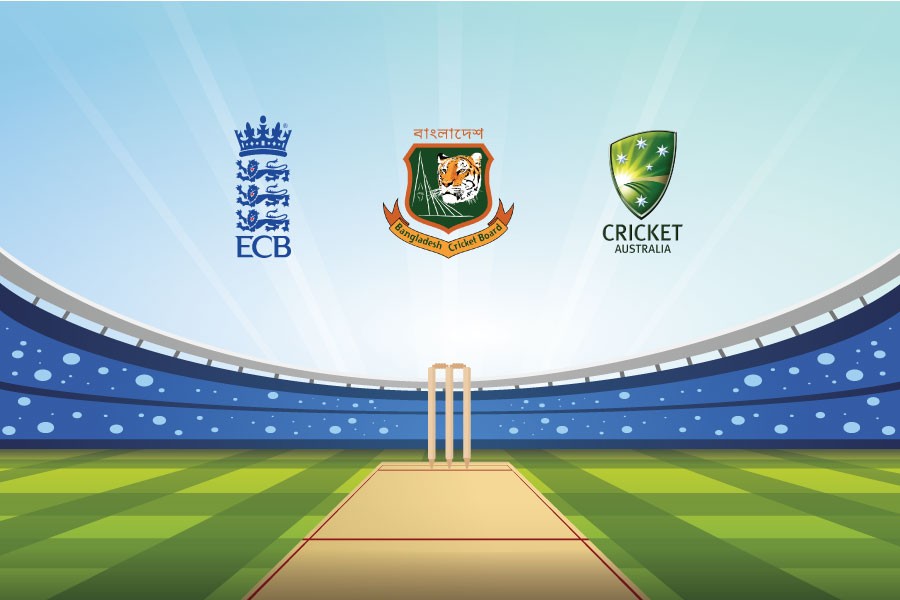 Akbar Ali, the latest sensation of Bangladesh cricket who led the under-19 team to the world cup title, was a mere eight-and-a-half-year-old boy in May 2010. Looking back further by a little more than seven years at July 2003, one will find he was then a kid three months shy of his second birthday.
That's long ago - 2010 and 2003 - Bangladesh toured England and Australia for the last time for a bilateral series.
One may be surprised to know that many of our youngsters like Mehidy Hasan Miraz, Taskin Ahmed, Liton Das, Soumya Sarkar and Mustafizur Rahman have never played a test on English soil and the likes of Shakib Al Hasan, Tamim Iqbal, Mahmudullah Riyad and Mushfiqur Rahim are yet to have an opportunity to play a test in Australia.
None of Shakib, Tamim, Mahmudullah and Mushfiq made their debut when Bangladesh toured Australia for the last time. Mashrafe Mortaza is the only one among the current set of players with the privilege of playing there. However, one might argue whether it should be seen as a "privilege" when a cricketer tours Australia without an opportunity to play on the historic grounds, i.e. MCG, SCG, Gabba, or WACA. In 2003, Bangladesh played Tests and ODIs against Australia in the latter's stadiums of Cairns and Darwin.
True cricket fans must be wondering why England and Australia continue to show nonchalance when it comes to hosting Bangladesh. The answer is –in this era of commercialisation of cricket, hosting Bangladesh does not certainly create either the hype or the money to make the sponsors interested. Moreover, Bangladesh's performance has not been competitive enough to create any excitement on and off the field.
Bangladesh were set to tour Australia in 2018, but Cricket Australia communicated with Bangladesh Cricket Board a few months ahead of the tour saying it would not be "commercially viable". According to James Sutherland, the then chief executive of Cricket Australia, top-end matches out of season get "swamped" by major football codes.
"To be honest it hasn't been a great success, playing in the past as we have in northern Australia. Even more so now with the rise of the profile of the football codes, particularly NRL and AFL, it just means we get swamped and it doesn't make sense. Besides the huge cost to play up there and getting broadcasters and what have you to pick it up, just makes it difficult," Sutherland explains.
Following the cancellation of hosting Bangladesh, Cricket Australia completed a television and digital rights deal worth 1.0 billion Australian dollars with Fox Sports and Seven Network. This nicely sums up the importance of cash in choosing whom to host and whom not to.
One might argue that Bangladesh's recent success in the international arena should be enticing for cricket lovers across the globe to witness an encounter between their national side and ours. However, should truth be told, a couple of test victories at home against Australia and England, a test-match win in Sri Lanka, or a few drawn games here and there can no way create the excitement near a level spectators expect at Lord's or MCG. Since July 2010, or for the last ten years, Bangladesh have played 21 tests away from home and have won only two matches with a win-loss ratio of 0.11.
As astounding as it sounds, this also includes a couple of losses against Zimbabwe. If the parameter is narrowed down to Tests outside the sub-continent, except those against Zimbabwe, it may make stats look far more terrifying. Since 2014, Bangladesh have played 10 games under the given parameter and failed to win all of them. The margins of those defeats do nothing but add insult to injury with 4 innings defeats – 3 by more than or equal to 7 wickets, 2 by around 300 runs, and the remaining one by 166 runs. Even during the ongoing World Test Championship, Bangladesh has so far played three games, all away from home with 2 against India and 1 against Pakistan, and suffered innings defeats in all three of them.
That means the reluctance of Australia or England to host Bangladesh is something that does not seem to go anytime soon. And Bangladesh, without doubt, still have a mountain to climb before arranging for an opportunity for their cricket-crazy fans to feast their eyes on their heroes stepping onto the lush green outfields of The Oval or the SCG, as neither Australia nor England will easily be interested to host Bangladesh. Bangladesh must improve to get hosted by them.
The writer is currently studying at the Institute of Business Administration, University of Dhaka (IBA-DU). He can be reached at [email protected]
Unauthorized use or reproduction of The Finance Today content for commercial purposes is strictly prohibited.