Opinion /
Al Jazeera's ugly conspiracy revealed
---
Justice Shamsuddin Choudhury (Manik)
Published:
2021-02-04 04:46:16 BdST
Al Jazeera's ugly conspiracy revealed
---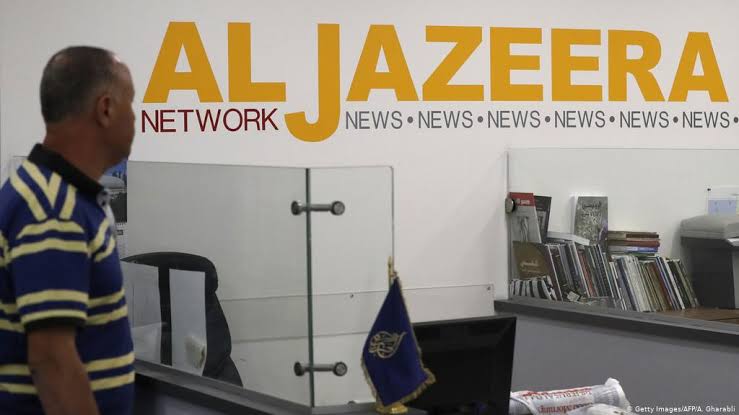 Many questions popped up in my head after watching Qatar-based TV channel Al Jazeera's programmes on Bangladesh in the last two days. Of them the main question is – how much money is involved here? Going by judicious estimates from experts, the time they invested in planning and producing the programmes, the amount of money could be no less than several millions.
General belief is that BNP-Jamaat shelled out the money, and their purpose is to bring down the current pro-liberation, democratic government through unconstitutional means.
Conspirators had no problem in doing this because they found a trusted friend in David Bergman, husband of Dr Kamal Hossain's daughter Sara Hossain, who is stand ready to spoon-feed them.
It has been learned from reliable sources that it is no other than David Bergman who designed the blueprint of these programmes of Al Jazeera. Certainly, David Bergman is one of those whose brainchild is the programmes. Needless to say, the nexus of evils have long been hatching conspiracies to bring out these programmes.
We need to unmask the conspirators so that we can unearth the deep-rooted conspiracies behind these programmes. Everyone should be made aware of who these people are, what is their past and what is their purpose.
David Bergman was a very insignificant and low category journalist in the UK. A couple of years ago he became known to expatriate Bangladeshis in the UK while making a documentary on the war criminals of 1971. Then he came to Bangladesh as the husband of Dr Kamal Hossain's daughter Barrister Sara Hossain. But soon after coming to the country he devoured a huge sum of money from Jamatees and started singing the same tune as theirs.
That means, he took the side of the war criminals and since then has been currying favour with them in the name of doing journalism. He is not alone; rather he motivated his wife Sara Hossain and his father-in-law Dr Kamal in such a way that the same Kamal Hossain who as a minister of Bangabandhu's government in 1973 helped formulate law to try war criminals remained tight lipped during the trials of war criminals, and thus, indirectly took their side.
David Bergman has been influenced so much by the Jamatees that he had tried to create a chaos in court during appellate division's hearings on Kader Mullah. As a jury of the case I was compelled to expel him from the court. However, he kept collaborating with the Jamatees in hatching one conspiracy after another. Later when his visa expired, he returned to London and teamed up with Barrister Abdur Razzak who worked as a lawyer of the war criminals. From there they have been plotting nefariously to oust the Awami League-led government.
The conspirators have cozied up to some former military and civilian officials who escaped from Bangladesh in the face of criminal investigation against them. They are financially solvent and having a luxurious life there.
While watching the Al-Jazeera programmes I felt like watching 'James Bond 007' movies, which are totally fictitious. None of their claims are well-substantiated. Everything is imaginary. So the programmes of Al Jazeera are. So, they too have zero credibility. The weird things they have tried to say about our Army Chief General Aziz are childish.
Those who think that it is not okay for the President of a country to attend the wedding ceremony of the son of the Army Chief, we cannot vouch for how healthy their thought-process is. And when Honourable President or some VIPs attend a wedding ceremony, many people flock around them to take picture. Certainly, it is not possible for the VIPs to check out the background of those who wish to take a photo with them.
That the brother of General Aziz received presidential pardon is nothing new. Many years ago, Ziaur Rahman for the first time in the country had pardoned a convicted criminal of seven-murder case – Shafiul Alam Prodhan. Since then many presidents have pardoned many convicts at different times.
During the prime ministership of Khaleda Zia, on the advice of the then Law Minister Barrister Moudud, President Iajuddin pardoned a fugitive from Sweden who was convicted of murder.
The Constitution has vested this exclusive power to the President. This is because, after considering everything, if the President thinks that lapses occurred in the trial procedures, then he can forgive in the interest of justice. All the countries of the world have this provision.
The allegation made in Al Jazeera programme that General Aziz's brother Harris has been taking advantage in trades in his brother's name is completely fabricated. They couldn't substantiate this claim at all. Also they couldn't produce an iota of evidence to support their baseless statement that the Prime Minister was giving special facility to General Aziz. They have presented an individual as an official of Hungary. But they couldn't give any supporting evidence that that person is really a Hungarian official.
Although a number of countries including Turkey are trying to improve ties with Israel, Bangladesh has a firm stance in this regard, which is – no ties with Israel under any circumstances. But Al Jazeera made a bogus claim that Bangladesh purchased Israel-made surveillance equipment.
However, the said programme of AL Jazeera itself proves that the allegation is totally untrue and baseless. Because the information they provided has shown that Bangladesh purchased surveillance equipment from Hungary.
Al Jazeera's fallacies are not new. Several Middle Eastern countries including Saudi Arabia, Egypt, Bahrain and the United Arab Emirates, have banned Al Jazeera for broadcasting false news. It is well-known that this television is associated with the militant fundamentalist organisation Islamic Brotherhood.
Therefore, it is no secret that they made these evil efforts over the last two days as part of their campaign to bring down democratically elected government in Bangladesh and other countries by propagating fundamentalism.
As a matter of fact Al Jazeera's activities and the latest programmes on Bangladesh are nothing but a sequel to General Sarwardy's some recent offensive statements and similar falsehood propagated by other sacked, traitor military officers like Major Delwar, Colonel Shahiduddin Khan, and fugitive journalist in the United States Kanak Sarwar, Mahmudur Rahman in Istanbul, Tasneem Khalil in Sweden and their ilk.
The 42 so-called well-known persons who are speaking bizarrely and against the law are also part of this conspiracy. They should bear in mind that the current pro-liberation government has achieved unprecedented public support for making Bangladesh a role model of economic development in the world. So, their conspiracies are bound to fall flat. The conspirators of Al Jazeera will not be able to undermine the image that Prime Minister Sheikh Hasina has managed to establish at home and abroad by dint of her wisdom, patriotism and devotion to democracy.
There is no doubt that the defeated forces of 1971 are the mastermind of this conspiracy. Even today they are trying to create chaos in our armed forces, of which we are so proud of. But they forgot that they cannot mislead or confuse our patriot army personnel with carefully orchestrated words of the defeated forces of 1971.
For the last two days the people of the country have been wondering – where are these conspirators getting so much money from? They demand, it is imperative to find out the source of their money.
(The author is a retired Justice of the Appellate Division of the Supreme Court of Bangladesh)
Unauthorized use or reproduction of The Finance Today content for commercial purposes is strictly prohibited.