Opinion /
Emerging factors might impede achieving sustainable development goals
---
Muhammad Zamir
Published:
2022-07-25 20:51:10 BdST
Emerging factors might impede achieving sustainable development goals
---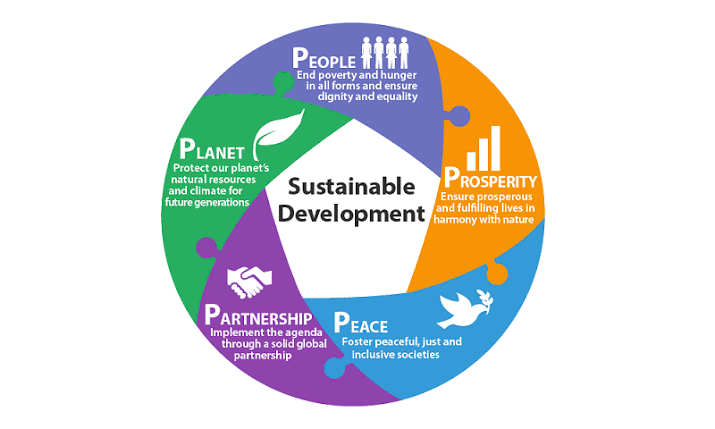 The first half of July marked the mid-point related to the achievement of the 2030 Agenda on Sustainable Development. Socio-economic and strategic analysts have in this regard drawn attention to the release of the UN's Sustainable Development Goals Report 2022.
As expected, consistent with the evolving dimensions and the accompanying difficulties, the world is witnessing severe difficulties in its efforts to eradicate poverty and hunger and improving health and education.
Released data show that cascading and intersecting global crises are creating spin-off impacts on food and nutrition, health, education, environment, and peace and security. These aspects are not only presenting existential threats to different corners of the Earth but have also in many ways undone some of the initial accomplishments that had been achieved towards the meeting of the SDGs.
It has also been correctly pointed out in this Report that we are gradually entering a time-zone which will see vulnerable populations facing a deepening and impending climate catastrophe. To this has been added another issue-- the creation of the largest refugee crisis because of a war in the current times. In this context analyst Shweinfest has also indicated that the growing impact of the pandemic has manifested itself "through increased child labour, child marriage, and violence against women; as well as food supply disruptions that threaten global food security; and a health pandemic that has interrupted the education of millions of students".
From the above observation it is clear that instead of meeting the emerging serious challenges, and successfully progressing forward as had been hoped in 2015 when the Sustainable Development Goals (SDGs) were launched, we are facing one challenge after another.
There are some grim statistics that need to be pointed out. The Covid-19 pandemic has reversed years of development progress. By the end of 2021, according to some health analysts, nearly 15 million people worldwide had died directly or indirectly due to Covid-19. This unfortunate dynamic has wiped out nearly four years of progress in alleviating extreme poverty. This has also resulted, according to socio-economists, in 150 million more people facing hunger in 2021 than in 2019.
Educationists associated in preparing the Report have also underlined that nearly 150 million children have missed more than half of their in-person teaching over the past two years. The pandemic has also harshly disrupted essential health services. All these factors have led to immunisation dropping for the first time in a decade and deaths from tuberculosis and malaria increasing.
Nevertheless, there is broad agreement that despite existing difficulties, the least common denominators have to be identified so that the world can achieve the implementation of the 2030 Agenda through recovery and response. It is also clear that the United Nations is willing to come forward in this regard.
One has to remember that throughout Covid-19, responses sped up through the adoption of digital technologies and innovative approaches. This use of virtual communication to identify problems and to solve them accordingly during the pandemic also led to an increase in the number of internet users. It has been claimed by experts that the number of internet users all over the world increased by 782 million people to reach 4.9 billion people in 2021, up from 4.1 billion in 2019. This escalation has also taken place in Bangladesh. It would be important to also note here that higher technology manufacturing industries fared better than lower-tech industries during the pandemic, and therefore recovered faster.
The world's most vulnerable countries and population groups have been disproportionately impacted by the multiple and interlinked crises. This has led to least developed countries and developing countries battling record inflation, rising interest rates and looming debt burdens with small financial resources. An excellent example of this has been Sri Lanka. With competing priorities and limited fiscal space, many are discovering that it is harder than ever to recover economically. In least developed countries, in particular in Africa, economic growth has remained sluggish and the unemployment rate has increased.
It would also be pertinent to note here that women appear to have suffered a greater share of job losses because of enhanced increased care work at home. Sociologists have also remarked that violence against women exacerbated because of the pandemic. Psychologists have also drawn attention to the fact that depression among adolescents and young people related to their mental health have increased significantly.
We need to at this point remind ourselves that in more ways than one, the world is on the edge of a climate catastrophe where billions of people are already feeling the consequences. It may be mentioned in this regard that according to specialists related to energy consumption, energy-related CO2 emissions for 2021 rose by 6 per cent, reaching their highest level ever and completely wiping out pandemic-related declines.
Consequentially, in this context we need to remember that low-carbon, resilient and inclusive development pathways will reduce carbon emissions, conserve natural resources, transform our food systems, create better jobs and advance the transition efforts directed towards a greener and more inclusive economy. It also needs to be remembered that to avoid the worst effects of climate change, as set out in the Paris Agreement, global greenhouse gas emissions will need to peak before 2025 and then decline by 43 per cent by 2030 from 2010 level, falling to net zero by 2050. Instead, unfortunately, under current voluntary national commitments pertaining to climate action, greenhouse gas emissions will possibly rise by nearly 14 per cent by 2030.
It is clear from the above that achieving Sustainable Development Goals will not be easy. However, the way forward will require all countries to link together in the common effort to find required solutions. This will need all of us to work together and take required action in strengthening social protection systems, improving public services and investing in clean energy. This will help us to address the root causes of increasing inequality, environmental degradation and climate change. We will also need to make significant investment in our data and information infrastructure.
We need to remember that our common efforts to protect people, particularly those who are more vulnerable, will face difficulties without the evidence needed to focus international interventions by relevant international institutions.
However, it would also be practical to refer here to another emerging factor -- a demographic crisis -- that will require international attention. This relates to India and China. These two Asian nuclear powers and longstanding rivals have remained two of the world's most populous nations accounting for over a billion people each. However, demographers are pointing out that as the world's population reaches the 8.0 billion mark, come November, India is projected to surpass China. The current numbers stand at 1.44 billion people in China and 1.39 billion in India. But the numbers are expected to change as India races ahead of China. The US ranks third with over 335 million people.
UN Secretary-General Antonio Guterres has remarked that this year's World Population Day falls during a milestone year, when we anticipate the birth of the Earth's eight billionth inhabitant. He added that "this is an occasion to celebrate our diversity, recognise our common humanity, and marvel at advancements in health that have extended life spans and dramatically reduced maternal and child mortality rates."
The latest projections by the United Nations suggest that the world's population could grow to around 8.5 billion in 2030 and 9.7 billion in 2050. It is projected to reach a peak of around 10.4 billion people during the 2080s and to remain at that level until 2100. Currently, about 61 per cent of the global population lives in Asia (4.7 billion), 17 per cent in Africa (1.3 billion), 10 per cent in Europe (750 million), 8 per cent in Latin America and the Caribbean (650 million), and the remaining 5 per cent in Northern America (370 million) and Oceania (43 million).
It has been anticipated that more than half of the projected increase in the global population up to 2050 will be concentrated in eight countries: the Democratic Republic of the Congo, Egypt, Ethiopia, India, Nigeria, Pakistan, the Philippines and the United Republic of Tanzania, said the report released by the UN's Department of Economic and Social Affairs (DESA).
The question that emerges from this evolving situation is how such a growing population will impact on the possible fulfillment of Sustainable Development Goals. We need to remember that stabilisation of the growing population will also require an increasing demand for energy, water, food, land, resources, housing, heating/cooling, transportation and material goods.
All of these items come within the matrix of required Sustainable Development Goals. As such, if we are not careful and do not take the required measures, we will be staring at a universal crisis. According to the UN, the COVID-19 pandemic has affected all three components of population change. Consequently, UN Secretary-General Antonio Guterres is very correct with his observation- "it is a reminder of our shared responsibility to care for our planet and a moment to reflect on where we still fall short of our commitments to one another."
Muhammad Zamir, a former Ambassador, is an analyst specialised in foreign affairs, right to information and good governance.
Unauthorized use or reproduction of The Finance Today content for commercial purposes is strictly prohibited.