Politics /
Global democratic standards are in decline
---
Nirmal Barman
Published:
2018-03-24 08:18:27 BdST
Global democratic standards are in decline
---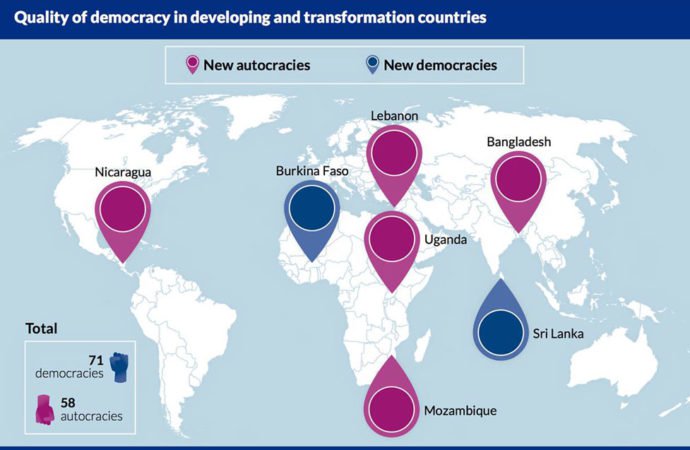 FT ONLINE
The quality of governance and democracy worldwide is at the lowest it has been in the last 12 years, with the bigger portion of the slump occurring in societies where governments rule with an increasingly arbitrary hand, according to a recent study.
The study, conducted by Germany-based think tank Bertelsmann Stiftung, listed Turkey as number one in backsliding in democratization since its last report in 2016. The report said President Erdogan's repressive measures after the failed 2016 coup had involved "a massive restriction of freedom of expression, the press and freedom of assembly," reported the Financial Times.
The report, conducted between February 2015 and January 2017, identifies five countries — Bangladesh, Lebanon, Mozambique, Nicaragua and Uganda — as no longer meeting minimum standards of democracy.
"These five new autocracies have crossed a threshold that the defective democracies of Honduras, Hungary, Moldova, Niger, the Philippines and Turkey are nearing, though to varying degrees," says the study.
Around 3.3 billion people are estimated to be living under autocratic political systems, while 4.2 billion people are estimated to live in democracies.
Of the 129 countries being analyzed in the study, 71 are classified as democracies with 58 being classified as autocracies. The latest survey classified 74 countries as democracies and 55 as autocracies.
The report excludes what it defines as mature democracies, such as democracies in North America and Europe, Japan, Australia and elsewhere.
The report goes on to say that the slight increase in the number of autocracies is not as worrying as civil rights being curtailed and rule of law undermined in an increasing number of democracies.
It mentions countries like Brazil, Poland and Turkey among the states where democratic standards have fallen the most.
There is increasing political instability and rapid decline in acceptance of democratic institutions worldwide, the report went on.
Government leaders in many countries are intentionally undermining framework designed to hold the executive accountable, securing not only their power but a system to divert national resources for personal gain, the report added.
It nevertheless lists a number of success stories. The report said of Argentina as being a country where a strengthening of the rule of law was accompanied by a correction of market-distorting regulations of the former government.
Mauritius and Uruguay have also been named as success stories.
Bertelsmann Stiftung estimated that about one in five countries managed to maintain or strengthen the foundations of democracy and a market economy, picking out Botswana, Chile, Estonia and Taiwan.
Burkina Faso and Sri Lanka are now classed as defective democracies, having been classed as moderate autocracies in the 2016 report.
Unauthorized use or reproduction of The Finance Today content for commercial purposes is strictly prohibited.